A traditional long-necked metal watering can with a sprinkler head to gently shower plants is the first thing to buy for a first garden. Get a good one, and it will last a lifetime. Here are 10 of our favorite watering cans, generously sized and designed with handles that make them comfortable to carry: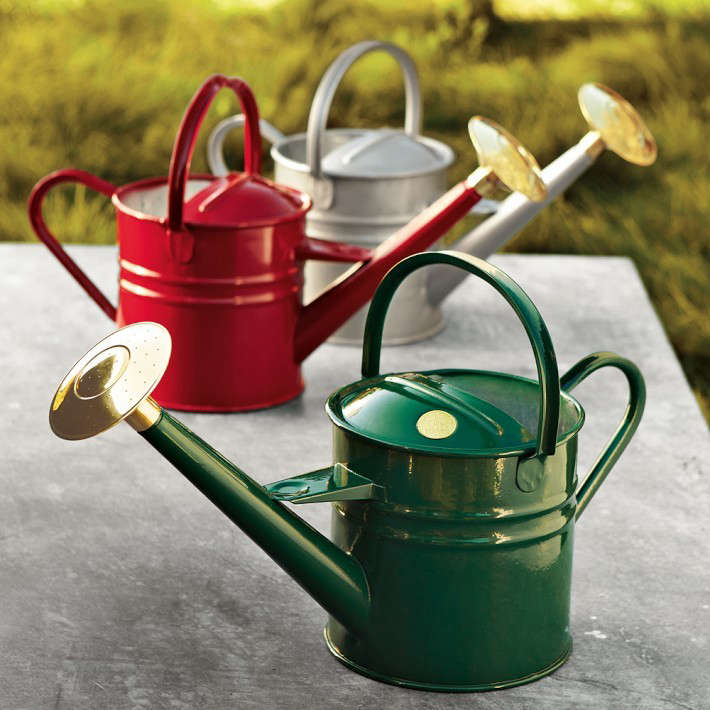 Above: How can we pick just one style of Haw's watering can to recommend? Ever since company founder John Haws came up with the idea of a perfectly balanced watering vessel in the 19th century, the English manufacturer has dominated the market. Today Haw's makes oval cans, long-spouted cans, metal cans, plastic cans, indoor cans, outdoor cans, metal cans–in a variety of sizes, colors, and finishes.
But if you own just one watering can, it should be the versatile 4.5-liter Haw's Traditional Metal Watering Can, available for £39.99 from Garden Gifts Direct. In the US, a smaller 1.1-gallon capacity Haw's Traditional Watering Can is $69.95 from Williams-Sonoma.
Above: A large 3.1-gallon galvanized steel Hoop Handle Watering Can has a corrosion-resistant zinc finish and a screw-on spout; $48 from Terrain.
Above: Inspired by an antique from the 1800s, a 3-gallon Stainless Steel Watering Can is 122.50€ from Botanique Editions.
Above: A Traditional Stainless Steel Watering Can with brass accents is corrosion resistant and holds 1.5 gallons; $53.95 from Signature Hardware.
Above: From Dutch studio Esschert Designs, a White Watering Can with a large removable head is $44.99 from Hayneedle.
Above: Sourced in Hungary, a limited supply of Vintage Galvanized Watering Cans with double handles have cone-shaped removable roes to allow you to adjust the force of the flow. They're $69.95 apiece from Williams-Sonoma.
Above: Available in two sizes, a Watering Can In Gooseberry made from powder coated steel is £25 (for a 5-liter capacity) or £32 (10 liters) from Garden Trading.
Above: The shape of an oval Zinc Coated Watering Can makes it easy to carry close to the body. A detachable sprinkler head has a removable rubber ring to create a tight seal. The can holds eight liters (approximately 2.5 gallons) of water and is 41€ from Manufactum.
Above: A 5-liter Burgon & Ball Waterfall Watering Can in racing green is powder coated in a glossy finish over galvanized steel; £24.95.
Above: A 2.1-gallon Stainless Steel Watering Can by Esschert Design has double handles, each with a wooden grip for comfort; $58.45 from Hayneedle.
For more stylish watering cans, see:
(Visited 219 times, 1 visits today)