The best vegetable peelers are those that go unnoticed; they just do their job smoothly and quietly. It's only when we have to fight with dull blades, peel clogs, and cumbersome handles that peelers get attention. We've done our research and put together a collection of vegetable peelers sure to please.
Above: It's not often that the product with the most consistently high ratings is also the most affordable. Said to be one of the most effective peelers by chefs and consumer review sites, the Kuhn Rikon Straight Peeler from Switzerland is made of plastic and carbon steel; $4 at Williams Sonoma.
Above: The Oxo Good Grips Pro Swivel Peeler receives accolades for its comfortable handle, swivel top, and great peeling performance. Made with die-cast zinc and a stainless steel blade, it has a potato-eye scoop at its tip; $12.99 at Amazon.
Above: Swiss made, the Zena Star Vegetable Peeler has a super sharp and wide Tungston steel blade (not recommended to be run through the dishwasher), and a stainless steel body; $4.95 at Simply Good Stuff.
Above: There is something elegant about the kitchen tools from the German company Rosle, and the Rosle Extra Fine Straight Peeler is no exception. Made of fine grade stainless steel with a swivel head that accommodates both left- and right-handed cooks; $27 at Williams Sonoma.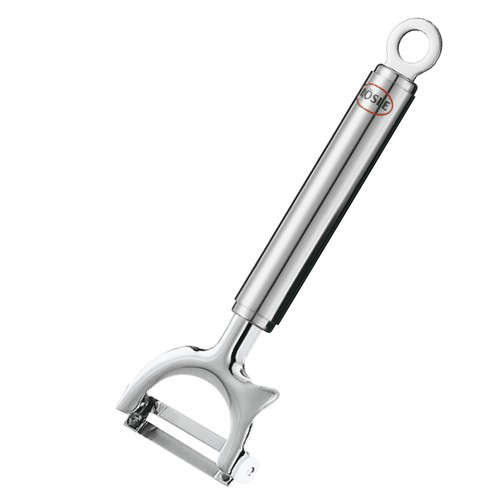 Above: For those who prefer a Y-style peeler, the Rosle Horizontal Peeler swivels as you peel; $27.95 at Crate and Barrel.
Above: The Messermeister Pro-Touch Fine Edge Swivel Peeler is known for being extremely sharp and is designed with a high arch to prevent peel clogging; $7.95 at Cutlery and More.
Above: Lightweight Swiss-made Swissmar Peelers, Set of 3 have side cutters for removing potato eyes; $17.95 at Williams Sonoma.
Above: The stainless steel WMF Profi Plus Horizontal Vegetable Peeler features a heavy duty hanging loop; $17.95 at Amazon.com.
Above: Many find the wide ergonomic soft grip handle of the  Microplane Straight Edge Peeler very comfortable, while fans of old-school style peelers might not be able to make the adjustment; $11.95 through Amazon.
Above: A collaboration between French chef MIchel Bras and the maker of Shun knives, the Michel Bras I Peeler Set features interchangeable cutlery-grade stainless steel blades for thick and thin peeling. Made in Japan with smooth resin and polypropylene handles, this peeler requires an investment of $80 at Williams Sonoma.
Put your peeler to work. Peruse our collection of Garden-to-Table Recipes.
(Visited 68 times, 1 visits today)