You've toiled to reap a bounty from your garden. Don't let it drop now. Equip yourself with a trug to collect and carry your harvest. We've rounded up our favorite wooden and woven garden trugs to do the job.
What are our criteria? Light enough to cradle comfortably on your arm (or hang from a tree) for hands-free picking. Durable enough to withstand damp and dirt. Shallow and wide for collecting leafy vegetables, herbs, and flowers; or, deep and sturdy for collecting tree fruits, potatoes, or other items that need containment. And, attractive enough to display your harvest indoors or serve double duty as a countertop holder for table linens or other kitchen essentials after the work is done.
Wooden
Above: The Rothers Garden Trug is hand made by Thomas Smith in East Sussex, England. This version is made of weatherproof Latvian and Finnish birch plywood fastened with durable (and attractive) copper tacks and nails; $119 at Kaufmann Mercantile.
Wondering about its origins? Michelle demystifies the Classic Sussex Garden Trug and offers British-based sources.
Above: Made in the US by a former shipbuilder, the Myrtlewood Garden Trug features copper hardware and measures 11 by 19 inches; $118 at Terrain.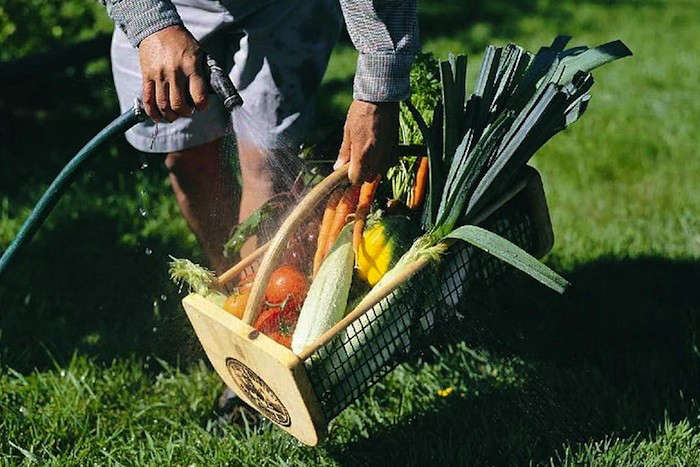 Above: Modeled after traditional Maine clam hods used to gather and rinse shellfish, the Pike's Original Maine Garden Hod is designed for harvesting and washing plants, fruits, and vegetables (and, rumored to be used for collecting vegetables from the White House Garden). Made in the US with an oak handle and food-grade PVC-coated wire body, it measures 19 inches in length; $44.95 at Maine Garden Products.
Above: The Geoffrey Fisher Bespoke Trug is made in Buckinghamshire, England of European redwood. Finished with food-safe eggshell paint, the 17.5-by-9.5-by-5-inch trug features a movable and removable handle; on sale for $59.99 (down from $99.95) at Williams-Sonoma.
Above: The wood-and-wire Gathering Basket allows dirt and debris to fall through, and at 19 inches long it can accommodate longer vegetables; $39.95 at Williams-Sonoma.
Woven
Above: Felicity Irons' Garden Trug is woven of British freshwater rush. The leather-handled basket measures 19.5 by 9 inches; £95 at David Mellor Design.
Above: Hand woven in southern Ohio, the Weathered Westpy Gathering Basket measures 24 by 14 by 5 inches. It's $84.90 at Bev's Baskets.
Above: The Peterboro Basket Gardening Caddy is made in the US of American-grown Appalachian white ash and finished with solid brass nails. Available in cherry or honey finishes for $35 from Modest Wanderer & Co.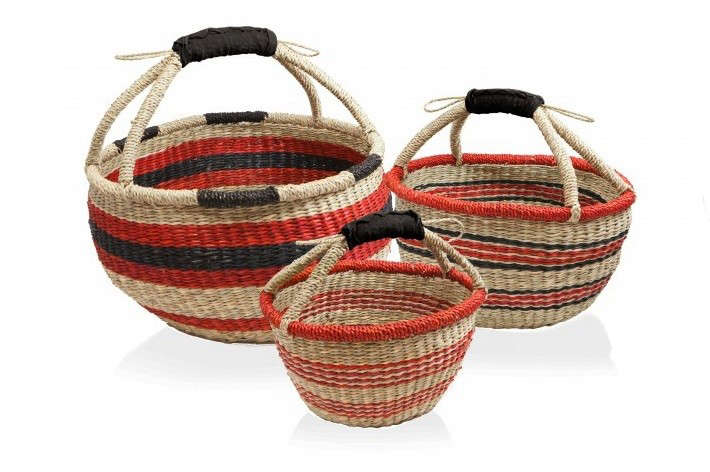 Above: Individually woven from natural sea grass, a set of three leather-handled Harvest Baskets is $49.99 from Barebones.
Above: Perfect for gathering tree fruit, the 23.5-inch Harvest Basket features a rope and hook to hang from a tree or fence while you pick and load; $19.95 at Williams-Sonoma.
N.B.: This post is an update; the original story ran on September 4, 2013 in Gardenista issue Take My Zucchini Please.
Now, polish your skills with Picking Fruit the Easy Way, and find something to harvest in 10 Easy Pieces: U-Pick Orchards.
(Visited 112 times, 4 visits today)