The winner of the Gardenista Considered Design Awards Best Amateur-Designed Small Garden is Ashley Hamilton of Edinburgh, Scotland. 
Her project was chosen as a finalist by guest judge Isabelle Palmer, who said, "Immediately on viewing this garden, I wanted to explore it. For me that is a key of great design. The ivy seems to be draped over the space in different forms–hanging, twisted, placed–and the bamboo acts as a stage set to really evoke a sense of intrigue."
Take a look below and read what Ashley Hamilton has to say about her project and learning the hard way about using shade-tolerant plants. 
N.B.: This is one of a series of posts spotlighting the winners of the Gardenista Considered Design Awards. We'll be featuring one winning project every weekday. Go to the 2014 Considered Design Awards to see all the entries, finalists, and winners. And have a look at the winners of the Remodelista Considered Design Awards, too.
Ashley Hamilton's Design Statement: Measuring in at 1.4 by 9 meters, my north-facing balcony is long, skinny, and shady. It took me a few years to figure out what to do with it, but I knew it had to be green year-round and offer some privacy. There have been a few casualties as far as plants are concerned. Sun-loving herbs and fragranced flowers suffered from the winter winds and lack of light. I got wise and started to embrace shade-tolerant plants. My foxgloves, bluebells, delphiniums, Jacob's ladder, and clematis are quite happy with the sliver of evening sun. My ivy pom-poms are coming along quite nicely; that's my take on urban topiary. I carry my dining chairs out when I fancy eating outdoors. Given how narrow it is, I didn't want to take up space with unnecessary furniture. To be honest, I'm happier with a picnic on the floor. My marble table is usually topped with all sorts of cuttings in jars of water. Growing from cuttings and seed is my new thing; I feel pretty smug when I get a new plant for free. This year, my bird box hosted a nest of blue tits, my bird feeder is busy, and I'm thinking of building some tenements for bees. Future plans include some herbs, more flowers, more green. Other than that, I'm more than happy with my chilled-out green haven.
Q: What were your practical goals for the project?
A: To be evergreen, create privacy, attract wildlife, and withstand the north-facing aspect and winter winds.
Q: What solutions did you find for your design problems?
A: I exploited the hardiness and textures of ivy, I used saddle pots on the railings, and I chose small but dense shrubs and bamboo for screening.
Q: What was your biggest splurge?
A: Zinc containers.
Q: What were the hardest lessons you learned along the way?
A: A sun-loving plant doesn't just love the sun, it needs it.
Q: Where did you cut corners?
A: Multi-purpose compost.
Q: Where do you get your design inspiration?
A: For this project, from Patrick Blanc, New York City stoops, English topiary gardens, and the Scottish wilderness.
Q: What advice do you have for someone undertaking a similar project?
A: Experiment, get your hands dirty, and make it for yourself.
Q: If your garden was a celebrity, who would it be?
A: Julianne Moore. She looks beautiful in green.
Q: What is your day job?
A: Multi-disciplined creative and aspiring screenwriter.
Q: What projects would you tackle if you had an unlimited budget? 
A: Exterior: Social housing schemes that are blighted with concrete landscapes. Interior: Restoring the Glasgow School of Art, which was recently damaged in a fire.
Q: What is your favorite local shop?
A: A coffee shop, Black Medicine. 
Q: What is your best secret design source?
A: Junk shops.
Q: Are there any other Considered Design Awards projects you're fond of? 
A: I voted in all the categories and was happy to see that Adam Woodruff & Associates won Best Professional Landscape. Those soft mounds of grass look so painterly. I also voted for the amazing Brooklyn roof garden.
Q: Which architects or designers do you admire?
A: Architects: Carlo Scarpa, Charles Rennie Mackintosh, Alvar Aalto, Tadao Ando, and Frank Gehry. Designers: Eileen Gray, Jinny Blom, Piet Oudolf, and William Morris.
Q: What is your next project? 
A: A commission would be lovely.
Congratulations to Ashley Hamilton! See all the winners of the 2014 Gardenista Considered Design Awards here: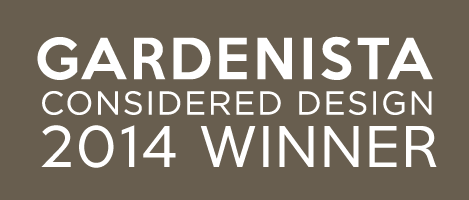 (Visited 73 times, 1 visits today)