The sickle is one of the first tools man used in the garden. Actually, the sickle is older than the idea of gardens as we know them. With sharp, curved blades and short handles, sickles were just as useful in the Iron Age as they are now to cut grass, mow down weeds, and keep order among the scrubby underbrush.
Here are 10 of our favorite garden sickles:
Above: A Round Forged Sickle has a hand-forged blade sharpened on two sides and a hole for hanging in the toolshed; €29.50 from Manufactum.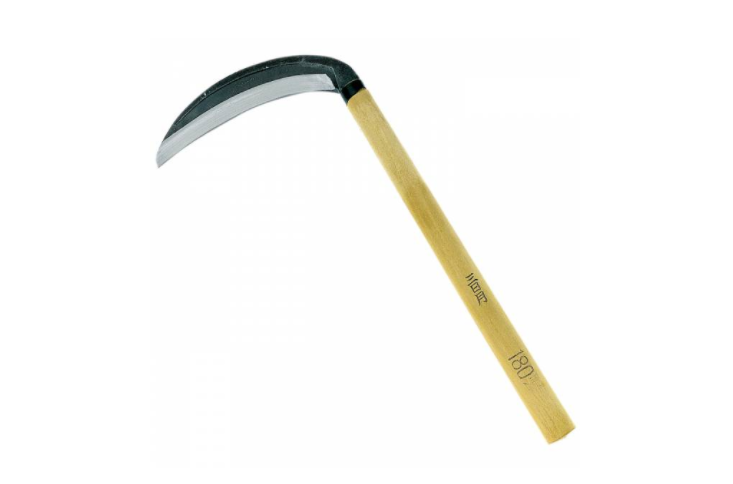 Above: An Ultra-Light Grass Sickle is extremely sharp, designed to cut herbs and grasses. A water-resistant handle is made of Japanese hardwood. It is €34.80 from Dictum.
Above: A Dutch-made DeWit Sickle has a carbon steel blade and hardwood handle; $74.58 via Amazon.
Above: From Japan, a Munetoshi Sickle is lightweight and designed to cut grass and weeds. "The blade is Echigo-style, a wider blade that drops the grass at the end of the stroke, rather than dropping it as its cut. So it's tidier, which is how they like things in Echigo," notes Niwaki, where the sickle is £49.17 (£59 including VAT).
Above: Ideal for cutting woody stems, tough grasses, and other "wild growth," a Grim Sickle made in Germany has a lacquered beech handle and is €17.90 from Dictum.
Above: A stainless steel Serrated Blade Hand Sickle from Japan is lightweight and fitted with a hardwood handle. It is $18.20 from Garden Tool Company.
Above: Suitable for cutting back perennials and woody shrubs with branches of up to 1 centimeter in diameter, a Japanese Perennials Sickle has an alloy chrome steel blade and a lightweight paulownia wood handle; €24.50 from Manufactum.
Above: "Wicked little sickle from Aida, a small blacksmith up in Sanjo," says Niwaki, which imports the hand tool from Japan. "Perfect for attacking climbers as well as harvesting various veg at ground level." An Aida Vine Sickle is £20 (£24 including VAT) from Niwaki.
Above: The Herbaceous Sickle has a serrated blade designed to prune fibrous stalks; £9.95 from Burgon & Ball.
Above: Made in Germany with a carbon steel blade and shank, a Sickle By SHW has a hardwood handle and is $22.50 from Garden Tool Company.
For more sharp blades, see:
(Visited 767 times, 3 visits today)