Last seen in the 1970s, macramé has won our hearts again. A new generation of knotted rope planters look airy and fresh enough to transform suspended ferns, philodendrons, and ivies (more friends from the old days) into instant art installations. Just don't forget to water the art.
Here are 10 of our favorite modern macramé plant hangers:
Above: Katie Von Lehman's Ceramic Planter With Woven Basket pairs a handmade white ceramic bowl with a handmade woven basket. A small drainage hole in the bowl can be plugged if not desired. Available at Spartan Shop; $88.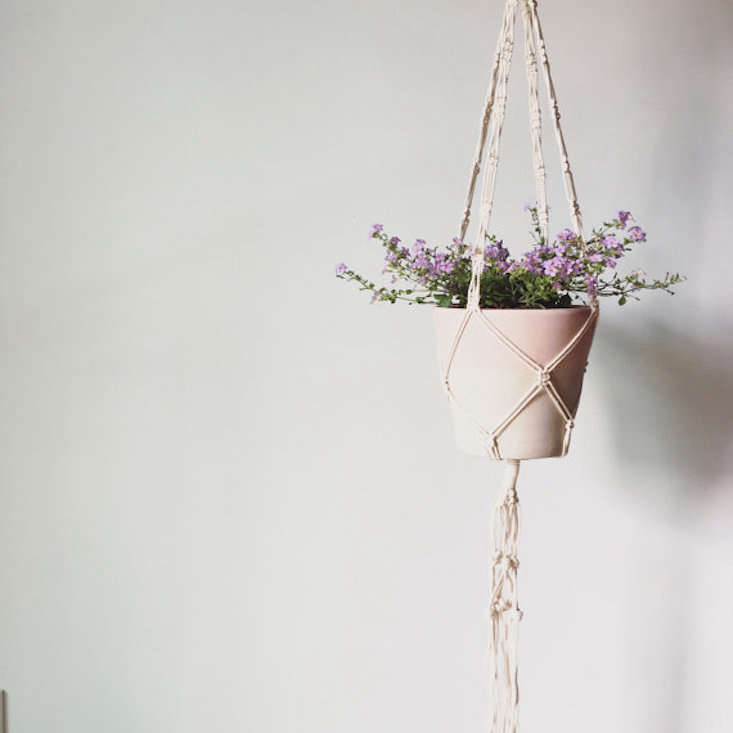 Above: Australian designer Fox & Sail's Macramé Planter is handmade of cotton twine and fits a pot approximately 18 cm in diameter; $13.
Above: Macramé artist Emily Katz and ceramicist Martina Thornhill found inspiration in each others' work and thus swapped resources and ideas. The result is the limited edition Martina Thornhill + Modern Macramé Ceramic Beaded Planter that boasts cotton rope and special ceramic beads; $128.
Above: Described as a "70s flashback," the CB2 Macramé Plant Holder joins cotton rope together in four hand braids with a tail of "free-flowing" rope cords; $24.95.
Above: Designed with thicker strands and bead details, Urban Outfitters' Iris Macramé Plant Hanger is meant to be hanged in any indoor room; $24.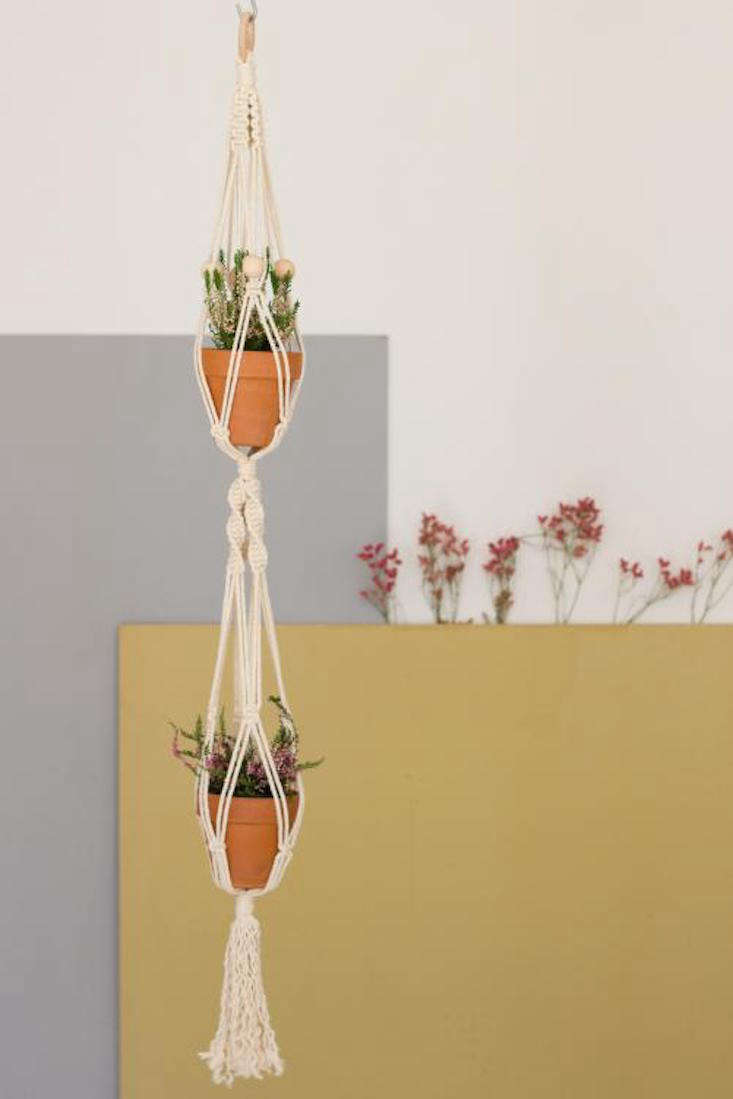 Above: Lyon, France-based IWWI creates planters that come in a range of colors and styles (there are even DIY options). Its fully assembled two-level Hangars Alma retails for €52.
Above: The Användbar Hanging Planter made of renewable cotton is a bargain option at $13; available at Ikea.
Above: Made with jute rope, Anthropologie's Kiri Wood Hanging Planter puts a rustic spin on the macramé look; available in two sizes for from $68 to $78 depending on size.
Above: From RoCo, a Pure Cotton Macrame Hanging Planter is £22.
Above: If you want to add some context to your outdoor space, Australian brand Hunter Gatherer Keeper creates the Diamond Plant Hanger in a variety of colored nylon to weather the elements. The standard size at 120 centimeters long starts at $35; custom sizing available.
Looking for more macramé inspiration? See our recent post, Still Life with Houseplants: Macramé Artist Emily Katz in Portland, Oregon.
(Visited 473 times, 2 visits today)