As New York City increasingly grows taller (i.e. downtown Brooklyn, a former low-rise area, is now a land of towering cranes and skyscrapers), the craving of its dwarfed humans for contact with nature also seems to be on the upswing. How fortunate that the latest tall building boom has coincided with the unprecedented greening of the city.  As steel and glass and concrete have proliferated, so have wildflower meadows, pocket parks, and overflowing window boxes.  The trend is everywhere, from the polished parks and botanic gardens to the less costly but equally effective efforts of individuals working a plot in a community garden or planting flowers in tree beds in front of their homes.
It would take a monumental effort to travel across this huge metropolis to gauge just how widespread and transformative the trend of urban gardening has become.  Luckily photographer Betsy Pinover Schiff has done that job for us. Open her new book, Sidewalk Gardens of New York, and you will find a comprehensive treasury of the new, green New York City.  With an informative text written by Alicia Whitaker, the book offers some whys and hows of the makeover but mainly Schiff 's photographs are allowed to speak for themselves. They capture the lush greenery that is now on public display on the familiar streets of Manhattan as well as the remote neighborhoods of the outer boroughs.
Photography by Betsy Pinover Schiff, courtesy The Monacelli Press.
Above: In Brooklyn's Carroll Gardens neighborhood a line of pots turns the stoop of a brownstone into a showcase for foliage plants.  The beauty of Sidewalk Gardens of New York is that it can be both a travel guide to the new and greener city and also a primer for the urban home gardner.  Anyone with horticultural desires can find inspiration in this book.  Particularly in the chapter "Urban Front Yards," there are plenty of commonsense ideas for beautifying one's own small patch of ground.
Above: Are we really in Brooklyn? The front yard of a brownstone in the Fort Greene neighborhood has been transformed into an English cottage-style garden bursting with roses, allium, iris, foxglove, and coreopsis. Eschewing a traditional (and boring) lawn or the even more aesthetically challenged poured-concrete slab, the gardener here has mixed a varied profusion of flowering plants to create a petite but powerful riot of color and form.
Above:  Truly determined urban gardeners are undaunted by a lack of space so severe there is no room for a front yard of any size.  The brick facade of this apartment house on Manhattan's upscale Sutton Place is softened by ivy that has been trained to cover the decorative pillars.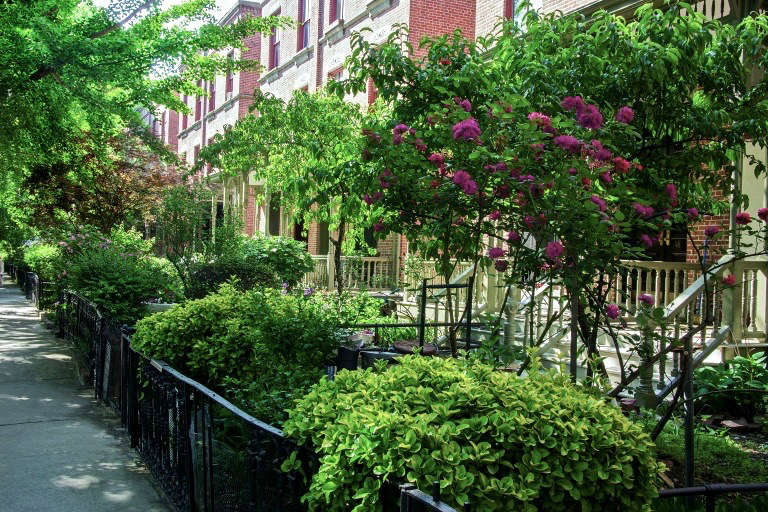 Above: Wrought iron fences and an abundance of shrubs in this row of Harlem front yards create a garden district on an urban block.  As Alicia Whitaker points out, the growing popularity of gardening as a leisure activity has led to the increased availability of unusual and interesting plant varieties.  Today's urban gardener has a wealth of plants to choose from, beyond geraniums, mums, and bedding begonias (the standard offerings of the past).
Above: Gardeners in Bedford-Stuyvesant, Brooklyn take great pride in greening the fronts of their handsome brownstones.  On this stoop the choice of a single plant for a built-in planter box is a strong statement to complement the flowers and evergreen shrubs adorning the home's entrance.
Above: In her wanderings, Schiff visited Grove Court, a group of pre-Civil War townhouses in Greenwich Village.  The small courtyard functions as a handsome outdoor foyer.  A formal planting of boxwood hedges is edged with cobblestones. Flowering shrubs, window boxes and vine-covered walls give the spot a secluded, almost rural feel.
Above: Birch trees frame a smoke bush behind bright reddish-orange lilies to create a woodsy scene in Hell's Kitchen.  For those of us who love gardens, this book celebrates the enormous strides taken in the last 15 years to make New York City more livable, as well as verdant.  If you live here, you've seen and applauded the changes.  If you don't live here, use this book to plan a visit.  It will guide you to the beauty spots, big and small, both famous and obscure.  You will want to send Betsy Pinover Schiff a big thank you for doing all the legwork.
Above: Sidewalks of New York  is available for $28.13 from Amazon.
For more inspiration for your city garden, see Hardscaping 101: Tree Beds and Curb Appeal: 11 Front Garden Ideas to Steal from Brooklyn.
(Visited 237 times, 1 visits today)