Call them light catchers. Clear-glass accessories will capture the sun and reflect shafts of light to emphasize greenery in a landscape. Here are 10 of our favorite clear glass garden accessories:
Above: Made in a family-owned studio in Mexico, an Anti-Fly Sphere made of borosilicate glass has a clear finish and hangs from a heavy-duty leather rope; $85 from Delao.
Above: A glass Fruit Fly Trap stands on three legs and has an opening in the bottom to attract fruit flies. Fill the trap with red wine or wine vinegar to lure them in; €20.50 from Manufactum.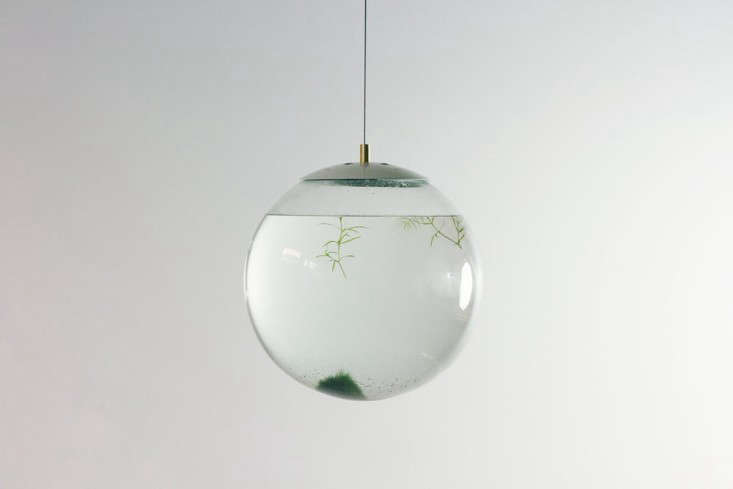 Above: A watertight terrarium, designer Richard Clarkson's Globe is available in two diameters, 8 and 12 inches, at prices from $210 to $380 depending on size. See more of it in Clear Choice: A Hanging Glass Terrarium.
Above: A clear 5-inch Glass Hanging Planter with a natural rope handle is $9.99 from Target.
Above: Votive or vase? Both. A cylindrical Lantern Vase is 20 centimeters high; 149 SEK from Garden Flow.
Above: With a funnel made of crystal, a Glass Rain Gauge is a "simplified version of the Hellmann's Ombrometers from 1886" and can accurately measure whether it's time to water plants; €55 from Manufactum.
Above: Margot's sleuthing led her to designer Christina Kim's Los Angeles-based fashion company Dosa, where sand-formed glass paper weights modeled after jelly fish, $90 each, are made at a studio in Oaxaca. The paperweights are available through Dosa, which has an LA store and showroom in its factory, open by appointment, and a New York boutique. To place an order, email [email protected] or [email protected]. To visit the LA showroom, call 213-627-3672 ext. 114.
See more from Dosa at A Housewares Collection with a Cult Following on Remodelista.
Above: A Garden Water Bell will deliver a slow drip to the roots of houseplants. Available in two sizes (with a capacity of 50 milliliters or 450 milliliters), it is available for from 119 SEK to 199 SEK depending on size from Artilleriet.
Above: A Glass Brick vase also can do double duty as a paperweight to keep magazines from flying away in a breeze. It is €22 from Merci.
Above: A Glass Orb Suncatcher has six glass panels and eight open air spaces and is 4 inches high and 4 inches wide. It is $42 from Designs Stained Glass via Etsy.
For more of our favorite garden ornaments, see An Orb to Ornament the Garden and Shopper's Diary: Campo de' Fiori in Sheffield, Massachusetts.
(Visited 113 times, 1 visits today)