What's in your gardening bag? (And by the way, do you need a new bag?) We're preparing for spring by assembling all the essentials now. Here's our spring gardening toolkit:
Above: Perfectly sized for portability, a blue waxed cotton bucket bag designed specially to hold gardeners' tools and accessories has four outer pockets. Designed by Deadly Ponies for Everyday Needs, a Garden Bag is $105 NZ (approximately $69.87 US) at Garden Objects.
Above: A copper Grafa Reclaim Trowel by Australia-based designer Travis Blandford has a sharp point and sturdy weight that make it an ideal hand tool for working compacted soil; £37.50 from The Garden Edit.
See more of the copper collection in Tools of the Trade: Copper Hand Tools from Grafa.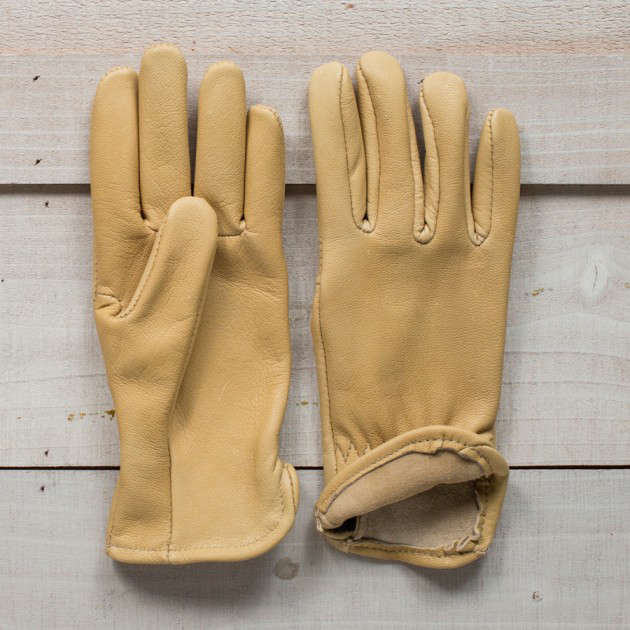 A pair of Women's Leather Goatskin Work Gloves with an elastic wrist is on sale for $28 (marked down from $48) from Guideboat.
Above: A Raised Bed Vegetable Garden Seed Collection from Seattle Seed Co. includes 10 varieties of seeds, including pole beans, radishes, red leaf and romaine lettuces, cucumbers, and chives; $19.95 from Williams-Sonoma.
Above: Photograph via Zetas.
Biodegradable peat pots give seedlings a head start; Jiffy Peat Pots are made from Canadian sphagnum peat moss and wood pulp. A 10-pack of 2.25-inch-square pots is $1 at Greenhouse.
Above: A set of five individually cut Bamboo Plant Labels  is £3.50 (about $5.07 US) from Haarkon.
Above: Hand-forged and with a blade made of high carbon steel, a pair of Tobisho Pruners from Japanese designer Tesufuku will cut smoothly through a branch as thick as 1/2 inch in diameter; $87.90 from Hida Tool.
Above: I never have enough small pots to transplant seedlings or for growing herbs on a sunny windowsill. This may be the solution: a crate of 12 2.75-inch-high Earth Fired Clay Pots is $48 from Terrain.
Above: Repel pests stylishly by adding strips of adhesive copper tape to the edges of raised beds and around the base of garden pots and planters. A 4-meter roll of Snails Barrier Copper Tape is €14.80 from Manufactum.
Above: Portable and easy to store, a 50-foot Expanding Pocket Hose with solid brass fittings is $29.97 from Home Depot.
(Visited 401 times, 2 visits today)