What is better than a hardworking tray that actually looks better as it ages? Galvanized metal trays are rust resistant, strong, and can take on a number of outdoor (and indoor) entertaining roles: drink carrier, food server, candle holder, and potted plant perch. They also can handle tougher jobs like gardening supplies carrier and vegetable harvest collector. Here are ten favorites:
Above: The Vintage Galvanized Caddy has a base of salvaged wood and sides of galvanized metal. It is 20 inches in diameter with 4-inch-high sides perfect for corralling drinks; $89.99 at Williams-Sonoma.
Above: The oval Summer Oasis Galvanized Tray has jute-wrapped handles. It measures 19.7 by 12.4 inches and is $28 at Dillard's.
Above: These Galvanized Oval Iron Trays have twisted iron handles. The trays range in length from 16.25 (small) to 26 inches (medium) to 33.75 inches (large) and are priced individually (but work great as a set). They are $54, $76, and $104 respectively at Iron Accents.
Above: This round Galvanized Serving Tray is 18 inches in diameter and has wooden carrying handles; $39.95 at Sur La Table.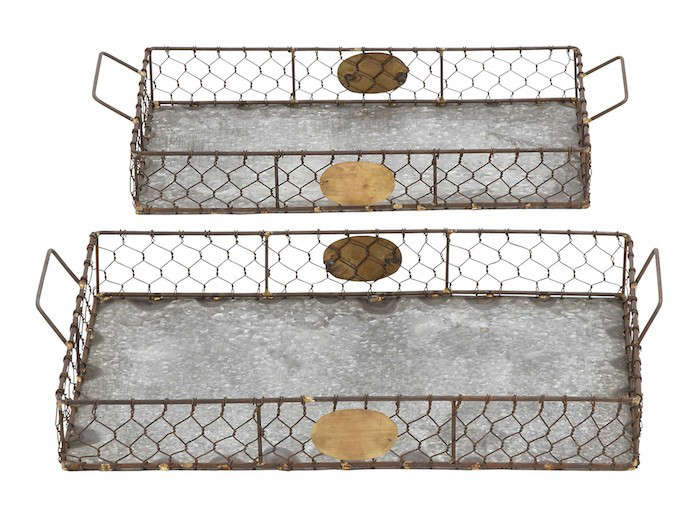 Above: Woodland Imports Two-Piece Serving Tray Set is made with a galvanized iron base and 4-inch-high wire net sides. The trays measure 19 by 8 inches and 20 by 10 inches respectively; $68 for the set at Wayfair.
Above: A Set of Three Round Galvanized Trays has bent metal handles and round stamping around the perimeter. The trays measure 13, 15, and 18 inches in diameter and are $45 through Amazon.
Above: Chunky rope handles adorn Cheungs Galvanized Oval Trays. The set of three can be used as planters or serving pieces and range in size from 11 inches to 15.75 inches in length; $39 at Wayfair.
Above: Galvanized steel Biergarten Serving Trays have an antiqued finish. A set of two (18 by 12 inches and 22 by 16 inches) is $100 at Iron Accents.
Above: A Galvanized Oval Tin Tray measures 19 by 14.5 inches and has metal handles and ribbing; $31 through Amazon.
Above: Low sides and a large surface area maximize the food-serving capabilities of the 24-Inch Round Galvanized Metal Serving Tray with curved metal handles; $61.94 at Lights for All Occasions.
Above: A Round Galvanized Tray measures 15 inches in diameter and has jute rope handles; $14.99 at World Market. 
Above: A generously sized Rectangular Galvanized Metal Tray from Pottery Barn measures 27 by 15 inches and has a traditional wooden handle (serving buckets not included); $39.50.
We think Galvanized Metal Troughs are great for holding plants. And, on Remodelista, we've rounded up an appealing collection of Galvanized Containers to hold flowers and cool drinks.
Thinking about spring window boxes? See our favorites at 10 Easy Pieces: Wooden Window Boxes and 10 Easy Pieces: Metal Window Boxes.
(Visited 307 times, 1 visits today)