Living in New York City, I'm a sucker for anything that adds a little green to my life. Though live plants absolutely do the trick, I also cannot live without the large landscape photographs that adorn my apartment and provide a visual escape from the concrete jungle.
Above: Photograph by Melissa Kasemann. 
The photograph that hangs above the stove in photographer Emily Nathan's kitchen looks as if it were a window looking into a greenhouse. Paired with her white vases and flowers, her kitchen looks like the perfect place to cook or relax with a cup of tea.  Here's how to create a similar look in your kitchen: 
Above: Emily Nathan's "La Banane" is $700 from the Tiny Atlas Quarterly shop.
Above: My go-to places for frames are A.I. Friedman's in Manhattan or Ikea. This Virserum Frame from Ikea is $22.99, and has a thick white edge, like Emily's. 
Above: To recreate the collection of white vessels on Emily's counter, I'd be tempted to choose a set of Frances Palmer Hand Pitchers; $125 each. Each could double as a vase for flowers. (To see more from Frances, check out her Tennis Court Garden.)
Above: For a more affordable option, the Carafe Vase by West Elm is $23 and would go well with Frances's small pitchers. 
 Above: For a similar white bowl, I love the Footed Mixing Bowl from Food52; $36.
Above: Draped from Emily's oven is a rumply kitchen towel. The Washed Waffle Towel in Natural ($19 from Fog Linen) is an absorbent option and would be perfect to use as a kitchen tea towel.
Above: Instead of the bright yellow spoon rest on Emily's stove, I opted for a subtler off-white option. The porcelain Spoon Rest from Food 52 is $20.
Above: Also spotted on the stove, a collection of tiny bowls. For a touch of color, I might choose one of these Shell Bisque Handmade Bowls; $6.50 each from Canvas.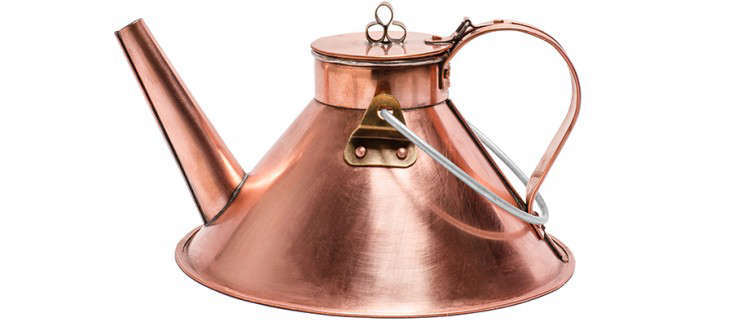 Above: If you're like me, the kettle is always in use, and always on the stove top, so a beautiful kettle goes a long way. Emily's copper tea kettle takes center stage in her kitchen. For a similar look, I like the Handmade Copper Tea Kettle; $395 from Kaufmann Mercantile. 

Above: Next to the stove, Emily has a handy workstation with a stainless steel top. The similar Fisher Kitchen Island is $1,819 and comes in a range of colors. For a more affordable option, the Crosely Furniture Stainless Steel Top Kitchen Cart/Island w/Optional Stool Storage is $328. To personalize it, sand it and then stain it with your preferred color, and replace the handles with something unique. 
Find more kitchen island inspiration in 10 Easy Pieces: Instant Kitchen Islands on Remodelista. Or to steal more good ideas, see our archive of Steal This Look posts.
You need to login or register to view and manage your bookmarks.