Not to fat-shame concrete, but it has an undeniable weight problem. At 135 pounds per cubic foot, a concrete garden pot requires a commitment. You don't want to change your mind next week and have to haul it to a new spot.
The considerable weight is concrete's only drawback, however; there's no better visual backdrop to a green plant than a neutral gray, porous texture.
The solution? Get a small concrete planter—or group together a few—and you won't have to sacrifice portability. Here are ten of our favorite concrete garden pots, in sizes that range from tiny to small to manageable:
Above: A tiny handmade Concrete Planter is sized to accommodate a miniature succulent; $12 from Concrete Department via Etsy.
Above: From designer Rough Fusion, a Round Concrete Planter is 6 1/8 inches in diameter and weighs 5.6 pounds; $35 via Scoutmob.
Above: A small Concrete Pot With A Distressed Motif measuring 3.5 inches by 2.5 inches by 2.5 inches is on sale, marked down to $3.50 from $7 at Mothology. (The larger size shown above is no longer available.)
Above: A small poured concrete Planter measuring 5 inches wide and 3 inches tall has rounded edges; $10 from ClineFab via Etsy.
Above: A small Concrete Pot With Saucer measures 7 inches high and has a drainage hole; $7.95 from CB2.
Above: Designer Anna Macoboy's handmade Plain Concrete Planter studded with tiny pebbles measuring 7.5 inches in diameter  is available unplanted for $55 or planted for $65 from Tasi Masi.
Above: Make your own. Follow our step-by-step instructions for DIY on a Budget: $30 Concrete Planters.
Above: A small concrete Urban Industrial Modern Planter measures 3.5 inches tall and is $15 from Fraeandco via Etsy.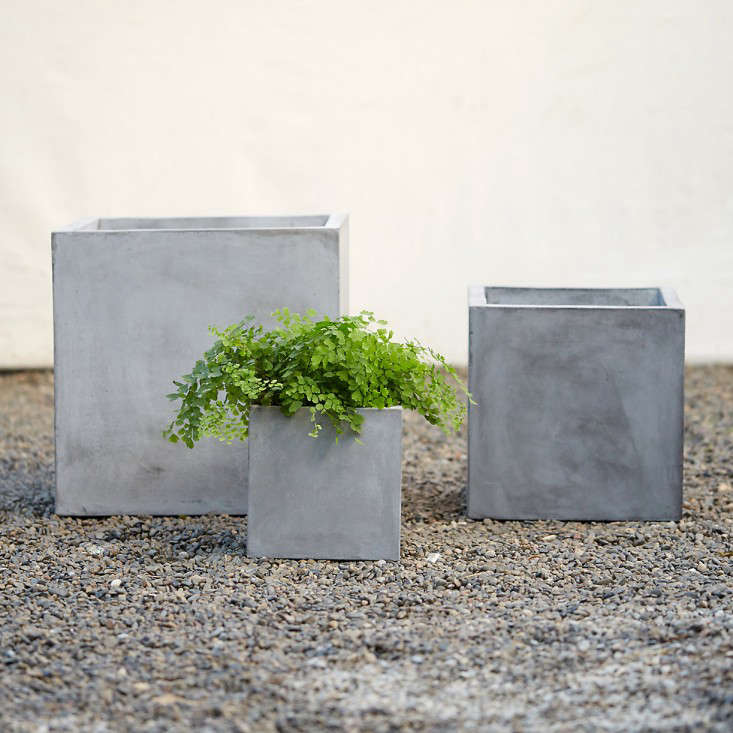 Above: A square Cubist Fiber Concrete Planter is available in two sizes (the large size shown above is not available): 7.75 inches or 11.75 inches. Prices range from $38 to $68 depending on size at Terrain.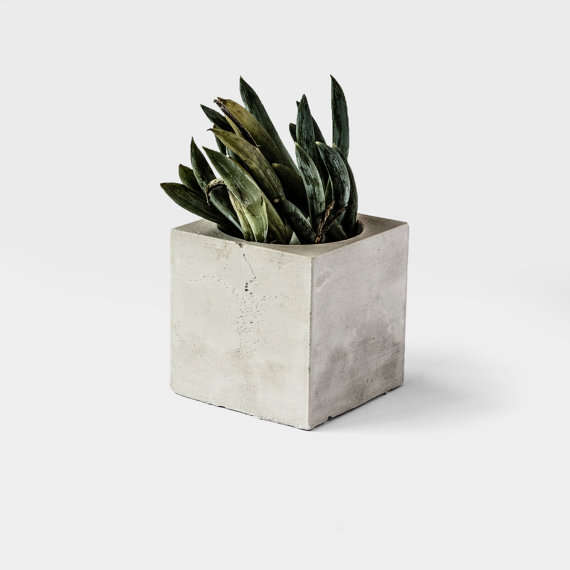 Above: Available in three colors (including Ash, as shown) and with or without a drainage hole, a 3-inch-square Concrete Cube is $18.60 from The Armory Co via Etsy.
It's planter season. See more of our picks at 10 Easy Pieces: Mossy Terra Cotta Pots and 10 Easy Pieces: Bronze Garden Planters.