At Shed, the light-filled restaurant and housewares emporium housed in a 10,000-square-foot, glass-walled barn in Healdsburg, California, sun streams in and holds you captive throughout the singular experience of lunch (be sure to order the spring peas and farro with pickled mushrooms, melted shallots, sheep's milk cheese, and bread crumbs if it is still on the menu).
Afterward as you browse among Japanese cookware and German scrub brushes and Swedish dish towels (certain that you need it all), the light lures you toward the back of the barn and outdoors to a small courtyard—a magical dining and gardening space with a silvery wood fence, a metal-roofed storage shed, and crunchy gravel underfoot.
When we asked Shed's co-owner, Cindy Daniel, to share her design secrets, she graciously offered tips for how to recreate the look of the courtyard's hardscape and furnishings:
The Basics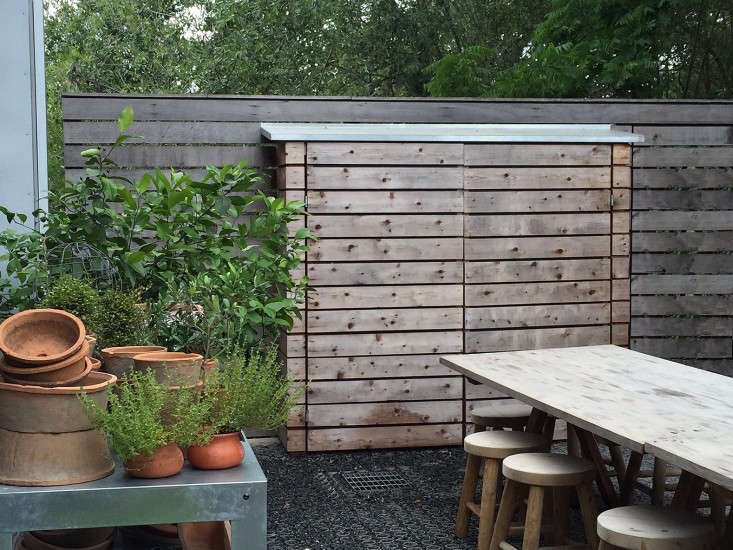 Above: Photograph by Michelle Slatalla.
A cedar tool shed has a galvanized roof and is barely a foot deep, allowing plenty of room for a long dining table, a display table, and a potting bench. Inside, the shed is kitted out with hooks to hang and organize tools.
The A-joint table made of unfinished cedar has galvanized hardware and measures 96 inches long, 36 inches wide, 30 inches high. "The table is a Shed design and available in various lengths and woods and is made to order," says Daniel. For an identical cedar table, the price is $2,600. (The same table in unfinished elm—suitable for interior use—is $2,800.)
Flooring
Above: Photograph by Michelle Slatalla.
The flooring is a recycled plastic surface called Gravelpave, individual pavers with rings (1 inch deep and 2 inches in diameter) designed to be filled with gravel. "Our architect had the idea for those gravel pavers, to make the space wheelchair accessible," says Daniel. "They hold the gravel so neatly. And they're the most asked-about architectural feature in the building."
Above: Gravelpave is a porous recycled plastic surface made by Invisible Structures; it comes in rolls, making it easy to cut to fit, and is and available in four colors. To install, roll out Grasspave over a sub-base of compacted stone and then fill it with gravel to a level of one-quarter inch above the rings. Compact the gravel in place to make the fill flush with the top of the rings.
For prices and more information, see Invisible Structures.
Above: Invisible Structures also makes Grasspave, designed to be covered with a layer of sand and a layer of thin sod.
Drainage
Above: A similar 12-inch square Galvanized Steel Drainage Grate made by NDS is $69.99 from The Drainage Source. Photograph via NDS.
Seating
Above: Photograph by Michelle Slatalla.
Four-legged Monadnock stools made of cedar are available in three heights (18, 24, and 20 inches) for prices ranging from $74 to $84 apiece at Walpole Woodworkers.
Fence
Above: Photograph by Michelle Slatalla.
Made by West Marin arborist Evan Shively of Arborica, the fence is reclaimed cypress. For more information and pricing, contact Shively at Arborica. "Most of the wood inside our building was from Shively, including a cypress wall indoors," says Daniel. "The idea is that the inside wall just extends outside to wrap around the courtyard and become a visual extension of the indoors."
We visited Shively in his studio: The Ultimate Arborist Evan Shively in West Marin.
Herbs and Plants
Above: Shed sells potted plants including topiary olive trees (shown at top L) and scented pelargoniums (shown at top R). Also available online from Williams-Sonoma is a six-pack Fragrant Herb Collection of 4-inch potted plants including a scented pelargonium; $29.95.
Above: A miniature Olive Plant Topiary in a 4-inch pot is $49 from Vivaterra.
 Pots and Planters
Above: Photograph by Michelle Slatalla.
In its farm and garden department, Shed sells a large selection of terra cotta pots from Massachusetts-based Campo de' Fiori.
Above: An Aged Pie Crust Planter is also available in three sizes at prices ranging from $16.25 to $33.75 from Campo de' Fiori.
Work Table
Above: Photograph by Michelle Slatalla.
A galvanized potting table displays terra cotta planters and plants for sale.
Above: A Steel Work Bench measures 20 by 45 inches and is 31 inches high; $96.97 from Home Depot.
See more about Shed at A Modern Grange Opens in Healdsburg on Remodelista.