In Berlin's artsy Neuköllna neighborhood, an übercute hostel awaits the adventuresome.
Huettenpalast owners Silke Lorenzen and Sarah Vollmer set out to create a business where they could exercise their passions for design, art, cooking, and socializing. They found a home base in a former vacuum cleaner factory and soon started dreaming of rooms within rooms.
Huettenpalast now welcomes visitors to six creatively refurbished campers and cabins nestled closely together on an indoor "campground" replete with birch trees, picnic tables, and lanterns. Bedrooms are private but bathrooms are shared; Lorenzen and Vollmer host a "wild mix in generations and nationalities" and often join their guests in the evenings over a bottle of wine. If privacy is a priority for you, Huettenpalast also offers six hotel rooms (which the owners say are "really quiet"). To book, visit Huettenpalast.
Photography by Jan Brockhaus.
Above: The Kischwester (or "Little Sister"), a 1970's Mercurial Junior and former resident of East Germany. The yellow lightbox atop the camper makes for a starry night sky (pictured below).
Above: The interior of the Kischwester was designed by Yoraco Gonzalez, who lined it with handmade wooden bricks. Kischwester's nighttime sky features flowers, seahorses, and music notes among the stars.
Above: Huettenpalast's vegetarian cafe is open to non-guests for breakfast, lunch, and afternoon tea, and dinner service is in the works.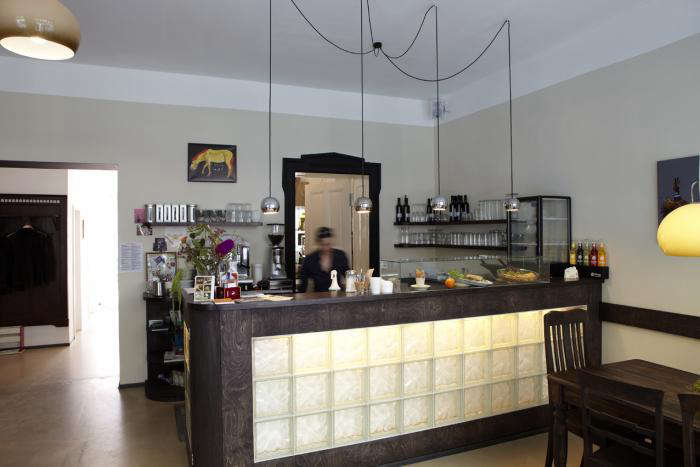 Above: The cafe bar is constructed of discarded glass blocks the owners found in the building.
Above: The cabins and caravans are all close neighbors. From left, the Alterpalast, Kischwester, Berghuette ("Mountain Cabin"), and Talhuette ("Valley Cabin").
Above: The Schwalbennest caravan (or "Swallow's Nest"), built in the 1960s, is the only West German of the bunch.
Above: The Heartbreaker needs no translation (or introduction).
Above: Each unit features its own "patio" lounge.
Above: Once a storage space for factory refuse, the garden makes good use of reclaimed bathtubs and old furniture.
(Visited 1 times, 1 visits today)