Our judges have selected the finalists, now you choose the winners. Vote for the finalists in each of 12 categories in the Considered Design Awards, on both Gardenista and Remodelista. You can vote once a day in each category, now through August 15.
In the Best Hardscape category, which was open to both professional designers and amateur gardeners, our five finalists are Growsgreen Landscape & Design, Steve Martino, Elliott + Elliott Architecture, Alterstudio Architecture, and Lisa and Erik.
Project 1
Alterstudio Architecture | Austin, TX | Bunny Run Residence
Design Statement: "The pool for the Bunny Run Residence was oriented to take maximum advantage of an unexpected greenbelt and lovely views offered at the rear of the property, while becoming the focal point for the main living areas and patios."
Chosen by: Gardenista editor in chief Michelle Slatalla, who said: "The generous volume of the pergola and the dead-simple shape of the swimming pool beckon with the same promise as an oasis appearing in the desert."
Above: "Open living spaces of residence wrap around the pool court."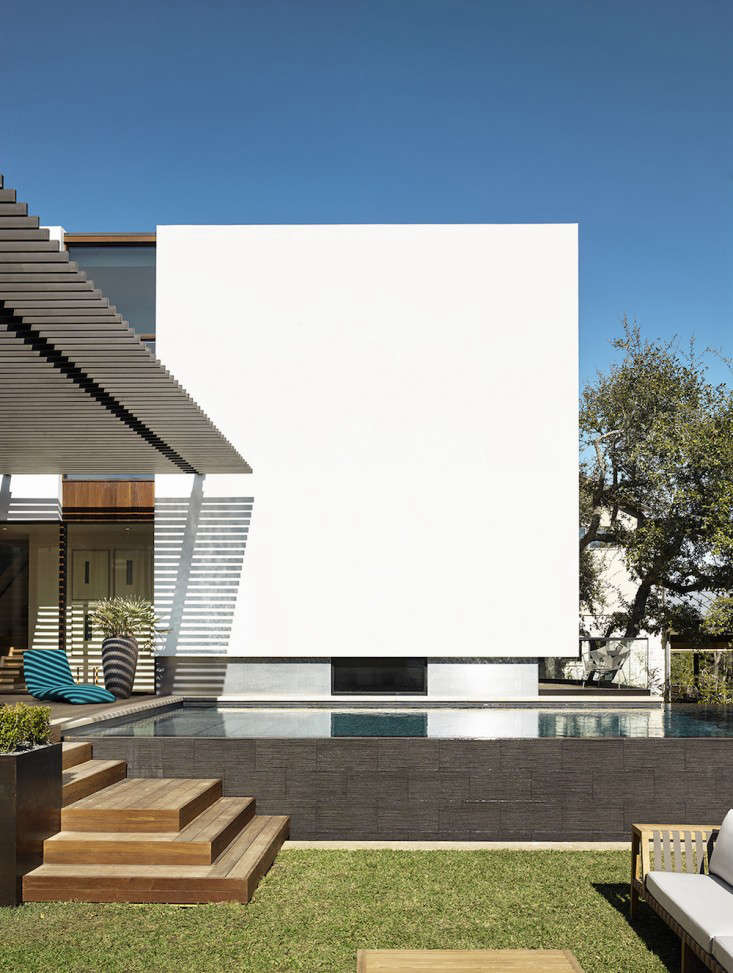 Above: "View of pool from sunken lawn living area."
Above: "Master bedroom balcony overlooks pool edge."
Above: "Stucco volume captures the shadows from the trellis and pool reflections."
---
Project 2
Elliott + Elliott Architecture | Blue Hill, Maine | Hot Tub
Design Statement: "The owners wanted a hot tub and terrace that would intrude minimally upon their natural setting. The solution is a whirlpool recessed into the ground and set flush with the stone pavers. It was carved out of two blocks of stone and assembled on site, merging seamlessly with its surroundings."
Chosen by: Guest judge and garden designer Carolyn Mullet, who said of the project: "A subtle and beautiful use of materials. Expert craftsmanship. A hardscape that fits the site like a glove."
Above: "View of hot tub and terrace from above."
---
Project 3
Lisa and Erik | Brooklyn, NY | Brooklyn Backyard
Design Statement: "A neglected and overgrown Brooklyn backyard–littered with broken chain link fencing, dying trees, and rubbish–was reimagined and reborn, starting with extensive hardscaping. Despite being in a very urban setting, the space now has an outdoorsy flair but feels sophisticated and usable."
Chosen by: Michelle Slatalla, who commented: "Leafy, green, and cool are three adjectives one doesn't typically associate with Brooklyn in summertime. The triumph of this project is it makes it unnecessary to flee the borough to find relief from the heat."
Above: "A towering wall of ivy makes for a wild and timeless yet urban feel."
Above: "Herringbone brickwork and planter were executed in a vintage brick to match the adjacent building."
Above: "Poured concrete tiers were stained a brick color and polished."
Above: "Bluestone pavers and a cedar shed contribute structure."
---
Project 4
Steve Martino | Phoenix, AZ | Multifunctional Sheds
Design Statement: "Two connected contemporary garden sheds transformed the space from being a small exposed yard to being a large, private outdoor room. The narrow but long structures save floor space and give privacy to the small garden while serving multiple functions: viewing deck, fireplace, and storage." Photographs by Steve Gunther.
Chosen by: Carolyn Mullet, who said, "Ingenious solution to a site privacy problem. An expert example of how hardscapes can create livable spaces. Choosing bold red finishes was brilliant."
Above: "Two unusual sheds dramatically transformed a small privacy-challenged backyard into a stylish outdoor room."
Above: "Fireplace shed completely overpowers privacy issue and creates a new reality of seclusion."
Above: "View of stairs, shed, and cast-in-place bench; the design is practical and simple."
Above: "Yard has privacy and owner has a lookout to the mountains and back downtown."
---
Project 5
Growsgreen Landscape & Design | Oakland, CA | San Mateo Hardscape Garden
Design Statement: "Before, this garden was not user-friendly with a huge lawn and small deck. By working with the grades and installing hardscape with a central planter and surrounding areas to be in and enjoy, the garden is transformed so that there is more usable space."
Chosen by: Carolyn Mullet, who said, "A warm mix of modern materials define intimate spaces. Focal points are well crafted."
Above: "Broad view of garden from path and hot tub area." 
Above: "Corten steel fountain with native no-mow lawn and glimpse of hot tub."
Above: "Detail of corten steel fountain and hardscaping."
Above: "Round concrete fire pit and outdoor seating and curtains for warmth."
Found your favorite? Vote once per day in each of 12 categories across both sites, now through August 15:
You need to login or register to view and manage your bookmarks.