Our judges have selected the finalists, now you choose the winners. Vote for the finalists in each of 12 categories in the Considered Design Awards, on both Gardenista and Remodelista. You can vote once a day in each category, now through August 15.
In the Best Edible Garden category, which was open to both professional designers and amateur gardeners, our five finalists are Judy Bown, Barnes Walker Ltd, Rob Maday Landscape Architecture, Kristin Korbin, and Betsy Spears.
Project 1
Betsy Spears | Mt. Washington, MA | Vegetable Garden with Fountain
Design Statement: "Raised bed vegetable, herb, and flower garden with cruciform paths and center fountain. I say that I 'husband the wild.' So many plants (foxgloves, poppies, red kale, red mustard, camomile, violas) reseed themselves in different spots each year. I let them, with some editing along with planting rows of vegetables."
Chosen by: Gardenista editor in chief Michelle Slatalla, who said: "The garden is a delightful marriage of edible and ornamental plants, with comfortable chairs perfectly positioned if you want to sit and watch the vegetables grow (beats TV, in my opinion)."
Above: "Fountain and view to the rock garden stone steps."
Above: "Overall view looking from the stone steps to the east."
Above: "Front to back: Italian pole beans, camomile, red mustard, chives, poppies, garlic, French beans, peas."
Above: "Sitting arrangement by the vegetable garden and barn."
---
Project 2
Kristin Korbin | SonomaӬ, CA | Vineyard Family Garden
Design Statement: "We converted an old greenhouse into a chicken coop and built raised planters for our vineyard in Sonoma, California. This project began with practical goals: We hoped for fresh eggs and vegetables for our large family meals, but designing and building this as a family has strengthened our bond."
Chosen by: Guest judge and event designer David Stark, who said, "I love the relationship of the chicken coop and barn to the outdoor spaces–big and boxy and nicely proportioned to the broad strokes of the landscape. I also appreciate how the fire pit and seating area is defined by the raised planters. The proportion of that living space feels so right with the view it overlooks."
Above: "Reclaimed bespoke barn door made from turn-of-the-century homestead siding."
Above: "Chicken coop and Rhode Island Red chick tucked behind a meyer lemon and yuzu tree."
Above: "Flowering thyme, sorrel, and lemongrass soaking in the morning sunlight."
Above: "Concrete fire pit for outdoor cooking and entertainment sits under the glow of edison bulbs."
---
Project 3
Rob Maday Landscape Architecture | Santa Barbara, CA | Mediterranean Cottage Garden
Design Statement: "A family of East Coast transplants found year-round garden inspiration in California's coastal climate. A modestly sized vegetable garden, stone fruit and citrus orchards, and lavender field provide the family with a continual harvest throughout the year."
Chosen by: Michelle Slatalla, who had this to say about the project: "As an East Coast transplant myself, I think this design perfectly captures how exciting it feels to move to a mild Mediterranean climate where rosemary is a perennial and lettuce will grow year-round."
Above: "Simple stone-edged planters burst with vitality and diversity in this kitchen garden."
Above: "Gravel paths are softened by creeping thyme, spilling herbs, and flowering perennials."
Above: "Custom greenhouse boxes house veggie starters."
Above: "When not roaming the garden, chickens find refuge in a chicken coop worth seeing."
---
Project 4
Barnes Walker Ltd | Manchester, UK | Kitchen Garden, Cheshire
Design Statement: "Designed as a functioning vegetable garden within an overall garden masterplan, also designed by Barnes Walker, this beautiful and functional space was created. Raised fruit and vegetable beds combine with a glasshouse, chicken roost, and fruit trees."
Chosen by: David Stark, who commented, "I love the way the shapes of the raised beds define curved pathways and lead you through the property. Those reveals are dramatic and elegant in equal measure."
Above: "A tranquil yet highly organized and functional kitchen garden with raised beds and glasshouse."
Above: "The kitchen garden forms part of the wider estate providing food for the family year-round."
Above: "Traditionally designed, pegged oak forms the raised beds."
Above: "The chicken roost is a bespoke structure using a combination of ironwork and timber."
---
Project 5
Judy Bown | Butleigh, Somerset, UK | The 12-Week Kitchen Garden
Design Statement: "For Christmas, my boyfriend bought me a 'Constant Garden' from Rocket Gardens, essentially six deliveries over the spring and summer of plug-plants for a vegetable patch. With only grass and apple trees around the cottage, I had to act quickly and prepare some ground for the imminent first delivery."
Chosen by: David Stark, who said, "This garden is not only functional but romantic and visually stunning. The details–the stained, raised beds and the natural accessories–all work hard to make this garden a natural extension that complements the cottage perfectly."
Above: "I stained the raised beds black, to show off the plants' colors, textures, and forms."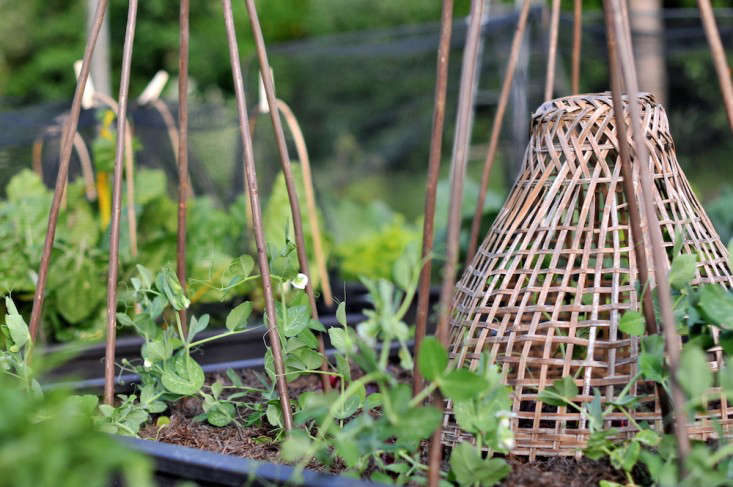 Above: "I've avoided using plastics, and gone for natural materials that will weather with the seasons."
Above: "Although partly formal, I very much wanted it to complement the cottage and everyday life."
Above: "The garden is primarily about good things to eat, and time spent outside with nature."
Finally, learn how to successfully design and create an edible garden with our Hardscaping 101: Edible Gardens guide.
Found your favorite? Vote once per day in each of 12 categories across both sites, now through August 15:
(Visited 286 times, 1 visits today)