What better backdrop to banish winter than an indoor jungle? Here are 10 of our favorite rooms where vines and climbers cover the walls like art:
Above: "When a young family asked Brooklyn architect Kim Hoyt to cover their dining room walls with living plants, she recognized it as a rare opportunity to create a robust, architectural garden indoors," writes Meredith. See more in Architect Visit: A Dining Room Wallpapered with Climbing Vines. Photograph by Dan Wonderly Imaging courtesy of Kim Hoyt Architect.
Above: A passionflower tendril wants to help with the dishes. Photograph by Ngoc Minh Ngo from Bringing Nature Home, courtesy of Rizzoli.
Above: Blogger Agata Dimmich of Passion Shake shows us how to make DIY scaffolding for a vine in DIY: An Indoor Trellis for Climbing Vines.
Above: About 10 years ago Tammy Hall moved from London (where she worked as an architect) to Shropshire to live on a farm with her partner, James, who was brought up nearby. The landscape quickly stole her heart. And thus was born her floral business. For more, see Wild Bunch: In the Studio with Tammy Hall. Photograph by Britt Willoughby Dyer for Gardenista.
Above: Florist Sophia Moreno-Bunge encourages cucumber vines to spill out and over the furniture. Photograph by Sophia Moreno-Bunge.
Above: Photograph by Taylor Johnston. Some nasturtium vines are trained to grow up (instead of trail). See more at Garden Visit: The Isabella Stewart Gardner Museum.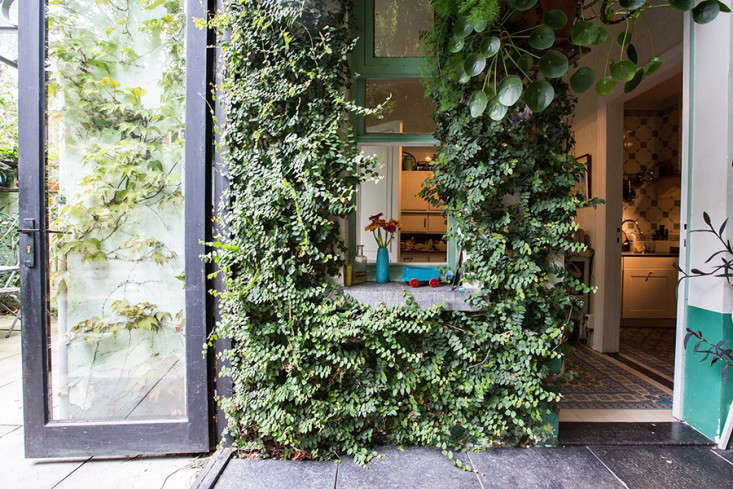 Above: Photograph by  Bart Kiggen courtesy of All Items Loaded. A 19th century house in Antwerp is home to a garden grown wild, with vines creeping up indoor walls
Above: Swedish designer and entrepreneur Agneta Enzel's orangery, which she uses as a potting shed and family space. Photograph by Sandra Pettersson.
Above: Photograph by Jill Danyelle. For more, see How to Turn a Brooklyn Loft into an Urban Oasis.
Above: The Användbar Hanging Planter made of renewable cotton is a bargain option at $13; available at Ikea.
For more of our favorite wall gardens, see Black and White Orangery, Scandi Style.
Finally, get more ideas on how to plant, grow, and care for various vines and climbers with our Vines & Climbers: A Field Guide.
(Visited 729 times, 5 visits today)