A stick house may not have been a viable option for the Three Little Pigs, but I've been dreaming of one for my own backyard. It all started when I happened upon a "twigwam" on Pinterest. Delighted, I started looking for other woven branch structures. That led to the discovery of a whole world of natural playhouses, all sturdy enough to endure plenty of huffing and puffing (and wind and rain, too). Here are five favorites, from simple to fairytale deluxe.
Twigwam
The Twigwam is £179.95 ($234.51) from Chairworks; it's also available from a number of other UK retailers, including Sophie Conran. The owner of Chairworks told us that due to US Customs restrictions (that require fumigating the branches), he doesn't ship to the States. For an American version, consider Center Enterprise's steel-framed Willow Teepee; $499.
Children's Den
Outdoor Thicket
Cheeriup's willow structures range from simple domed Fledgling Thickets, $595, to the substantial Outdoor Thicket, $4,200, shown here, with a cedar plank floor, diminutive door, and hook (for hanging things, such as a broom). English uses native wild willow, which she harvests and preps herself, and says it takes her from three to five weeks to produce each thicket: "It's a simple idea, a house made of sticks, but there's actually nothing simple about the process of creating them." She is currently accepting orders for fall 2017 and beyond.
Dreaming Spires Playhouse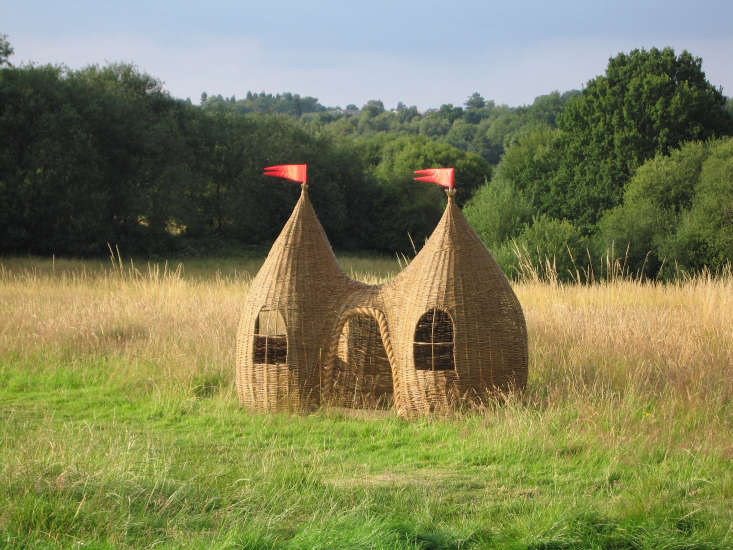 Needham's willow comes from growers in Somerset, England: "It's grown specifically for basket making; the method of cultivation, rather than the variety, is what makes the material suitable for weaving. The technique is called coppicing—each plant is cut right down to the ground during harvest in the spring leaving just a stump. New growth quickly springs from the trunk. These stems are long, thin, unbranching, and very pliable. Some plants are left to grow for two or three years to yield ten-f00t-long stems, which is what I need for playhouses, but most are cut annually making it the ultimate sustainable crop."
For twig playhouses that are left outdoors, Needham recommends applying an annual coat of linseed oil, and says with this protective finish, they should last for six to eight years. Most of her customers are in the UK, but to date, she's shipped three playhouses to the States.
Hocus Pocus
One of his specialities is play constructions, most of which he builds on the grounds of museums, art centers, and colleges, but on occasion, Dougherty accepts private commissions. One such is Hocus Pocus, shown here, a willow structure at Bittersweet Farms in Ennice. NC. Photograph by Robyn Dreyer. Go to Stickwork to see more and learn about his process.
N.B.: For more fanciful children's play structures, see:
(Visited 572 times, 1 visits today)