Visions of spring-flowering bulbs dance in my head as bulb-planting time is just around the corner. While I flip through catalogs, I can't help but dread the tedium of digging holes to nest the beloved bulbs. This year I promised myself a bulb planter to make the job easier.
Bulb planting tools help reduce the hard work by grabbing dirt in their cone when they are pushed into the soil and leaving a bulb-ready hole. Simple short-handled hand bulb planters are perfect for small planting jobs. For bigger jobs or particularly hard soil, get off your knees and consider a foot-powered long-handled bulb planter.
Above: The simple rule of thumb I was taught is that bulbs need to be planted in a hole about three times as deep as the bulb is wide.
Hand Bulb Planters
Above: Made of boron steel with a hardwood ash handle, the Small Bulb & Crocus Planter by DeWit measures 10 inches in length and creates holes about one and a half inches in diameter. DeWit Tools has been producing hand-forged Dutch garden tools in the north of Holland since 1898; $24.75 at Garret Wade.
Above: The Burgon and Ball Bulb Planter is endorsed by the Royal Horticulture Society. It features a deeply serrated edge for easy insertion into dirt, as well as convenient depth markings; $25.99 from Life and Home.
Above: The Sneebeor Hand Bulb Planter is hand-crafted in Holland of solid stainless steel; $78.30 at the Garden Tool Company.
Above: Fiskars Bulb Planter creates holes like other planters, but also has a spring-loaded handle that releases bulbs for planting. Crafted of rust-resistant steel, the 2.25-inch diameter planter comes with a lifetime warranty; $5.49 at Fiskars. 
Long Handled Bulb Planters
Above: The DeWit Double-Handled Bulb Planter enables you to make a hole and deposit the bulb in one step. "Simply place a bulb into the cone-shaped reservoir created by the blades, drive the blades into the ground, and open." The ash handles are 30 inches long, and the hinge doubles as a step for foot-driven power; $56.50 at Lee Valley.
Above: The hand-forged Sneeboer Ash Handled Bulb Planter features a one-piece stainless steel digging end and a wide T-handle made from FSC Certified ash. It has a convenient footstep to help power the tool into the soil; $109.20 at the Garden Tool Company.
Above: The Smith and Hawken Solid Forged Bulb Planter is 39 inches tall and has an ash handle; Now own sale for $44.50 (regularly $89) at Target.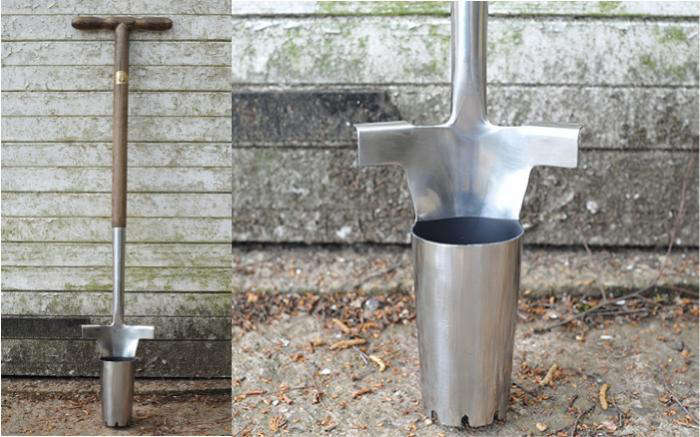 Above: The Joseph Bentley Long Handled Bulb Planter features easy-step tread edged wings for foot-driven plantation into the ground; $48.49 through Amazon.
(N.B.: Wondering what to plant this fall? See "Squirrel-Proof Crocus.")
(NB: See our earlier Garden Tool Posts for more gardening helpers.)
(Visited 242 times, 1 visits today)