We've long admired the work of the talented team of Megali Elali (writer) and Bart Kiggen (photographer), whose blog Coffeeklatch delights us with its intimate portraits of everyday life in Belgium.  So when Kiggen wrote to us recently to say the duo has launched a new online magazine "where we feature more everyday stories of people, places and stuff," we barely read past "and stuff" before we rushed over to check out their new site, All Items Loaded.
There we found the story of Wilbert, Johanna, and baby Sien, who live in a jungle–in the center of densely populated Antwerp. Their house, a 19th century maison de maí®tre (a "master's house" or city mansion, with a private garden), is home to a garden grown wild, with vines creeping up indoor walls, a collection of cacti rescued from the streets, and a rooftop pond. "Once a year I prune the plants, and that's it," says Wilbert. 
Photographs by Bart Kiggen courtesy of All Items Loaded.
Above: Wilbert, on the second floor, admires the trunk of the ficus vine that has wound its way up from the ground floor dining room.
Above: Wilbert first lived in the house when he was a student; while renting a room from the previous owners, he helped them restore the interiors during his summer breaks. Years later, "when they told me they wanted to sell the house, my girlfriend Johanna and I didn't hesitate for a second. We bought it immediately," says Wilbert. "It feels good to be back."
Much of the house's original detail, including tiles and staircases, have been preserved.
Above: Ficus, which frames a window in the dining room, has grown up the wall to colonize the terrace on the second floor.
Above: The path of the ficus.
 Above: The dining room is in the house's conservatory, with enough sunlight in winter to nurture succulents and cacti.
Above: Wilbert (L), Johanna, and baby Sien.
Above: "Some plants that are here, we have found on the streen. I cannot stand to see that," says Wilbert. "Half dead plants? I have to save them."
Above: On the third floor, a vintage bathtub has been converted to a pond.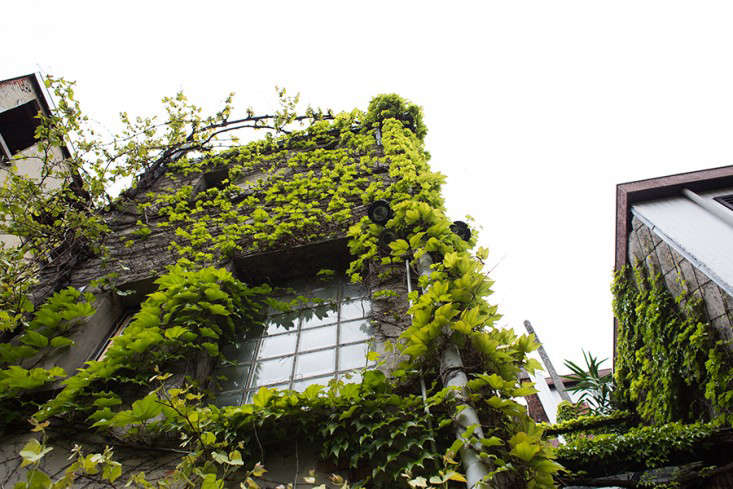 Above: "In the beginning I wanted to add some changes, but in fact the house is perfect just the way it is," says Wilbert. "There's no way to make it better."
For another city jungle seen through the eyes of Kiggen and Elali, see Radical Urban Gardens in Antwerp.
(Visited 127 times, 1 visits today)