Spread out in the Pentland Hills near Edinburgh, the garden at Little Sparta was created by artist and poet Ian Hamilton Finlay over decades, with his wife Sue. Simply put, It is one of the greatest works of art created in Scotland.
"Little Sparta is not just a garden but an entire art work," says Derek Brown, a production designer and Gardenista reader, and our guide on this visit. Brown's connection to Little Sparta began when he was a boy, living nearby as the creation of the garden got underway. Recently Brown returned for a visit and found Ian Hamilton Finlay's garden to be "deeply personal and engaging, a total immersion into his world."
Photography by Derek Brown, except where noted.
Above: In the early days, after Finlay purchased the five-acre plot in 1966, and Brown was at school with Eck (the nickname of Alec Hamilton Finlay, son of the artist), the garden was very much a work-in-progress. Brown wasn't very interested in what was going on there. In the intervening decades he changed and the garden changed. There had been "time for trees and plants to grow, landscaping to settle, lochs to establish, and poetry to be written." There had been time to compile an extraordinary work.
Above: "Goose Hut" made with wood and heather. Ian Hamilton Finlay worked with many collaborators to realize his vision. The hut, made with Andrew Townsend, has recently been restored.
Above: Ian Hamilton Finlay was a "concrete poet," intensely interested in words and the application of words. When Finlay and his wife arrived at the unpromising farm (originally named Stonypath), they immediately set about constructing waterways to create a series of ponds and lochs. These were a way of dividing up the garden, so that a landscape could be composed around them. The garden was re-named Little Sparta in the 1980s, in part a reference to its relationship with Edinburgh, known as the Athens of the North.
Above: Sue Finlay wrote of her devotion to the garden and of "tending the poems" just as one would tend plants. The Finlays' son Alec has among his first memories the physical labor of his parents: of the two of them working hard to make the garden together. "He made the paths, she planted the flowers," he says.
Above: A reminder of war, one of the leitmotifs of the garden. You are just as likely however to bump into a reference to fishing or sailing.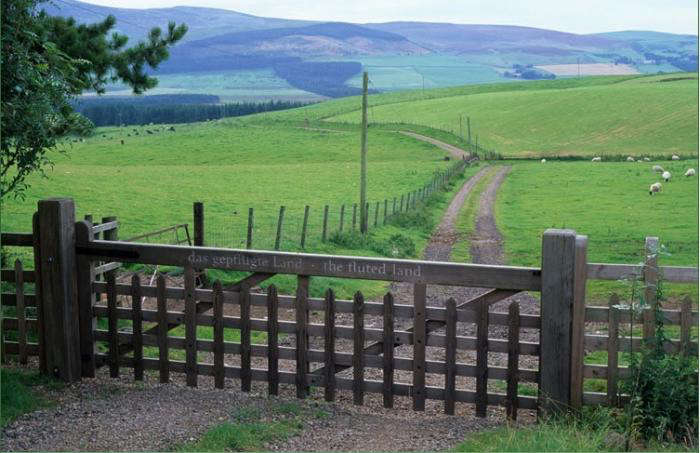 Above: Photograph by Andrew Lawson courtesy of Frances Lincoln. For more, see Little Sparta: The Garden of Ian Hamilton Finlay.
The carved lettering is only part of the poetry. It is entirely contextual and is incomplete without flowers, bird song, and the fall of light.
Above: Finlay also relied on the help of the best stone masons and letter carvers. The succinct garden poems are a letter-carving dream.
Above: Photograph by Andrew Lawson courtesy of Frances Lincoln. For more, see Little Sparta: The Garden of Ian Hamilton Finlay.
Ian Hamilton Finlay was born in 1925 in Bermuda, where his father was a smuggler. Sent to boarding school in Scotland at the age of six, he kept his childhood fascination with toy sailing boats and maritime lore for the rest of his life.
Above: A visit to Little Sparta is to be a part of something which is "deeply personal and engaging," says Derek Brown.
Above: There were no trees at the beginning but with their maturity, and the aid of water and sculpture, Hamilton Finlay's vision of a durable garden has been realized. For hours and admission prices to visit the garden during spring and summer months, see Little Sparta.
N.B.: This is an update of a post published January 21, 2013.
(Visited 198 times, 1 visits today)