The thing you realize, after the very first time you raise something that grows up to become dinner, is how much better it tastes than anything else you've ever eaten.
With its new Agrarian collection, Williams-Sonoma introduces 275 products that connect homegrown to homemade. It's an assortment that reminds us of something our grandparents knew: The most delicious food we bring to the everyday table comes to the kitchen straight from the garden. Here are some ways to create your own edible garden.
Above: Create an instant edible garden with Cedar Raised Bed Kits ($149.95 to $299.95), which maximize planting space. Roots can grow down, rather than outward, enabling more plants to thrive per square foot. For more information, see Raised Beds & Planters.
Above: Gardeners' Gloves that mean business: Made of a combination of breathable bamboo and sturdy leather (on the palms), they're lightweight, washable, and allow you great dexterity when working with delicate plants; $26.95.
Above: Organic Tuscan Blue Rosemary (L) and other kinds of herbs ship ready to plant; $12.95 apiece.
Above: Farm-fresh eggs taste better. The Alexandria Coop ($879.95) houses six chickens and comes in red or green, as does a 6-foot-long House Frame Run ($399.95) attachment that allow hens the option to forage and exercise in the open air.
Above: The coops, designed exclusively for Williams-Sonoma by a master woodworker with a family business in Michigan, can expand along with your chicken family. A 3-foot House Frame Run Extender is $149.95.
Above: Who among us has not secretly dreamed of an orange hose? Of course, the Professional Slim Series Garden Hose also comes in olive, for traditionalists (in two sizes, $59.95 and $99.95). A Water Wand, sold separately, is $24.95.
Above: Forged in Austria, the Copper Tools are designed to last a lifetime. The collection includes (from L) a long-handle fork, a long-handle spade, a castor trowel, a hand fork, and a Nunki weeder; $58.95 to $299.95.
Above: Even the most space-challenged urban gardener can have an edible garden. A Vintage Bathtub with Stand ($199.95) makes a charming herb and vegetable planter.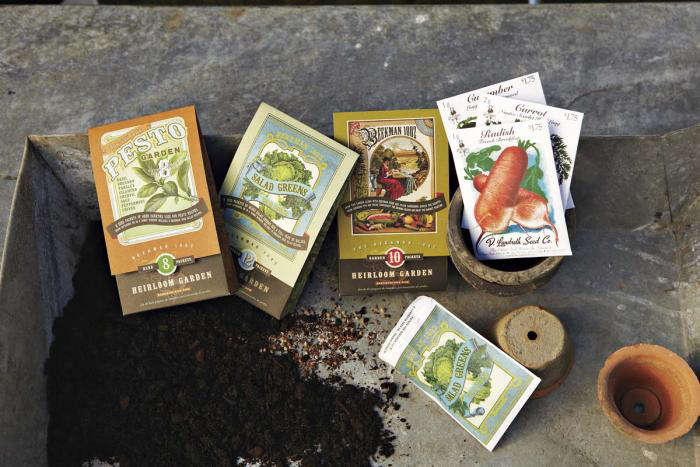 Above: From an upstate New York farm established in 1802, three assortments of Beekman Heirloom Seeds include the Pesto collection (eight herbs), the Salad collection (12 types of greens), and the Heirloom Garden, featuring 10 Landreth heirloom vegetables; $18 to $20. After planting, visit Beekman 1802 to join other gardeners growing the same plants this year.
Above: Six reusable Ceramic Garden Markers include thyme, garlic, sage, dill, mint, and rosemary; $24.
Above: Raising bees increases pollination for your garden and fruit trees. The Beehive was designed exclusively for Williams-Sonoma and has an eight-frame design that is ideal for beginners; $339.95.
Above: To learn more about cultivating your own honey, visit Beekeeping.
Above: A beekeeper's Starter Kit includes a helmet with veil, gloves, a smoker, and tools; $179.95 (or order in conjunction with the Beehive for a special combination price of $499.95.
Finally, learn how to successfully design and create an edible garden with our Hardscaping 101: Edible Gardens guide.
You need to login or register to view and manage your bookmarks.