A few weeks ago we visited Veddw Cottage deep in South Wales and discovered an elegant indoor succulent garden tucked away inside a glass greenhouse. We immediately set out to deconstruct the palette–mostly silver and black, with a touch of blue-green–to figure out how to create the same look at home. By the way, owning a conservatory is not a necessary component:
Photography by Fiona Gilsenan for Gardenista.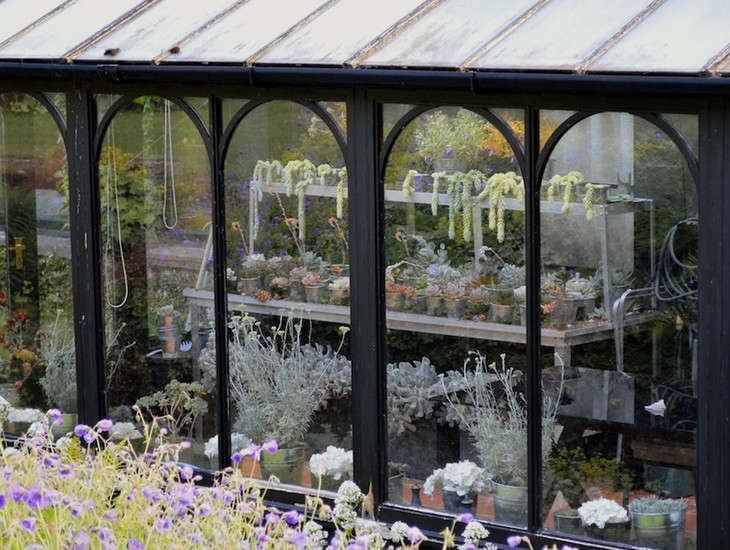 Above: You can recreate the look without a greenhouse by painting a wall black. But sometimes it's fun to play make-believe. If you're in the mood: this is a three-sided lean-to greenhouse attached to the side of a building for support. Designs can range from simple to elaborate. A small 4-by-8-foot lean-to Vitavia Ida Greenhouse with double doors and a black powder coated frame is $1,060 from Charley's Greenhouse.
At the other end of the price spectrum is Serres d'Antan, a French manufacturer of bespoke ironwork greenhouses and conservatories. For one of Serres d'Antan's most fanciful creations, see Babylonstoren Greenhouse: An Idyllic Garden.
Above: Or skip the greenhouse. Create a glamorous backdrop by painting a wall black. See Black Magic: Architects' Top Black Paint Picks for our favorite shades.
Above: Can it be possible to add glamor with a garden hose? We think so, if it's a black Heritage Garden Hose–actually, the color is described as "onyx"–available in either a 50- or 100-foot length; from $59 to $98 at Terrain.
Above: Is it any wonder the common name for this trailing succulent is Burro's Tail? Sedum morganianum bluish green leaves and, when it blooms, tiny red flowers. A bare-root Burro's Tail from a 4-inch pot is $7.25 from Succulent Babies via Etsy.
Above: Repetition imposes order. A collection of one variety of succulent makes the indoor display look intentional rather than haphazard.
Above: Two options for solid steel shelving. A 6.5-foot-high stainless steel Professional Kitchen Shelving System (L) is available in several widths and has adjustable height shelving; for more information, see Zanussi Professional. A 2-Shelf Steel Work Bench measures 31 inches high by 45 inches long and 20 inches deep and is $89 from Home Depot.
Above: Shiny galvanized plant pails complement the steel shelving.
Above: A 4-inch-high Socker Plant Pot is $.79 from Ikea.
Above: Succulents thrive in cactus potting soil. An 8-quart bag of organic Cactus Mix By Black Gold is $3.95 from Planet Natural.
Above: Pink-tinged kalanchoe leaves always look to me as if they're wearing lipstick. Also known as a paddle plant, a Kalanchoe Luciae rooted cutting is $9.95 from Bkyard Paradise via Etsy.
Above: My favorite succulents are shaped like tiny individual roses. An assortment of 84 Sempervivum Succulents in a plug tray if $149 from Rainforestrosecom via Etsy.
Are your indoor succulents giving you trouble? For tips, see How Not to Kill Your Indoor Succulents. And on Remodelista, see A Minimalist Greenhouse in Belgium.
(Visited 145 times, 4 visits today)