Designer Gesa Hansen and her husband, Paris restaurateur Charles Compagnon, and three children were living in family quarters above one of his restaurants—with no garden—when they went to visit friends in the countryside not so long ago.
On a whim, on the way home Hansen stopped to look at two nearby houses for sale. "I fell in love immediately, and we bought the second one," she says. Now the family has a quintessentially French cottage garden–with hollyhocks and hydrangeas, a cobblestone driveway, and a potager where Compagnon grows herbs on the lawn, in woven-wicker raised beds. Here's how to recreate the look:
N.B.: See more of the interiors of the 19th-century stone compound on Remodelista.
Photography by Nathalie Mohadjer, unless noted, all courtesy of Gesa Hansen (@GesaHansen).
Cottage Garden
With an old house and an established garden, what stays and what goes? Modern amenities such as skylights bring the house into the 21st century. As for the garden? Loose, naturalistic plantings (including ornamental grasses and untamed grasses) undercut the traditional formality of clipped box and tidy cobblestone edging.
Horseshoe Shutters
For custom cutouts—including a horseshoe pattern similar to furniture designer Gesa Hansens, contact Connecticut-based Shuttercraft for designs and pricing. Shuttercraft, which advertises "endless cutout patterns," can create a pattern for "any shutter with a raised/flat panel or board and batten."
Chaise Lounge Chair
More typically consigned to a poolside deck, a chaise lounge chair beckons at the edge of a lawn.
Boxwood Edging
Tumbled Cobblestone
For cobblestones that look as if they've been in place for centuries, choose tumbled pavers with hand-cut sides.
Russian Sage
With soft-purple spires that grow to a height of up to four feet under ideal conditions, perennial Russian sage creates a hazy, romantic backdrop in a flower border. See more growing and care tips at Russian Sage: A Field Guide to Planting, Care & Design in our curated guides to Perennials 101.
Potager
Woven Willow Edging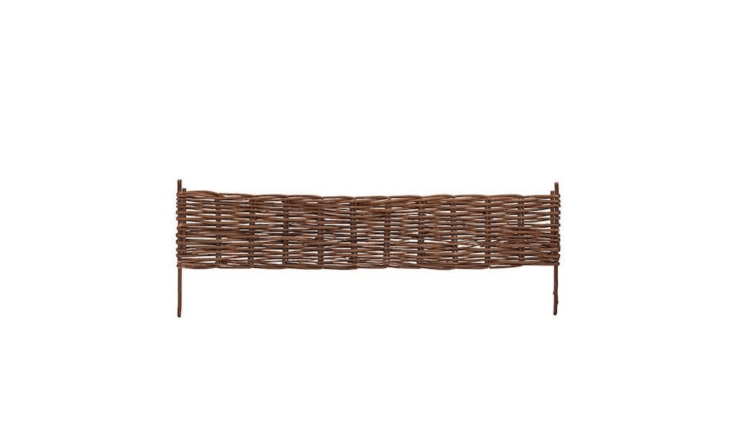 Tool Shed
Hollyhocks
For more planting and growing tips, see Hollyhocks: A Field Guide to Planting, Care & Design.
Hydrangeas
See more growing tips in Hydrangeas: A Field Guide to Planting, Care & Design in our curated guides to Shrubs 101.
Are you designing a cottage garden? For more inspiration, see:
(Visited 596 times, 2 visits today)