When Anna Campbell moved to Oakland, she had dreams of opening a floral shop that would help her reconnect customers to nature. Happily, she found a small triangle of undeveloped land under a busy freeway overpass to establish an urban garden. Then she opened a charming retail space in Old Oakland to sell the flowers she grew there.
The triangle shape of Campbell's garden plot provides the symbol for The FloraCultural Society. "The three "˜legs' of our vision are to grow beautiful heritage flowers, sell them in a welcoming space, and invite people to classes and events that promote a connection between urban dwellers and flowers," says Campbell. "Our motto is "˜Rewild Your Life–Go In For Floral Mutiny.'"
Above: The FloraCultural Society storefront.
Growing up in a small farming community, Campbell loved working in her family's garden and helping her grandmother arrange flowers to place on family graves. She has a degree in landscape design and horticulture and worked for Martha Stewart and Anthropologie in New York and event planner Stanlee Gatti in San Francisco before moving to Oakland. 
"Now I'm growing flowers in the midst of noise and traffic and selling them in the breezeway of a restored Victorian city block but I'm still doing what I've always done, which is sharing flowers with others," says Campbell.
Above: The shop has a chalkboard with a daily menu of the floral possibilities that are displayed in milk bottles. "Many people don't know flower names, so listing them on the board helps clients feel more comfortable asking for something in the shop," she says.
Above: Rare fritillaria in vases, with red pinwheels nearby. Seasonal flowers like these fritillaria are grown in Campbell's garden plot or procured from other flower vendors who emphasize heirloom and rare varieties. "Fritillaria add a wild look to bouquets, which I love."
Above: Campbell designed this reusable flower quiver of linen oilcloth to make carrying bouquets easy and eco-friendly. She explains, "It frees up your hands when you're shopping for other things at a farmers' market or just out and about."
Above: Modified plastic bottle tops hold smaller bouquets and expand or contract to fit different bottle sizes. 
Above: Campbell demonstrates how she uses the modified caps, which she says help to "create a hand-tied bouquet look." 
Above: The shop also offers floral-based products such as teas, skincare, and perfumes from Marble & Milkweed (N.B.: See Shopper's Diary: Marble & Milkweed's New York City Studio); soaps; essential oils; body lotions Etta + Billie, and flower remedies from Alexis Smart.
Above: Campbell makes elegant linens like these lap throws of hand-loomed fabric from Oakland's A Verb for Keeping Warm. "We look for plant-based goods that come out of the slow design movement in order to encourage customers to slow down and enjoy their own lives," she says. The outdoor furniture is from nearby Sobu.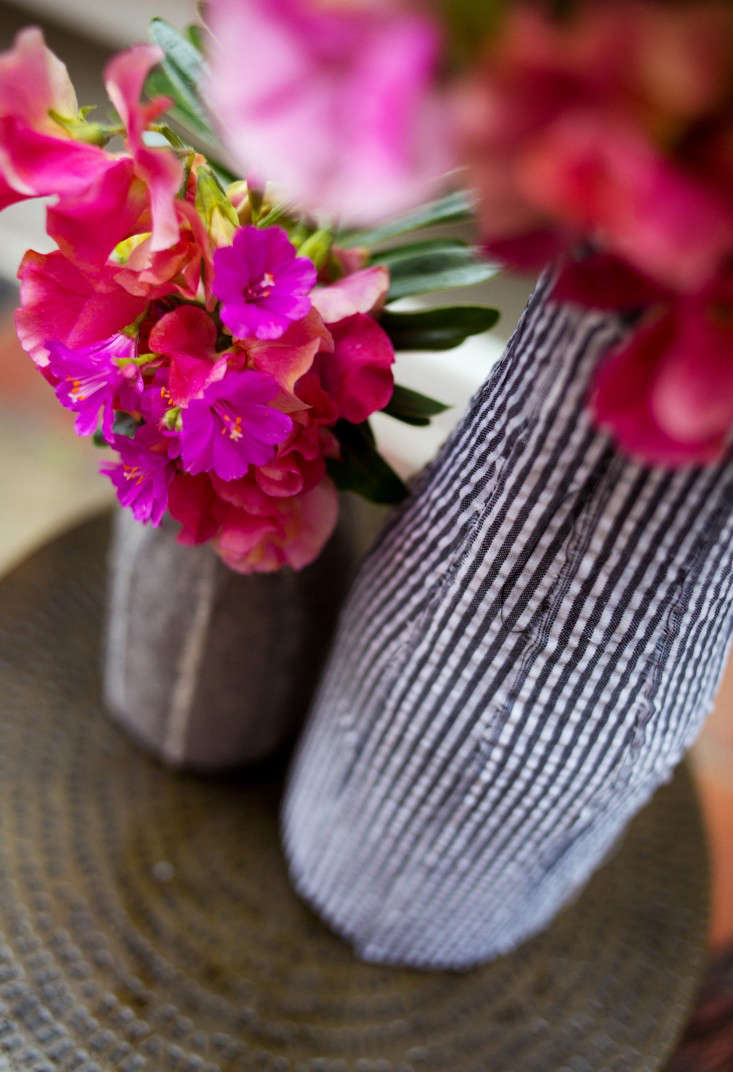 Above: Fabric sleeves dress up a simple milk bottle container and can be changed along with the seasons.  
Above: Floral arrangements are delivered by bike delivery service Pedal Express, and plans are afoot to offer weekly CSF (Community Supported Flowers) deliveries.
Above: Daffodils in the front window. "At The FloraCultural Society we empower customers to make thoughtful choices while filling their homes with beautiful flowers," Campbell says. FloraCultural Society is located at 461A 9th Street, Oakland, CA 94607. For more details, visit FloraCulturalSociety.com.
Care to continue window shopping in Oakland? See The New Bookstore Model: Bookshop in Oakland, California on Remodelista.
On the hunt for other florists? Browse our Gardenista Destinations.
(Visited 50 times, 1 visits today)