Getting out in the garden for spring cleaning and planting is tough on a gardener's knees. Garden kneeling pads to the rescue. Here's a round up of three kinds–knee pads, kneelers, and foldable kneeling benches–to spare your knees this spring: 
Kneelers
Above: This Garden Kneeler is handcrafted of waterproof canvas with a rot-proof foam pad and jute handles. Adorned with a pocket to carry your weeding tool or garden gloves, it is available in green and red (to keep from loosing in the greenery); $48 at Terrain.
Above: Covered in a lightweight, water-resistant canvas cover, Garden Kneeling Pad has a canvas handle and is £6.99 from Poppy Talk. (All proceeds go to benefit the Royal British Legion's armed forces and families.)
Above: Both the filling and top cover of this knee pad are wool; the bottom cover is made of waterproof nylon. The cover is washable (in cold water). The Woollen Kneeling Pad is 34€ from Manufactum.
Above: Made in Milwaukee, Wisconsin from recycled inner tubes of industrial tires, the Recycled Tube Kneeling Pad is smooth and flexible. The material is slip resistant, water resistant, and abrasion resistant. It features an inch-thick foam cushion slipped inside; $25 at Uncommon Goods.
Above: Simple foam kneeling pads are a dime a dozen. We like the durable Fiskars Ultralight Large Kneeling Cushion made from EVA foam that won't absorb moisture and is abrasion resistant; $5.49 through Fiskars.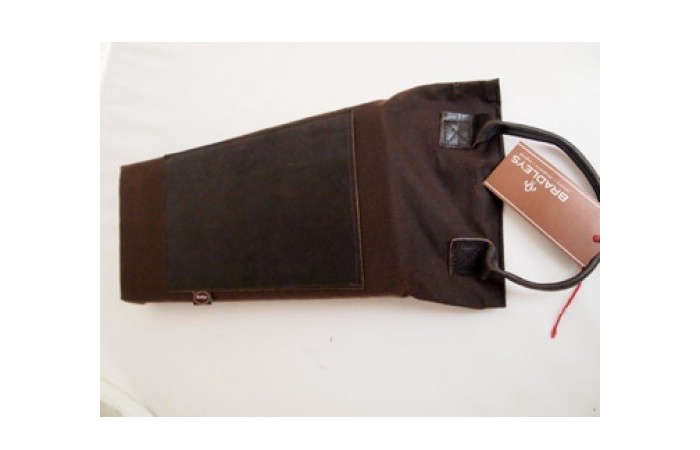 Above: A Waxed Cotton and Leather Trim Kneeler is £25 from Bradleys Tannery.
Above: From Haws, a Leather Garden Kneeler has a waxed cotton pad for comfort; £29.99 from Amazon UK.
Foldable Kneeling Benches
Above: Made of steel, a cushioned foldable kneeler can be flipped over and used as a bench; the Garden Kneeler Bench is $34.99 from Target.
Above: Lightweight and portable, a folding cushioned Folding Garden Kneeler Bench is £16.49 from Southend.
Knee Pads
Above: Handmade by Shropshire craftsmen for Bradleys Tannery, a pair of gardener's Leather Knee Pads in chocolate (also available in pink) is £30 from Mojo London.

Above: Burgon & Ball's Gardening Knee Pads are crafted with a waterproof neoprene shell. The innards are a shock-absorbing foam core wrapped with memory foam for comfort; $11.99 (in slate as shown) at Williams Sonoma. UK-based readers can purchase the Kneelo Gardening Knee Pads from Burgon and Ball directly for £16.95 (available in six colors).
Also consider upgrading your hand protection; see 10 Easy Pieces: Garden Gloves.
Going to work in the garden? Shop Gardenista's Collection of Favorite Garden Tools. 
(Visited 103 times, 1 visits today)