One of summer's greatest pleasures is its months-long sequence of stone fruit in the Prunus genus: Cherries, apricots, plums (and their pluot children), peaches, and nectarines ripen in succession. Enjoying an impeccable peach requires no instruction. We know that the best fruit, eaten straight up, cannot be improved upon. But stone fruits bring their luscious vitality and good looks to more than a fruit plate.
There are desserts, of course, but also many more easy ways to use stone fruit. In my daily summer life in Brooklyn, cherries may appear in a salad, peaches with roast fish, and plums under a flurry of Maldon salt.
Eat (and drink) up. Summer is drawing to a close.
Photography by Marie Viljoen.
Cherries
I like to pickle cherries two ways. The first is lightning-fast. Pitted cherries are halved, bathed in good red wine or balsamic vinegar with a hefty pinch of salt, sugar to taste, and freshly ground black pepper and macerated for as long as it takes to pull together dinner. I drain them and toss the sweet-and-sour fruit into salad, often as counterpoint to creamy burrata.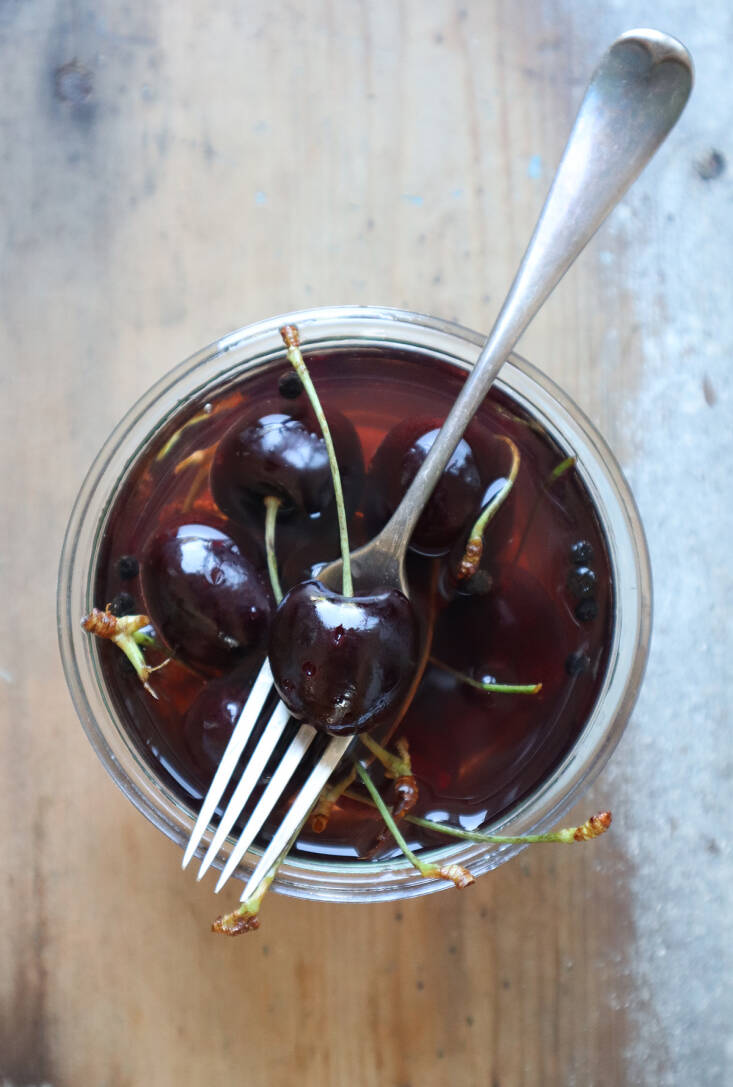 For a more intense snack and condiment, I pickle cherries overnight. They retain their distinctive succulence but acquire a velvet edge (oxymoron?) that makes them a refreshing palate cleanser, or a partner for rich snacks like smoked meats. I often pack them on a summer picnic, leaving stalks attached for easy access.
Quick Pickled 12-hour Cherries
Make sure to use the ripest, firmest fruit. You may need more brine, depending on the container you are using for the pickling, in which case double the quantity.
1 lb black cherries
1 cup rice wine or white wine vinegar
1 cup water
2 teaspoons salt
1/4 cup plus 1 tablespoon sugar
20 peppercorns
Prick each cherry twice with the tines of a fork. Pack the fruit into a clean mason jar. In a large measuring jug or bowl combine all the other ingredients. Stir well to dissolve the salt and sugar. Pour this brine over the cherries, which should be completely submerged in the liquid. Add a lid. Leave out for 4 hours, and then refrigerate. The cherries are best after 12 hours, but can be kept in their brine indefinitely if in the fridge.
Strain to serve (the leftover brine is good in salads or even sharp, refreshing drinks).
Apricots
It would be sacrilegious to turn a svelte, perfumed apricot into anything other than itself. But for the too-frequent times when apricots' texture is woolly and their flavor bland, a buttery saucepan is their salvation: Melt some good butter, sauté fat slices of the fruit until they begin to brown, and plop them atop toast schmeared with cream cheese (or crème fraîche) drizzled with honey.
Peaches
Is there a scent more evocative than a white peach at perfect ripeness? Slide a few slices into a glass and top with 2 oz of gin. Macerate for 10 minutes, then top with ice and good tonic water. The slices are a devilish treat when you have finished your drink.
A simple way to serve unblemished peaches is to poach them. First, pour boiled water over them, and after 1 minute, slip off their skins. Arrange them in a saucepan with enough white wine to reach halfway up their plump sides. Add a vanilla bean. Bring to a simmer and cook gently until they are tender – about 10 minutes. Naked, blushed or pink, they are a delicate match for ham, pâtes, and hard cheeses. (Or wonderful wolfed down quietly, with no one looking.)
Fermenting yellow freestone peaches for several days transforms their familiar sweetness into something more adult and interesting. I like to serve them with roasted dark fish like bluefish or mackerel. The peaches also smoosh up beautifully into an instant salsa or a marinade for anything that is about to go on the summer grill.
Lacto-Fermented Peaches with Basil
Fresh basil is an ideal foil for summery peaches. Weigh your peaches after they have been peeled and sliced. To know how much salt to use, calculate 2 percent of their weight. The quantities below are a guideline.
3 large freestone peaches, peeled and sliced into 8 pieces each
2 ½ teaspoons salt
1 tablespoon sugar
3 sprigs basil
Place the sliced peaches into bowl with the salt and the basil. Using your clean hands, turn the slices gently to coat with salt. Leave in the bowl for an hour, and then transfer to a clean jar. Use a pickle weight or sterilized beach stone to weigh the fruit down so that it is all (eventually) covered by brine. Close the lid, leaving it slightly loose, and place the jar out of direct sunlight  in the coolest part of your kitchen. Juices from the peaches should cover the slices after about 12 hours. The fermentation time varies, but after about six days give them a taste. They should still be peachy, with a mellow tang. Transfer them to the fridge.
Nectarines
Smooth-skinned nectarines don't require peeling, and are a cinch to slice thinly into a quick salad. Adding pickled onion and a handful of summer herbs (I like marjoram, for its pungent kick) offers a delectable balance of sweet, sour, salty, and summer.
Plums
The simplest way to dress up a plum is to slice it and shower it with flakes of sea salt. As a summer side dish it is hard to match.
Plums add sweetness and fragrance to a very good, quick miso-rich relish that is delicious served with anything straight off the grill,  added to sandwiches, and even to hand pie fillings.
Plums with Miso and Ginger
Sweet plums, salty miso, and spicy fresh ginger are an appetite-awakening combination.
2 tablespoons lemon juice
1 tablespoon miso
 5 medium plums (about 12oz), washed, pitted and roughly chopped
1 teaspoon microplaned or grated fresh ginger
Combine the lemon juice and miso in a small bowl and stir until smooth. Add the plums and ginger and toss gently. Set aside in the fridge for two hours before serving.
For more fruit recipes, see:
(Visited 182 times, 1 visits today)