Does your plant look a little droopy? Give it some water. Simple? Not really. It's more complicated than that—not very complicated, but there are a few things you need to know to meet one of your garden's basic needs. Proper watering can keep your garden happy and healthy and cut down on the need for various interventions (from fungus and pest control to replacing dead plants). Proper watering also conserves water, something we all should be doing now more than ever.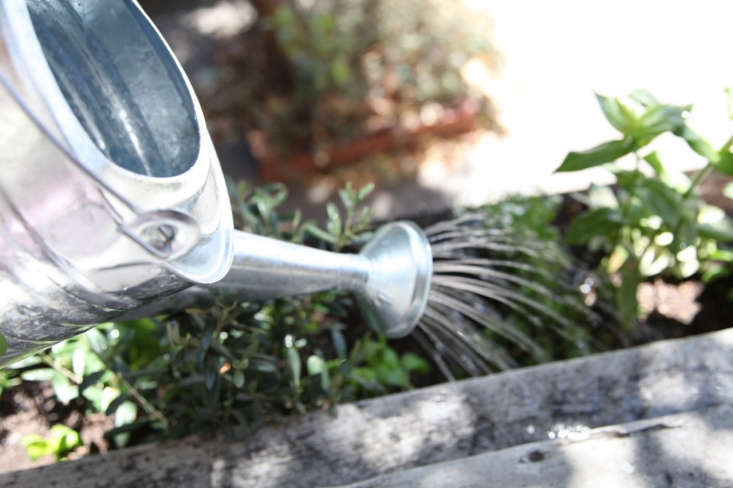 1. You may want to consider grouping your plants by water requirements.
Different plants have different water needs. Succulents may only need water every few weeks. Tomatoes can go through several gallons a week during a hot summer. Peppers, on the other hand, don't mind a dry stretch. When you group water hogs with other water hogs, and succulents with other drought-friendly plants, you'll cut down on the guesswork—and make it easier to ensure every plant gets the right amount of water.
2. The soil will tell you went to water.
You should check the soil to see if you even need to water. Is it dry? Plants aren't on the same schedule as us. Watering because it's Monday because that's when it's convenient for you can be detrimental to your plants. Sun, temperature, soil conditions, humidity, in addition to the water needs of the plant, should dictate when and how much to water.
3. Watering the leaves is bad form.
You need to water at the base of the plant where the roots are; watering the leaves doesn't get the water where it's needed and can cause fungal diseases and leaf scorch to boot. Filling a bucket and gently tipping it over allows the water to get to where it's needed most.
4. So is watering quickly.
Watering plants slowly is best, especially if it's been dry. Dry soil creates surface tension and the water will run off instead of soaking in. And if you're in a drought, the soil can be as hard as concrete. Watering slowly will allow the soil to better absorb the water.
5. Sprinklers are great for lawns—but not for gardens, shrubs, or trees.
See #3. Do not use sprinklers or the jet or spray setting on the spray nozzle of a hose to water your plants. If you use a hose, you will likely get tired of holding it well before your garden gets a deep enough watering. If you do use a hose, set it on the lowest setting with the biggest opening. Or better yet, take off the nozzle and use the hose without it.
6. The time of day matters when watering plants.
Early morning is the best time because it gives the plants what they need before they need it and minimizes the opportunity for fungal diseases to take hold as any above-ground moisture will evaporate during the day. On really hot days, you may need to water container plants in the evening if they are drooping. They don't have the ability to send roots deep into the soil for moisture.
7. You may need to water even if it rained.
Hey, it rained! You don't have to water! Not unless you know exactly how much rain you received. Relying on general weather reports can be misleading. An inexpensive rain gauge, (you can even make your own), can help you know when and how much to water your garden.
8. There's a magic number that ensures you've watered enough.
Six inches. After you think you've watered enough, dig a small hole about 6 inches deep, being careful not to damage the roots by digging at the drip line of the plant. Is the soil damp at least 6 inches down? If yes, you've done a good job. If not, water until the water soaks down to 6 inches. How fast this happens will be based on soil type and how dry it's been.
9. New plants need extra care.
Transplant shock happens when the tiny feeder roots are damaged during transplantation. The plant can't take up moisture and nutrients as fast as it needs to and wilts. While the plant is healing and growing new roots, the remaining roots need to work harder. Give them extra TLC. Depending on the weather and the soil type, you may need to water three times a week for the first two weeks and then twice a week then on until established. When are plants established? For perennials, it can take up to a year. For annuals, it depends on how fast they grow. Generally a few weeks.
10. Drip irrigation can be your best friend.
Is all this too much to think about? Then a well-designed drip irrigation system can take the guesswork out of watering. It can be set to water when needed and customized to the needs of particular plants and only water when needed. With proper mulching, a drip irrigation system can save your plants and save water.
Watering doesn't have to be complicated, but it does have to be correct to maintain a healthy garden. Knowing when to water and how much your plants need will keep your garden in good shape during the growing season, limit certain diseases, and save you time and resources.
For more tips on watering plants, see:
(Visited 182 times, 1 visits today)