Lately, ideas around gardening have been developing so rapidly that it's hard to remember a time when the word "substrate" was not part of our everyday conversation. An un-glamorous subject will always benefit from a charismatic advocate and, in the UK at least, post-industrial growing media have found that person in John Little, of Grass Roof Company. He is everywhere, demonstrating how to grow plants hard in recycled sand, pulverized concrete, ceramic dust or ground glass, while encouraging us to make structures (out of anything) that vary the topography and create niches for insect habitat.
It's the right time and place for John's ideas as we ponder gardening for the future. Ancient meadows and forests cannot be replicated by re-seeding and re-planting—although that's not a reason not to try—whereas post-industrial landscapes (or brownfield sites, whether or not they are contaminated) have been found to host an astonishing level of biodiversity. The amount of life in places that have been battered by human activity and then abandoned should be exciting news for anyone trying to bring green infrastructure into urban environments. Follow John Little's Instagram for surprising information on the benefits of old shopping trolleys in ponds and planting telegraph poles.
Photography by Jim Powell for Gardenista, except where noted.
As a garden writer, it can be a slightly odd moment when I ask the question about soil, particularly on an urban project that has been comprehensively refurbished. "Soil? Clay probably, but this was all brought in," they tend to say, indicating beds of fluffy, friable loam and pointing at the roof over which trees and slabs of limestone have been craned. This isn't a designer's fault—most clients want instant results.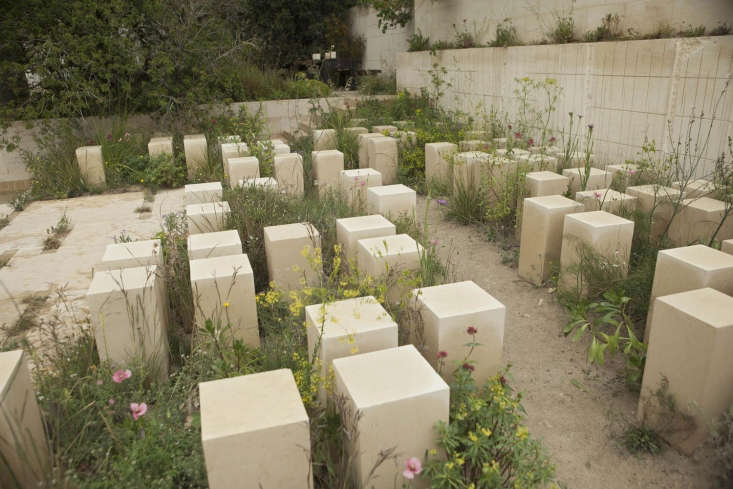 Increasingly, though, designers are encountering clients who want to learn more about the mysteries of horticulture as well as ecology—and a more sustainable approach is finally on the drawing board. Poor-substrate advocates like John Little suggest reserving the top soil that gets scraped off at the start of a construction project and using it later for the landscape design implementation. Errol Reuben Fernandes does just this as Head of Horticulture at the Horniman Museum Garden in Forest Hill, London. On his Instagram this week he showed how on-site building waste was foraged for hardcore, which was then dug into a new bed, creating slopes and drainage for the kind of plants that don't like to stand around in English puddles. "We mound up the material," he says. "For the species that we're planting (cactus and succulents), we want really rocky, free drainage and relatively low nutrients, so this is ideal."
Twenty per cent of all landscapes that are designated as Sites of Special Scientific Interest (SSSI's) in the UK are brownfield sites says John Little. SSSI's contain rare species of fauna or flora that have been allowed to develop and thrive because of the way the land was disturbed, and then abandoned. For home gardeners, successful brownfield sites are inspiring because their ecological value can be replicated by casting aside old ideas of improving soil and weeding the ensuing nitrogen-inspired activity. Brownfield sites can harbor open mosaic habitats, which are achievable in a way that large-scale rewilding is not.
What are open mosaic habitats?
• Found on post-industrial sites, which might include railway sidings, quarries, slag heaps or brick pits.
• A lack of nutrients keeps vegetation open, without the arrival of shrubs and trees that result from natural succession.
• Different kinds of usage and varied disturbance create divergent topographies, moisture, and soil content all within close proximity, on one site.
• Patches of bare soil within an open mosaic habitat create warm microclimates, for basking invertebrates (or dust-bathing birds). They are used by ground nesters and are hunting ground for predators.
• Stress-tolerant plants, including annuals rich in nectar, thrive in lean landscapes.
• Lack of management creates homes for overwintering insects.
When landscape consultant and garden writer Jo McKerr moved to Somerset, the property that she and her family took on was located on a well-drained, limestone escarpment in a rural area that had seen quarries, railways, coal, and slag heaps—some of which were in her garden. The soil was toxic, with a disused railway running through, plus a former canal tunnel (see above), and a lot of concrete. The property was also home to very rare species of bats, beetles, and bees. Besides not wanting to disturb what she found, Jo has a passion for wild flowers, and from the beginning she has responded and adapted her design process "to what is indigenous to the site."
Jo has nurtured the extant open mosaic habitats, which gardeners are in a unique position to do. "It's not just about one habitat but a mosaic of them in close proximity to one another," she explains. "Rewilding has taught us that it's disturbance, followed by abandonment, when the natural processes occur," she continues. Her current practice is "an informed disturbance."
Jo is very gradually changing the nature of the soil by following its natural tendencies around the garden. She is incorporating wetlands, gravel areas, woodland, and layered canopy. The transition zones interest her: "I'm building habitats and possibilities."
Jo sows everything from seed, only buying in trees and shrubs as young whips. When she has used 9-inch pots, she has shaken off every bit of soil from the plants' roots: "You have to make sure the nutrient is lean." The point of lean soil, as her friend John Little would concur, is that plants grow strong, their roots searching right down for moisture, and this gives them resilience in extreme weather. "I don't water and I've never lost a thing."
See also:
(Visited 2,197 times, 2 visits today)