After tracking cocktails from sticky sweet fruitinis to bitters, Michael Dietsch, blogger at A Dash of Bitters and contributing drinks editor at Serious Eats, felt the world is ready for a book on shrubs. The result, released in October, is the 70-plus recipes in Shrubs: An Old Fashioned Drink for Modern Times.
Shrubs are made of fruit, sugar, and yes, vinegar. But don't let the tang turn you off, says Dietsch. "Drinking vinegar is a hard sell," and yet "I want people who've never tried shrubs to learn what a delightful and versatile drink they are."  The book features several unexpected drinks, including a tomatillo shrub and non-alcoholic ice cream float.
To endear us to the beverage, the monograph starts with tales of shrubs through history. Fun facts: they were  invented in Turkey, and introduced to Europeans in the 16th century. Both Benjamin Franklin and Martha Washington penned their own recipes. During the Prohibition Era, teetotalers sipped them in lieu of hooch. After World War II, they faded to obscurity, replaced by Coca-Cola and other soft drinks.
Now, thanks to the Internet, Google Books' vast trove of colonial recipe books, and the public's interest in vintage mixology, shrubs are back as ingredients in cocktails.
Read on for a recipe for the Ultramodern (an interpretation of the Old Fashioned with Fig-Cinnamon Shrub)–and let us know if you try it this holiday season.

Above: For those who like a back story with their booze, Dietsch offers an extensive history of shrubs, (did you know they were used to fight scurvy in the 18th-century British Navy?) followed by recipe chapters organized by "Classic" (defined as shrubs with either rum or brandy), "Sweet," "Savory," and "Sour."
Above: The Ultramodern is the shrub interpretation of an Old Fashioned, a blend of bourbon, Scotch (the smokier the better), Angostura bitters, and fig-cinnamon shrub. See recipe below.
The fun starts when Dietsch takes you through the process of making shrubs. There is a school that swears by cold-pressing, and one by a hot process, and another by oleo saccharus, or oily sugar, that employs citrus zest. The good news for amateur mixologists is that no special equipment is necessary to make the book's more than 70 recipes. All you need is a bowl, a strainer, fruit, and vinegar.
Above: In our attempt to eat more cranberries (a directive from Laura in Scarlet Jewels: Recipes for Cranberries), we noticed a canned cranberry shrub. It's in a drink called the Garland, the perfect sip of sloe gin, gin, and this concoction.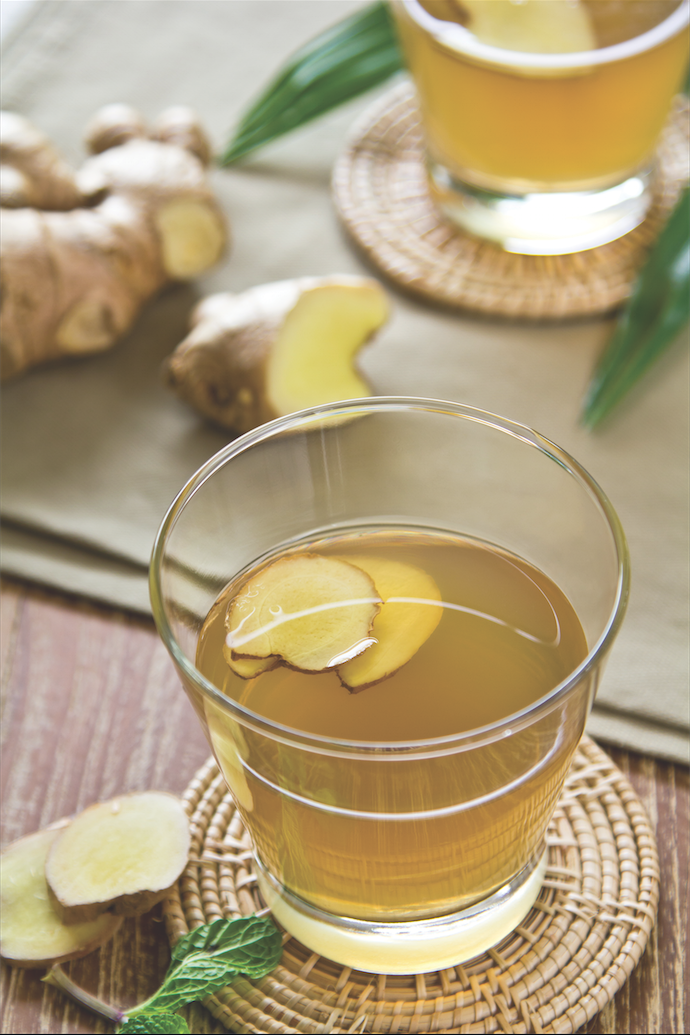 Above: A ginger shrub made of ginger juice, apple cider vinegar, and sugar.
Above: Fig cinnamon shrub, required for the Ultramodern: to make it, all you do is strain, shake, and let sit for a week.
Fig Cinnamon Shrub
Ingredients:
1 pint purple figs, puréed in a blender
1 cup apple cider vinegar
1 to 2 cinnamon sticks
1 cup turbinado sugar
Combine puréed figs, apple cider vinegar, and cinnamon in a container. Allow to steep on the countertop for 2 days. Taste. If you started with one stick of cinnamon and you want more cinnamon flavor, add a second stick and allow to steep another day.
Strain off fig solids and cinnamon. Pour liquid into a bottle or jar, add turbinado sugar, and shake. Allow to sit for at least a week before using.
Ultramodern
Ingredients:
2 ounces bourbon
1/2 ounce Scotch, preferably something smoky, like Laphroaig
1/2 ounce Fig-Cinnamon Shrub
2 dashes Angostura bitters
Add all ingredients to an ice-filled mixing glass. Stir to combine.
Double-strain into a rocks glass filled with ice.
Do you have a blossoming love of shrubs? See 10 Shrub Recipes. For more books with garden-fresh recipes, peruse Required Reading here.
Finally, get more ideas on how to plant, grow, and care for various shrubs and hedges with our Shrubs: A Field Guide.
(Visited 250 times, 1 visits today)