"One is never really 'done' with a garden, just as one is never 'done' with life," says Marella Agnelli in the book she has co-authored with her neice, Marella Agnelli: The Last Swan. And what a life (so far). One of the most glamorous figures of the twentieth century, she married Fiat boss Gianni Agnelli in 1953 and used their wealth to express her creativity in a way which was both domestic and global.
Multi-talented does not describe this aristocratic Italian whose beauty and ambition took her to New York in 1950, where she worked in fashion and photography. After her marriage she became queen of the remodel, since there were homes to be built and renovated. She was also an accomplished photographer, writer, textile designer, and lest we forget, gardener.
Above: Villa Frescot in Turin, the Agnelli family headquarters. "Some people like to look at gardens. I like to live them," says Marella Agnelli.  In The Last Swan ("swan" being a nickname from Richard Avedon), Agnelli's niece and namesake Marella Caracciolo Chia brings together the collage while Agnelli, who is also a good story teller, reflects. Marella senior's passion for the fabric of life, both indoors and out, is a running theme in this book. Photograph by Oberto Gili.
Above: Marella in the 1970s at Villa Bona near Turin, built to house an ever-increasing art collection. Modernist and relatively simple in style, it was a respite from the grandiosity of the other Agnelli houses in the area around the Fiat headquarters. Photograph by Mugo Ulas.
Something one can't help noticing when scanning this book is Agnelli's dominance of life. Though broken up into decades, every decade was her era, from the 1950s on. Hers is a wonderfully positive and energetic outlook. Agnelli's view of New York in the late '70s and early '80s overlooks the potholes and power cuts and focuses on creativity. "New Yorkers had made a significant cultural choice: art, literature and filmmaking were deemed of vital importance."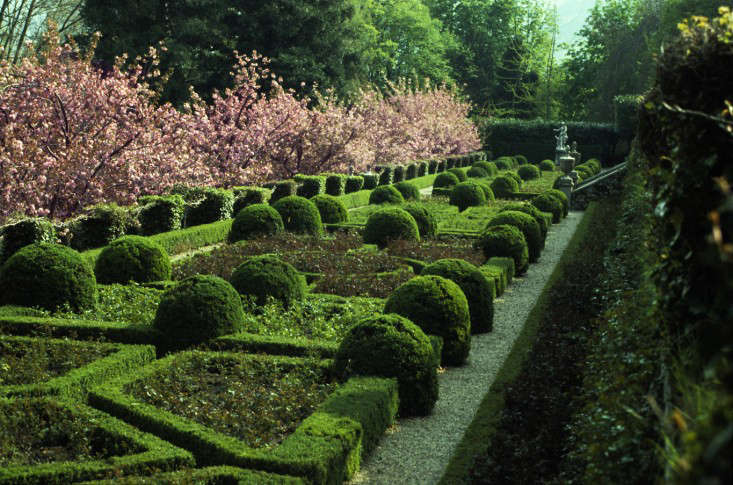 Above: A parterre designed by Russell Page at Villa Perosa, photographed by Marella Agnelli. Though the young Marella was charmed by the "lapses in taste" at the Agnelli summer retreat, which she first visited as a wedding guest, Page was commissioned soon after Marella arrived as mistress to rearrange the gardens. He was unimpressed by its moribund style, unchanged since the 19th century.
Page's approach chimed with Agnelli's feelings about gardens and his ideas continue to inspire gardeners today. After restoring some balance and harmony and removing "redundancies," Page would look at the bigger picture; the garden within its surroundings. "We extended and blurred the confines of the garden so that the surrounding wilderness became an integral part of it."
Above: Abundant roses at Villar Perosa. In the preface to her 1987 book Gardens of the Italian Villas, Agnelli writes of the importance of childhood gardens and how this "paradise lost" informs our ideas about gardening later on. Her mother, an American heiress who married an Italian aristocrat, was a passionate gardener and loved the romance and tumbling grandeur of the English-Italian style. The family gardener preferred to concentrate his energies on the kitchen garden. Marella's aesthetic was informed by both approaches: beauty and utility. Photograph by Franí§ois Halard.
Above: Before her marriage, Marella went to live in New York and soon began modeling for the maverick fashion photographer Erwin Blumenfeld. He noticed that she was more interested in the technical side of things and suggested that she become his assistant. Just as she was later to learn how to garden from Russell Page, the 23-year-old had a photography apprenticeship from one of the great masters. These lessons were not wasted on the industrious Marella. Portrait of Marella Agnelli by Erwin Blumenfeld, New York 1951.
Above: In the 1970s Gianni Agnelli surprised his wife with an old convent in Corsica to add to their collection of houses. The Mediterranean island conditions were perfect for sailing, Gianni's great pastime and by the 1970s the Cote d'Azure "was over–out-of-date–and overcrowded."
A great advocate of garden furniture indoors, this room has wicker chairs from Milan and the walls, curtains, and furniture are covered with Marella's own floral fabric design. Photograph by Franí§ois Halard.
Above: Marella Agnelli is still going strong. After the deaths of her husband and son in 2000 she built a new garden in Marrakech. She was keen for the challenge of building a garden from scratch in an unfamiliar territory.
Marella Agnelli: The Last Swan, $65, Rizzoli New York, 2014. (Photographed by Henry Clarke for Vogue).
For another 20th century tastemaker (whose photographs of Marella Agnelli also appear in this book) see: A Garden Remembered: Cecil Beaton at Reddish House.
(Visited 421 times, 2 visits today)