Every year at this time the new edition of The Old Farmer's Almanac  goes on sale, and the 2014 version is now on the shelves.  You might have resisted picking it up because you assumed it was just for farmers, but do yourself a favor and take a look inside it.  
You will discover an invaluable compendium of wide-ranging information, whether you are interested in farming, cooking, gardening, nature, general health and fitness, astrology,  weather forecasting or just arcane facts and corny jokes.  It's all there in a kind of hodgepodge layout along with ads for electric fly swatters, bladder control medications, incinerating toilets and Spiritual Psychic Healer Helena from Egypt. 
Photographs by Erin Boyle.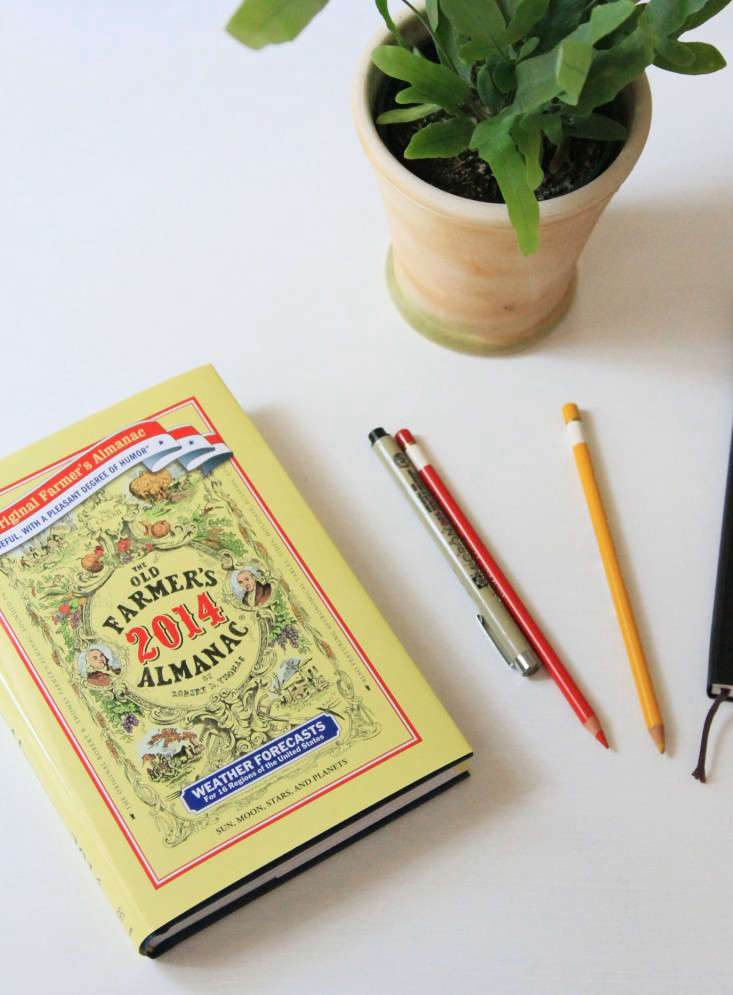 Sure, the format is a little odd, but this small book hasn't changed much since it was first published and that–believe it or not–was in 1792 when George Washington was president.  In 222 years, the almanac has never missed a year of publication. Not during the Great Depression or the Civil War or World War I or World War II or absolutely anything else.  
Even though there were a lot of other almanacs on the market when founding editor Robert B. Thomas put out his first issue, he somehow managed to outshine the others. Apparently his climate and astrological predictions, based on a complex secret formula, were more accurate than anyone else's. In 1970 a NASA scientist was brought in to update the computations, but Thomas's original method, said to be as much as 80 percent accurate,  still stands and is kept locked up in a tin box in the almanac's New Hampshire headquarters.
The familiar yellow cover with farm scenes from each of the four seasons and portraits of founder Thomas and of Benjamin Franklin (even though Franklin apparently had no connection whatsoever to the Almanac), dates from 1851. Today's paperback edition still has a hole punched in the upper lefthand corner so that readers can tie a string through it and hang it on a nail.  
But some things have been modernized.  There is now an informative and easily navigated Old Farmer's Almanac website which expands on the information in the printed edition, and you can subscribe to an online monthly version of the almanac.
A peek inside the 2014 edition offers a number of articles of interest to the home gardener: "Planting by the Moon's Phase" (a how-to on an ancient practice); "Rotation, Rotation, Rotation" (about soil in the vegetable garden), and "Nature's Avengers" (about insects both helpful and harmful). Common sense advice is offered in plain language and interspersed among articles about pie baking, fly fishing, and the late fitness advocate Jack LaLanne.  
As for next year's weather, the almanac divides the continental U.S. into 16 districts and offers a general forecast for each. For Region 2, the northeast corridor which includes New York City, Boston and Washington D. C., the prediction is a cold and dry winter followed by a hot, wet summer (humidity haters, be warned). To get a more local forecast, go to almanac.com/weather. 
There is a page that lists the dates of upcoming eclipses,  a chart that shows when to look for certain planets, and, the heart of the book, the calendar pages that show astronomical data by the month for the upcoming year. Not to say that the format is complicated, but there are five pages entitled "How to Use This Almanac."
In our world of portable gadgetry, we have become accustomed to having a ton of information at our fingertips. But the Old Farmer's Almanac has been informing people since they carried muskets instead of iPhones.  So the question is, why stop Googling and read this book?  Well, you don't have to stop Googling, just put it on hold for a while. Take this book with you on the subway or anywhere else where you'll have some uninterrupted reading time.  It's a hoot, and you are bound to discover answers to questions you never thought to ask.  
The Old Farmer's 2014 Almanac is $7.16 on Amazon.
Hoping to add to your off-screen reading list? See all of our Required Reading posts.
(Visited 115 times, 1 visits today)