In anticipation of this weekend's Remodelista Holiday Market in LA, today we're spotlighting new vendor Beth Katz of Mt. Washington Pottery, best known for her handmade bells and talismans. 
Detect a hippie vibe? Born into a creative family, Beth grew up in Topanga Canyon, Southern Cal's bohemian central, where from an early age she learned to make things from clay. While working for years as an in-demand LA makeup artist and magazine creative director, she kept up her pottery practice. A stint studying spiritual psychology in New Mexico pointed her in a new direction, and in 2014 she set up a professional studio and decided to devote herself to ceramics full time. Beth says a longstanding love of Japanese art, Scandi simplicity, and shades of white inform her work. And though she now lives in LA's Mt. Washington neighborhood, she's still clearly a Topanga artist at heart.
Los Angeles readers: Come see Beth's work firsthand at the Remodelista LA Holiday Market this Saturday and Sunday, December 5 and 6, at Big Daddy's Antiques at 3334 La Cienega Place, near Culver City. Market hours are 10 a.m. to 5 p.m. each day.
Above: Beth Katz in her studio, 10 minutes from her house in a burgeoning area known as Frogtown. She says she often works with a combination of stoneware and porcelain, and both hand-builds and uses a wheel to make her pieces, including her signature bells. Photograph by Ted Catanzaro.
Above: Studio still life: To keep track of current work, Beth pins drawings of orders in progress. Photograph by Nicole LaMotte.
Above: Hand-formed Column Mugs come in two sizes and a range of glazes, including Cloud shown here. Photograph by Diana Koenigsberg. 
Above: Inspired by good-luck strings of chiles and lemons Beth saw hanging on doors in India, she started making her own porcelain and stoneware versions that she calls Talismans. For display on a wall or door, they're intended to "keep homes and businesses safe from all evil spirits and promote happiness and prosperity."
Above: Wabi-sabi stoneware plates. Similiar designs will be at the Remodelista Market. Photograph by Nicole LaMotte.
Above: Tiny Simple White Bells and fluted Peace Bells hang from the rafters in Beth's Mt. Washington home in front of a wall of family portraits painted by her uncle David Rosen. Photograph by Nicole LaMotte.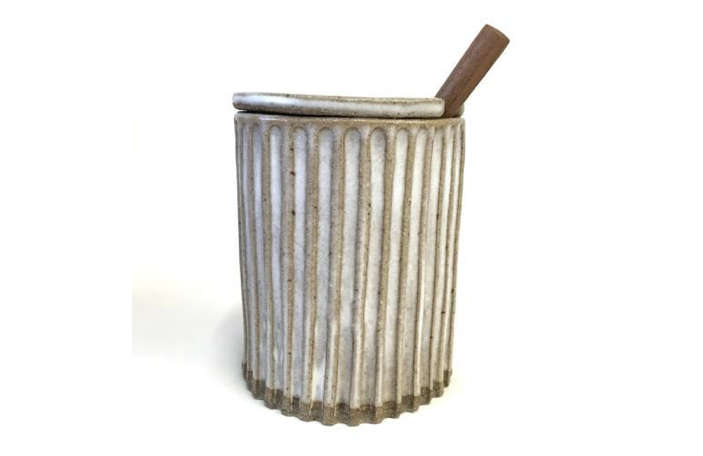 Above: Beth is currently busy making canisters especially for the Remodelista Market. Sized for holding sugar and coffee, they come with a wooden scoop carved by an architect friend. See more at Mt. Washington Pottery.
California is calling: Take a look at an inspired Topanga Canyon Surf Shack on Gardenista.
For more previews of our Remodelista Holiday Markets in LA and SF check out:
Go to the Remodelista Los Angeles Market and the Remodelista San Francisco Market for the full details.
(Visited 41 times, 1 visits today)