"Vegetable-based pasta" is technically a misnomer. The word "pasta" has etymologic roots in a 19th-century Italian description of wheat paste, after all. But that hasn't stopped hordes of plant-based alt-noodle brands from cropping up, their boxes adorned with lofty promises like "twice the protein" and "half the carbs" and "you'll kick this rigatoni addiction yet, Ella!"
Banza, a market-leading producer of chickpea noodles—or as it says on the box, "pasta that loves you back!"—is so ubiquitous that you can buy it at 8,000 stores (including Whole Foods) in the United States. You even can order it from the menu at Oregon-based restaurant Chickpea.
While it may be the biggest household name, Banza is hardly the only option. Alternatives made from all sorts of vegetables and legumes line the shelves of health-food stores. Even longtime pasta honcho Barilla is getting into the game part-time, sneaking a full serving of vegetables into its classic recipe for its three "Veggie" offerings.
True "pasta" or not, we wanted to see what the fuss is about. Is plant-based pasta healthier? Is it just another wellness trend, hollow as al dente Bucatini? Most important, how does it taste? We tried Banza, as well as four popular competitors (made from black beans, edamame, red lentils, beets, chickpeas, and corn-quinoa). Read on for our take on how they stack up, and for whether there's a place in the kitchen for these garden-grown alternatives.
Photography by Aya Brackett for Gardenista.
Chickpea Elbows
Banza's noodles get the highest deceit rating, especially when boiled several minutes less than the box suggests. Flavor-wise, the elbows are fairly anonymous and don't offer much solo—"a bit cardboard-y" said one taste tester—but when sauced, provide a respectable base.
Nutritionally, of the five noodles we tried they come in around the middle of the pack. A two-ounce serving contains 32 grams of carbohydrates (including 8 grams of fiber and 5 grams of sugar) and 15 grams of protein. Compared with a box of Barilla spaghetti, that's about two times as much protein, a little more than half the net carbohydrates, and a similar calorie count.
Edamame Spaghetti
Explore Cuisine's Edamame Spaghetti
was the most divisive of the alt-noodles we tested, causing one participant to toss up his hands in frustration and mutter to another, "If you're not getting the sweet notes here, I just can't help you."
While the noodles' deception factor is relatively low, texturally they hold up on their own (they taste more like a riff on fresh pasta than boxed). Whether you're "getting the sweet notes" or not, you'll find that they'd be good with anything from a heavy meat sauce to a more simple pairing of high-quality olive oil, lemon juice, sea salt, and freshly cracked black pepper—not exactly like pasta, but solid in their own way.
For a two-ounce serving (which provided a much heftier portion than the Banza—roughly twice as much in volume), the noodles have 20 grams of carbohydrates (13 grams of fiber and 3 grams of sugar) and 24 grams of protein—placing them materially higher than the Banza.
Black Bean Spaghetti
This
Black Bean Spaghetti
—the brother box to Explore's Edamame Spaghetti—is texturally similar to its green-tinged sibling, but with a drier mouth-feel. As a result, it didn't absorb pesto particularly well, and would do better coated with a very wet sauce (or even served in a soup), where there'd be more moisture to go around. The Black Bean Spaghetti's independent flavor is much less pronounced than that of the Edamame Spaghetti, causing no impassioned outbursts from taste-testers. Its coloring makes it an attractive option, visually resembling squid ink linguine.
This was the clear winner nutritionally, with the most protein (25 grams) and fewest carbohydrates (19 grams, including 11 grams of fiber and 3 grams of sugar) for two ounces. Like the Edamame Spaghetti, the Black Bean Spaghetti produced a large volume of cooked noodles per serving size.
Red Lentil Rotini
I adore lentils and was most looking forward to testing Ancient Harvest's Red Lentil Rotini ($3.79 per box). Unfortunately, the noodles taste more like what I imagine to be the flavor of raw, ground lentils than the cooked version, lending the rotini a papery-paste essence. The overarching verdict was, as one tester noted, "The sauce is the star."
Shape-wise, they were the favorite of the bunch—rotinis' ridges are an excellent canvas for a thick, cheesy sauce. The texture is similar to that of the Banza, if you're careful not to overcook—we drained ours after four and a half minutes.
A two-ounce serving yields a similar volume as the Banza, with slightly worse stats: 35 grams of carbohydrates (including 7 grams of fiber and 1 gram of sugar), and 14 grams of protein.
Ancient Harvest also makes green lentil, black bean, and super-grain noodles.
Garden Pagodas (Corn, Quinoa, Spinach, Beet, Red Bell Pepper)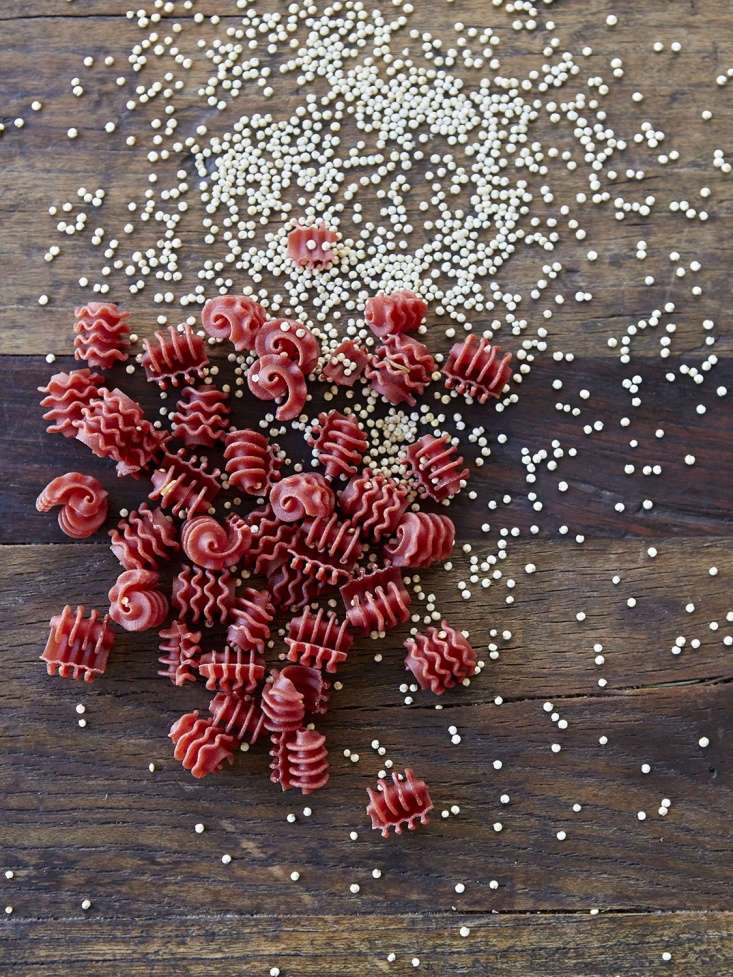 Perhaps the most innocuous of the group,
Ancient Harvest's Garden Pagoda noodles'
most prominent feature is the color. They are moderately deceptive when dressed and have a sort of dusky, vegetal taste that isn't unpleasant.
Nutritionally, they don't rank much higher than run-of-the-mill Barilla spaghetti, with a two-ounce serving containing 46 grams of carbohydrates (4 grams of fiber and less than 1 gram of sugar) and 4 grams of protein.
Have you been following our Plant-Based Diet stories this week? See: