While we turn our attention toward warm layers and indoor house plants, we'd like to know: What inspires you during autumn?
In celebration of fall beauty, we're inviting all readers to enter our latest Pinterest contest, sponsored by Scotts Miracle-Gro. Create an inspirational board with your favorite autumnal images for a chance to win a gift card for a basket of tools from Williams Sonoma Agrarian (a $300 value).
Here's how to win:
Follow Gardenista on Pinterest.
Create a pinboard titled "Beauty in the Fall" featuring your favorite inspirational autumn images (vibrant foliage, savory recipes, indoor plants…).
Pin at least 10 images to your board (feel free to pin more), with 3 to 5 images pinned from Gardenista and Miracle-Gro.
Share the direct link to your pinboard in the comments section below by 6 pm PST, Thursday, November 1.
After the November 1 deadline, the Gardenista editors will choose their favorite board; the winner will be announced November 5 and will receive a gift card for basket of gardening tools from Williams Sonoma Agrarian.
For pinning inspiration, see our Beauty in the Fall board.
Above: A ready pumpkin, via Scotts Miracle Gro; see 15 Fall Projects Lawn Projects for ways to keep your outdoor space organized and thriving this autumn.
Above: Autumn color glows from the drifts of Molinia grass in the Silent Garden at Scampston Hall.
Above: Heidi Swanson's Roasted Pumpkin Salad.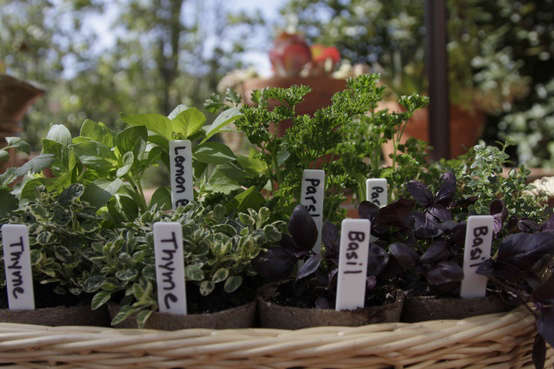 Above: During the colder seasons, it's easy to grow herbs indoors. Here are some tip from Scotts Miracle-Gro; for more pinning inspiration, visit the Get Your Hands Dirty board.
Above: Picking apples and other fall produce is often made easier with a long handled fruit picker.
Above: Autumn leaves in Japan, via Hello Sandwich.
Above: The Sophie Conran Garden tools collection; designed by the English food writer, designer and gardener, exclusively at Williams Sonoma Agrarian.
Above: The Sophie Conran Hand Fork boasts rust-proof stainless steel and an ergonomic handle made of FSC-certified solid beech.
Explore More: Outdoor & Gardens
(Visited 24 times, 1 visits today)