Glass gilding, or verre églomisé, was the most popular form of signage in the 19th and early 20th centuries; we can see why.
Elegant and surprisingly durable, gilding continues to be a top choice, particularly for buildings of that period. New York-based decorative painter Sandra Spannan of See.Painting specializes in gilded surfaces; a painstaking process of applying tissue-thin sheets of metal and then carefully sealing them with varnish.
House numbers are custom designed and available in silver, copper, white gold, 23-karat yellow gold, and palladium leaf. Go to See.Painting for pricing and more information.
Above: Palladium leaf on a brownstone in Brooklyn.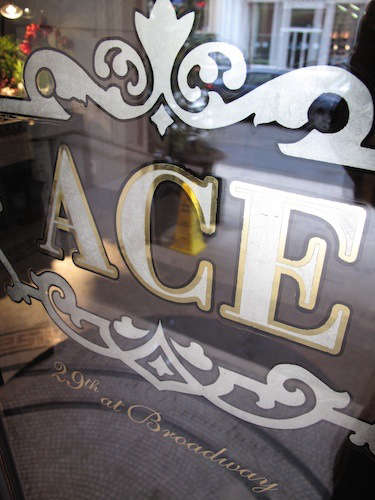 Above: The Ace Hotel entrance sign in New York City.
Above three photos: Gilded signage with green shadow on a Harlem brownstone.
Above: The See studio created signage for Centrico in Tribeca using 23-karat gold leaf on glass with a polished gelatine finish.
For more house numbers, see 5 Favorites: British Front Doors With Style.
(Visited 58 times, 1 visits today)