At first glance, we thought that this meticulously detailed and carefully crafted building standing alone on a hill in the landscape might be a bijoux guesthouse or even a small chapel. Imagine our surprise when we discovered it to be nothing more than a prosaic utility shed–and a pre-fabricated one at that.
With a passion for quality craftsmanship, Kansas City-based design/build firm Hufft Projects conceived The Shed to store maintenance equipment for the property of clients for whom Hufft had previously designed a house. To save construction time while ensuring a high level of quality and precision, the firm decided to build the shed from a series of prefabricated elements. Hufft designed a system of modular frames, wall panels and roof trusses to be built by the company's studio. The galvanized steel frames were welded in Hufft's shop and transported to the site where they were bolted together.
Wrapped with a white oak rain-screen with translucent walls at either end, this is no ordinary utility shed. In fact, we're wondering, "Could this be the world's most beautiful pre-fabricated utility shed?"
Photography by Mike Sinclair courtesy of Hufft.
Above: The Shed sits on a repurposed cul-de-sac sited to the west of the house on a winding entry drive in Springfield, MO.
Above: The Shed is composed of a system of modular frames, wall panels, and roof trusses. Frosted polycarbonate sheets (Polygal) on a steel frame on both ends of the building bring in natural daylight.
Above: In the front, large operable doors with a built-in steel mechanism span the whole width of the structure allowing room for large scale machinery.
Above: Hufft Projects also designed and built a custom workbench for the Shed.
Above: Linear tubes of fluorescent lighting are seamlessly integrated into the structure.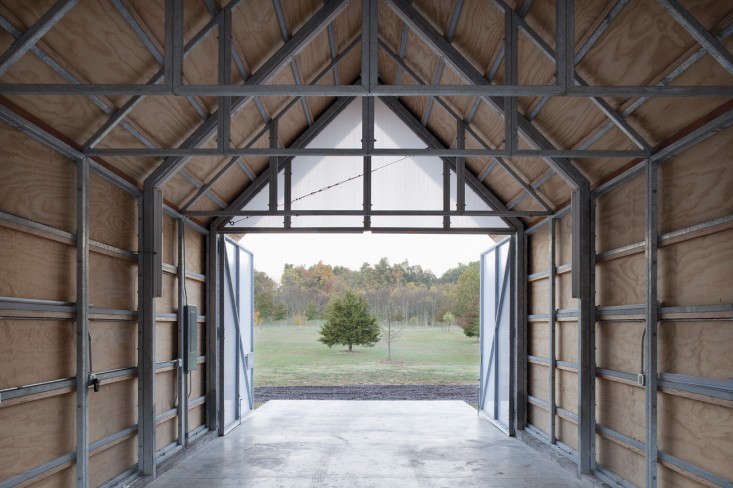 Above: The view isn't half bad either.
Above: "With natural materials and simple construction methods, The Shed doesn't draw attention to itself but appears to be almost a sculptural element in the landscape," the architects say.
Above: At night, the strong rhythm of the structure is visible through the frosted polycarbonate sheets.
Above: On the exterior, the white oak for the rain-screen was taken from trees on the property. The facade is varied and richly textured because the wood was allowed to weather and gray over time.
Above: The galvanized steel elements were delivered to the site pre-welded.
Above: The pre-welded galvanized steel elements were bolted on site.
Considering building a beautiful utility shed? See Utility Barn as Architectural Moment for more inspiration.
(Visited 827 times, 9 visits today)