Are you the kind of person who defines summer by the feel of sand between your toes? In Portugal, an hour south of Lisbon on the Sado River estuary, there's an unusual inn where you can put your feet in the sand whether you're on the beach or in the living room. 
Casas Na Areia is a compound of four cottages. They were originally intended as a weekend getaway for owners Joao and Andreia Rodrigues, but they evolved into a small hotel. The designer, Lisbon architect Manuel Aires Mateus, was strongly influenced by the simple lines of the area's traditional buildings. He chose his construction materials accordingly–until it came to the interior of one cottage, where he did something surprising and unconventional. He made the floor out of sand. 
Photography by Nelson Garrido.
Above: The main cottage holds the inn's common space, with a living room and dining area. The signature sand floor is soft on the feet and can even be heated in cool weather; it reinforces this place's strong connection with nature.
Above: The cottages seem to float on the sand. Two of the four are made of wood and reeds, the other two of white concrete.
Above: Guests can ride horses on the beach and enjoy some of the best bird-watching in Portugal; storks and flamingos are frequently sighted. Close by, the Sado River estuary is home to a colony of dolphins. There are also Roman ruins to visit.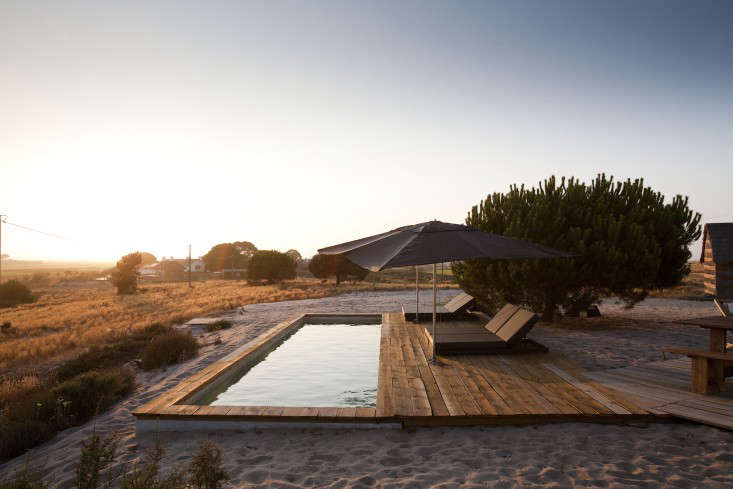 Above: The swimming pool, flanked by a deck. Instead of formal gardens, wildflowers and grasses sprawl naturally over the dunes. The place seems timeless.
Above: The simple, stylish furnishings are in keeping with the minimalist architecture. The "Bigfoot" table, from e15, comfortably accommodates eight sandy-footed people.
Above: The exterior of the wood-and-reed cottage that holds the inn's living room, dining room, and kitchen.
Above: The inn sleeps eight in four double bedrooms, each with its own private bath. No worries about tracking sand into bed: The floors in the bedroom cottages are made of concrete. 
 Above: All four cottages have roofs thatched with grasses harvested from the banks of the Sado River. 
Above: Antonio Pinela, a local craftsman, built the cottages in 2010. Every six years the thatched roofs will have to be renewed.
Above: Casas Na Areia is the perfect vacation compound for a family or group of friends. There's plenty of privacy, but everyone can be close to each other and to the outdoors.
Above: If you go, tell your traveling companions they can leave their slippers at home. They'll want to be barefoot to enjoy the sensuous feeling of walking in sand indoors.
Read about a more conventional beach hotel in Remodelista's Just Open: A Hidden Beach Hotel in Oaxaca and see another take on a tiny beach cabin in Gardenista's Rustic Living on the Beach in Uruguay.
July 11, 2014 during Summer Bunkhouse week. 
(Visited 461 times, 1 visits today)