There is something intentionally quirky about a tiny hat-shaped teahouse in a backyard in Ostrava, a Czech city near the Polish border. Built to accommodate three for tea, the steep-roofed structure has a view of a charming garden–and in the distance, of the less picturesque coal waste dumps on the outskirts of the city.
Architects David Mastalka and Lenka Kemenová of A1Architects have been obsessed with teahouses ever since they were students at Prague's Academy of Art, Architecture and Design and traveled together to Japan on a fact-finding mission. Yesterday we featured their Charred and Blackened Teahouse in the Czech Republic, which Kemenová described as another modern "micro-space, beautiful and cozy and comfortable to stay in for hours."
Photography courtesy of A1Architects.
Above: The oak teahouse sits on dark gray foundation stones. Dark larch facing and a shingle roof are made of natural materials that emphasize the teahouse's relationship to its garden setting.
Above: A hidden drawer under the bench provides storage.
Above: "The Hat has an expressively dwarfed roof lining, and the almost square layout transforms upwards into the round shape of skylight," according to A1Architects.
Above: Sliding doors and the use of outer shutters will change the view.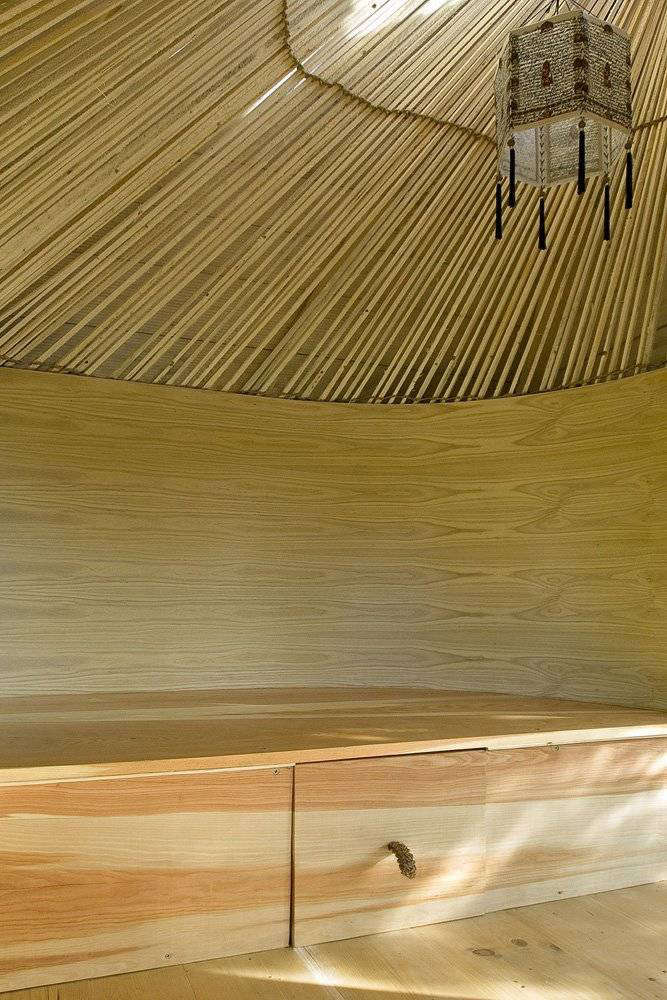 Above: "Big inspiration for all of our tea houses was a personal meeting with Japanese architect Terunobu Fujimori and an experience with his own teahouse Takasugi-an in Nagano prefecture," according to A1Architects.
Above: The wall lifts open, garage-door style, and oak plywood lines the interior walls.
Above: Fruit trees and the raised beds of a productive cutting garden surround the teahouse.
For another teahouse designed by A1Architects, see A Teahouse, Blackened and Charred (On Purpose).
(Visited 54 times, 1 visits today)