Good homemade focaccia is irresistible, and impressive. Straight from the oven or savored later, focaccia should be crunchy with olive oil on the outside, tender on the inside, and taste of the moment. The toppings, whether garden-grown, wild-foraged, or hunted down at at your local farmer's market or supermarket, offer endless ways to be creative. It is ideal rustic fare but impressive enough to share at a Thanksgiving table.
Here's the no-knead focaccia recipe that makes the most of any season.
Photography by Marie Viljoen.
For years, my baking life has included focaccia. The round cast iron skillet I usually bake it in allows the bread to fit and travel snugly in a backpack for the botanical picnics I feed to adventurous attendees in just about every month of the year. But it's also a comforting foundation for cheese suppers and a perfect dunk for soup lunches.
In spring, my focaccia may be laced with pungent ramp leaves, field garlic, dandelion flowers, nettle purée, or pheasant back mushrooms. In early summer, cherries with mugwort leaves, black currants, and elderberries, or chanterelles. Fall's figs, persimmons, and local grapes follow. Winter's focaccia feature hoshigaki (dried persimmons) and honey, dried aronia, or preserved mushrooms. The possibilities and improvisation are endless. Focaccia is an adaptable medium for edible creativity.
My go-to focaccia recipe has always been based on a kneaded dough. The dough is scented with Earl Grey tea and the soaking water for the fruit (the recipe is in the persimmon chapter of my cookbook Forage, Harvest, Feast). It makes a beautiful loaf, open to variation.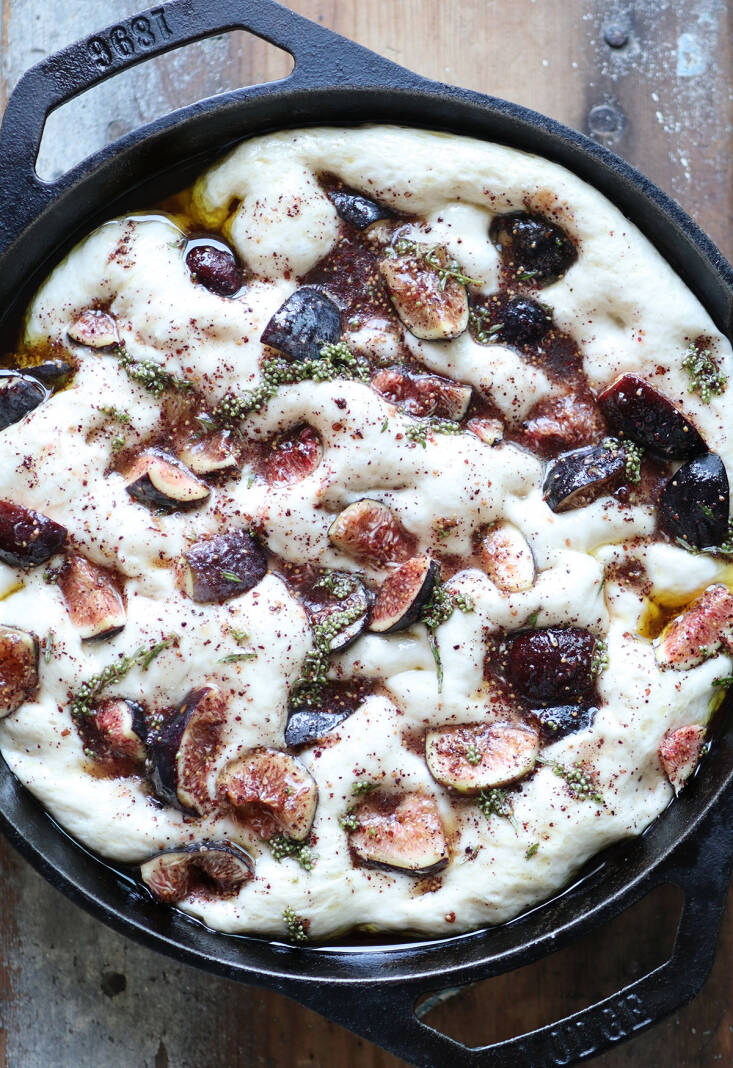 But since spring this year I've been improvising wildly on a no-knead focaccia recipe shared generously on Instagram by the founders of Keepwell Vinegar. (Based in Dover, Pennsylvania, their inspiring line of vinegars is available online; but they appear to excel at anything yeast-related.)
Here it is:
You can see why it is is irresistible.
The deep appeal of this focaccia is that the wet dough is not kneaded. Mix, rest, fold, rest, fold. The fun part, dimpling the delicately jiggly dough with olive-oiled fingers, follows. Toppings happen. And after a brief, blazing bake, you have a glorious focaccia.
After a first, experimental loaf with the ramp leaves of spring, there was no holding back. No matter the season, there is a delicious topping to be found somewhere—in my pantry (all three shelves of it); my forage-cupboard, where preserved wild things live; at the local market; or on a tree nearby.
Fruit features often in the summer and fall focaccie I bake. Before adding them to the yielding dough, I roast juicy fruits like cherries, quartered apricots, grapes, or figs in a 350-degree oven for around 25 minutes. This draws out some moisture, leaving plenty for a luscious mouthful but saving the bread from being drowned. Onions and garlic also benefit from a slow roasting or sautéeing.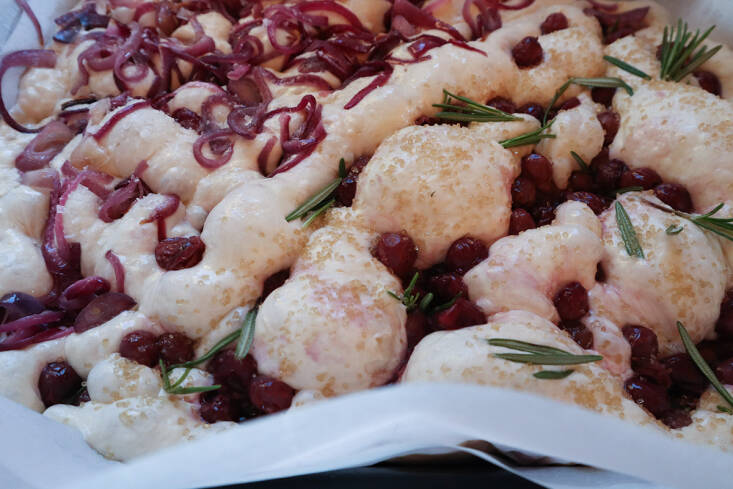 Ever been unable to decide on pizza topping? It happens with focaccia, too.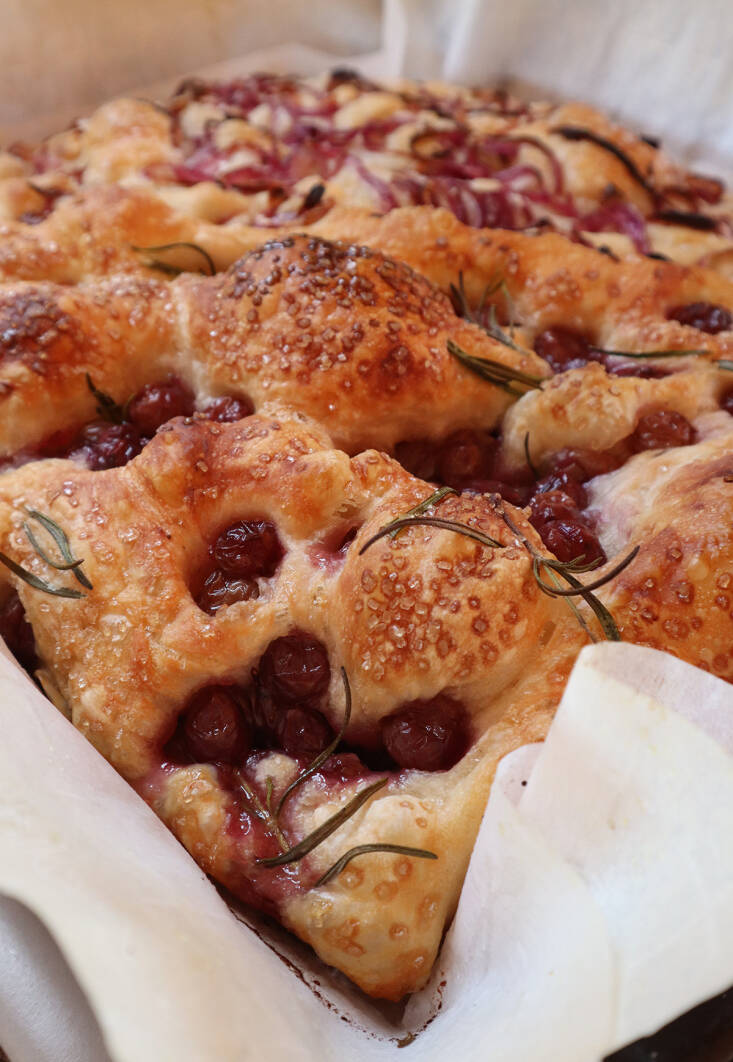 Mugwort, an extremely common weed-slash-delicious-herb, tempers the sweetness of the fruit toppings with an earthy herbal bitterness. But rosemary is just fine, too. So is sage.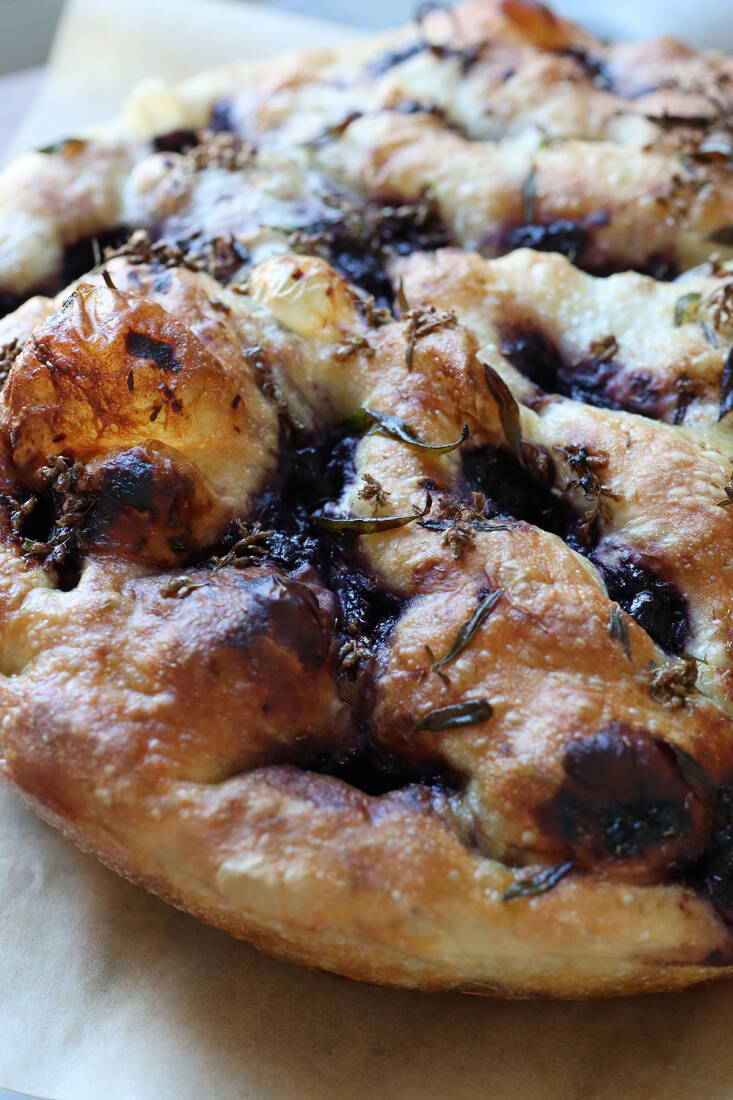 A personal favorite of mine is grape focaccia. Locally ripe grapes (versus the seasonless supermarket bunches) arrive from late summer through late fall, and they have real character. The flavor of the Concord clan sings. Muscat grapes are exceptionally good. Some varieties are bred to be seedless, but if the grapes do have seeds, one can either prick them out of each halved berry using the tip of a knife, or work the whole roasted grapes through a foodmill to remove the seeds, then add that purée to the top of the risen dough. I use both methods, depending on the variety of grape.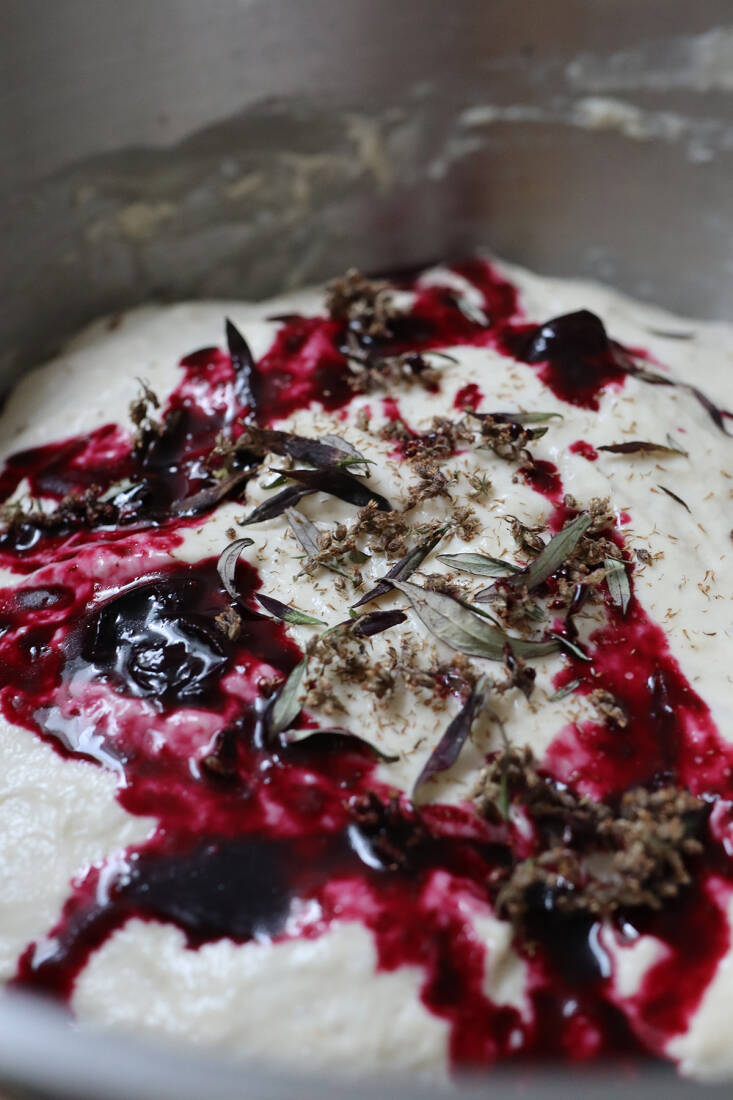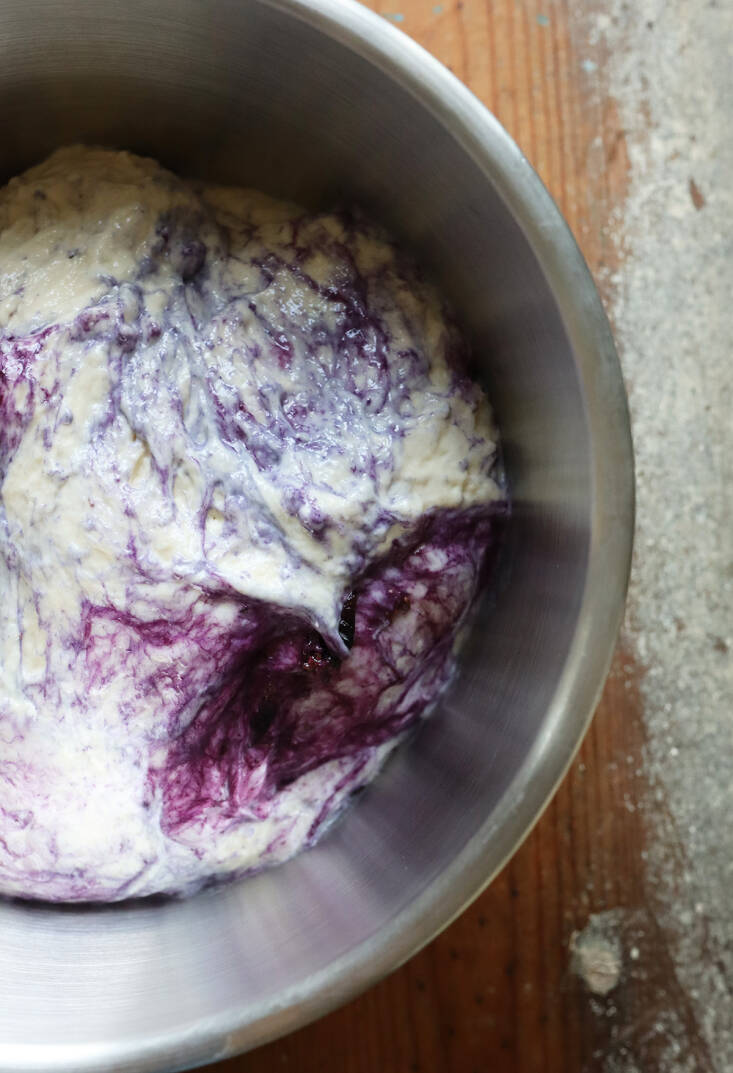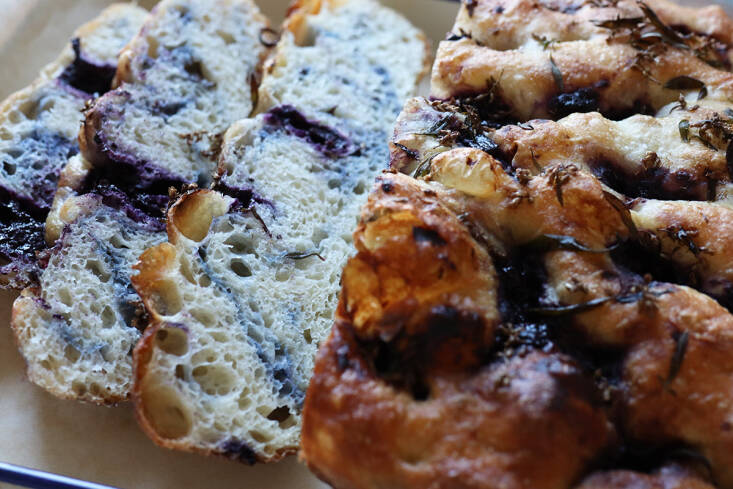 Concord Grape and Mugwort Focaccia
This focaccia (adapted from Keepwell Vinegar's recipe) celebrates the musky perfume of Concords and is dramatic enough to be taken to a party.  I bake in a 9-inch cast iron pan; its heat-retention makes for a very good crust, but the focaccia works well in 9 x 13 baking trays (where it will spread more, and have slightly less elevation).
The Grape and Mugwort Topping:
1 Tablespoon olive oil
2 cups (5.5oz) Concord grapes
2 Tablespoons dried mugwort leaves or flowers
The Dough:
13 oz bread flour
12.5 oz warm water (weight or fluid ounces – they're the same)
1 Tablespoon honey
1 Tablespoon olive oil
1 teaspoon salt
1 teaspoon instant yeast
The Purple Swirl:
1 Tablespoon cooked grape juices or pulp
For the Pan and the Drizzling:
For the grape topping: Pre-heat the oven to 350'F. Oil a skillet or baking sheet and add the grapes. Roast for 35 minutes, until the grapes are oozing juices that have begun to sizzle. Remove from oven. Work the fruit through a foodmill (Oxo is my go-to) and measure the pulp. You need 1/3 cup. (Use leftovers for topping ice cream,  a vinaigrette, or for roasting with root vegetables.)
For the dough: In a bowl, combine all the dough ingredients and mix thoroughly. Cover, and leave for 40 minutes. After 40 minutes, lift one side of the dough up and drop it over the center. Do this on four sides; this is a light stretch and fold. Cover again for 40 minutes. Now add half the mugwort and 1 Tablespoon of the grape purée. Repeat the stretch and fold until the purée is incorporated and not wet-looking, and the dough appears marbled. Cover again and refrigerate overnight (or for a minimum of 8 hours).
To bake: Oil your skillet or tray with 3 tablespoons of the olive oil. Turn the cold dough into the skillet or tray. Let it sit uncovered and untouched for 2 to 4 hours until spread out and risen to the top edge of the pan, and jiggly when shoved gently. Drizzle the remaining tablespoon of oil across the top. Oil your fingers thoroughly, and dimple the dough deeply. Now add the roasted grape purée and the additional mugwort, pushing the fruit down (if it's all on the surface it may scorch).
Slide gently into the hot oven and bake at 450'F for 7 minutes. Reduce the heat 400 for another 15 minutes. Turn out and cool on a wire rack.
(Visited 1,468 times, 1,468 visits today)