When I think of grand gardens, I tend to envision something that Louis XIV might have considered strolling about. But grand doesn't have to mean grandiose, and in the case of this garden designed behind a London townhouse, a grand garden can be scaled to complement a much more modest residence.
Del Buono Gazerwitz Landscape Architects designed this modern garden for a couple who have lived in their St. John's Wood house for years and who found themselves one day without any children left at home and a garden that had become "tired and overgrown."
The firm explains that "with a keen interest in modern architecture, [the clients] wanted something simple and timeless, a space to entertain and relax and which would also act as the link between the house and a new, modern pavilion at the very rear." 
Photographs by Marianne Majerus, courtesy of del Buono Gazerwitz.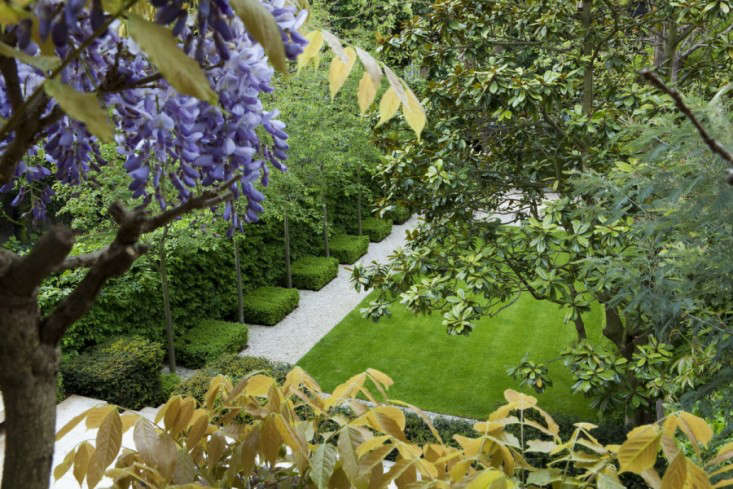 Above: A view looking down from the residence above. Exisitng mature wistera vines add violet accents to the garden in springtime. 
The result was a design that included a terrace made of Italian travertine overlooking a rectangular lawn. The lawn is edged by a row of white flowering Amelanchiers set within clipped boxwood squares: "Rather than on color, the whole composition relies on the contrast between the different greens and textures of the restrained palette of plants selected," the landscape architects said.
Above: Seven Amelanchier arborea "˜Robin Hill' trees line the garden lawn. The trees were chosen for their beauty in multiple seasons: "small pretty apple green leaves, beautiful spring flowers, and spectacular autumn leaf color." Between each tree, a neat cube of boxwood (Buxus semervirens). Behind the trees, a thick Hornbeam hedge (Carpinus betulus) stands 1.8 meters tall. The hedge is clipped once a year to create a clean backdrop to the garden plantings.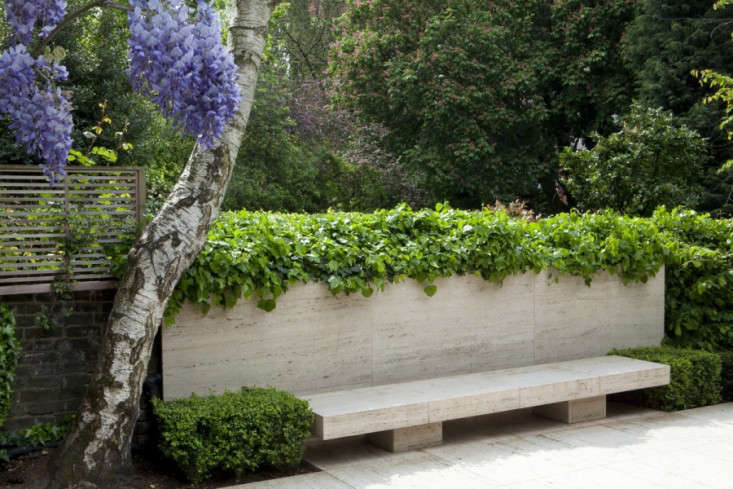 Above: A stately custom seating area made of travertine to match the terrace. Above the bench, an Algerian Ivy (Hedera canariensis) provides a lush border. An existing mature Silver birch (Betula pendula) bends gracefully, complementing the straight lines of the bench and garden walll. Behind the tree, a slatted fence was built to provide privacy without blocking natural light. 
Above: The lawn and garden path. The garden paths are lined with Pearly Quartz Gravel "which complements the travertine used on the terrace and bench, but is slightly lighter in color and contrasts well with the dark green foliage used within the garden," the landscape architects said. The gravel also functions as a transition between the hardscaping of the terrace and the softer garden plantings.
Above: (L) Another view of the seven Amelanchier arborea. (R) The travertine terrace and sitting area connecting the house and garden.
Taken by travertine? See it put to use inside in The Best of Both: Open Plan and Intimate on Remodelista.
Unruly wisteria at your house? See Train a Wisteria Vine Not to Eat the House.
For more modern garden designs, see all of our Landscape Architect Visits.
(Visited 94 times, 1 visits today)