Everything was bursting into bloom on the spring day when I had the opportunity to visit the New Hope, Pennsylvania home and studio of legendary American woodworker George Nakashima, a leader in the Arts and Crafts movement. His Japanese-influenced designs celebrate the natural beauty of individual trees, often showcasing live edges, large burls, and rich grains. Following Nakashima's death in 1990, his daughter Mira took the helm of the company; she shared insights with me as I wandered the grounds.
Photography by Meredith Swinehart.
Above: There are 14 buildings on the grounds, each designed and built by George Nakashima between 1946 and 1975. (All face south to take advantage of passive solar heat and light.) Shown here is the Conoid Studio, a 1957 design with an experimental roof of 2.5-inch poured concrete in a conoid shape. The roof became the inspiration for Nakashima's Conoid line of furniture, which debuted in 1960. 
Above: The front arc of the Conoid Studio, set among cherry trees. 
Above: Between the Conoid Studio and the Chair Shop is a wrought iron sculpture by artist and designer Harry Bertoia, a close friend of Nakashima.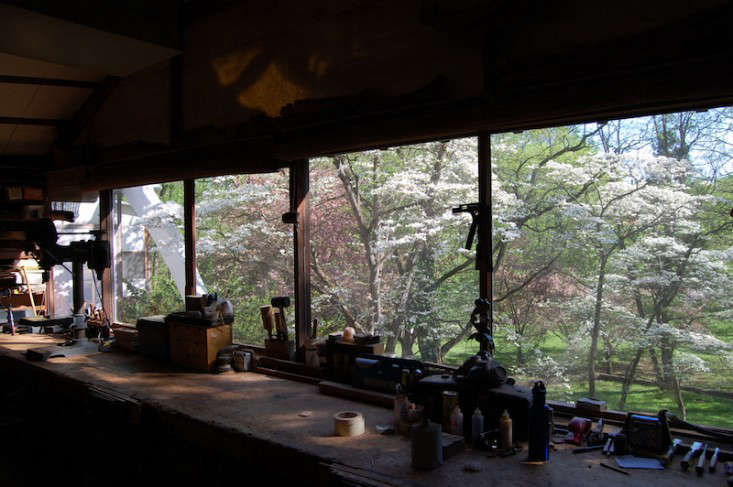 Above: The Chair Shop was built in 1957 as a lunch room for employees but soon became the headquarters of chair assembly.
Above: The Chair Shop overlooks a verdant landscape–a clear connection between living trees and finished furniture.
Above: The Arts Building, completed in 1967, is now the headquarters of the Nakashima Foundation for Peace, whose goal is to install large wooden "Altars of Peace" on every continent. Three altars have been installed so far–in the US, Russia, and India–and donations are being accepted for a fourth altar destined for Cape Town, South Africa.
Above: In the first floor of the Arts Building sits an enlarged ink drawing by social realist painter Ben Shahn, another close friend of Nakashima. Shahn gave Nakashima the "hand" image as the logo for his furniture shows during the 1960s, and Nakashima later designed an addition to Shahn's nearby Louis Kahn home.
Above: A store of three-legged stools on the upper floor of the Arts Building. 
Above: An Arts Building pond resident gets some sun. 
Above: The Reception House, Nakashima's last building (finished in 1975), was built to entertain special visitors. Four Greenrock Ottomans, designed for Governor Nelson Rockefeller's Catskills home, sit in the main room. (These four are in fact rejects from the Rockefellers.)
Above: This traditional Japanese tea room in the Reception House was used for a tea ceremony only once during Nakashima's lifetime, and later for a memorial ceremony; the room most commonly serves as a guest bedroom.
For more on George Nakashima's designs and current collections, visit George Nakashima Woodworker and the Nakashima Foundation for Peace. 
Keep exploring the handmade life: 
(Visited 387 times, 1 visits today)