Full disclosure: I tend to be a "grass is always greener" type of person. While I live in Santa Monica, one of the most beautiful places in the world, hardly a day goes by that I don't long to be somewhere else. One day I may find myself yearning for the humid summer nights of Massachusetts, where I grew up; another evening I'll be missing the dry air of Montana's Bitterroot Valley. And during every Skype meeting with our London editor Christine, I dream of time traveling through my laptop so I can walk along foggy streets.
I try not to worry that this is a problem. (It's just a curiosity, right? Call it wanderlust?) Whatever it is, one thing temporarily erases it from my soul: hiking in Southern California. It's that simple. I love to trail blaze anywhere, but there's an indescribable magic found up in the mountains outlining LA.
Depending upon where you are in Los Angeles, you're likely within a relatively short drive to a great hike. East siders flock to Griffith Park; Hollywood dwellers love Runyon Canyon. I could name countless treks that offer an instant escape from the busy streets. While my favorites have changed over the years, there's one trail that holds an extra tight grip on my heart: Topanga State Park. Within five minutes after my friend Veronica introduced me to the trail, I was taken. With the Pacific Ocean to my left and the Hollywood Hills to my right, I have no thought of any place but what's in front of me.
Do you have a favorite winter hike? Tell us about it in the comment section below:
Photos by Stacey Lindsay.
Above: Looking south along the sunlit Pacific Ocean.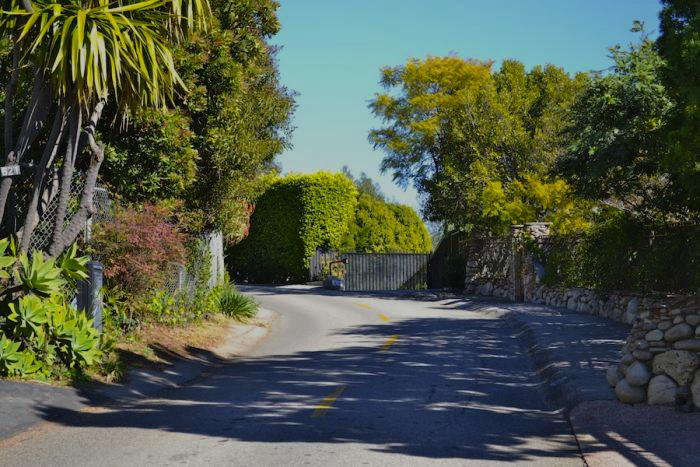 Above: The drive up to one of the many entrances to Topanga State Park. Depending upon where you are coming from, there are various ways to access the trails. I prefer the Paseo Miramar entrance for its more rugged terrain and nearly instant views of the ocean.
Above: Here, via Google Maps, is the Paseo Miramar entrance to the park. We parked at "Point A. "
Above: Entering the park. Featuring 36 miles of hiking trails in the Santa Monica Mountains, it borders Pacific Palisades on the south, Topanga Canyon on the west, and Rustic Canyon on the east.
Above: The trek begins.
Above: The first peek at the Pacific coastline.
Above: Looking east: a glimpse of the Hollywood Hills, with the snowcapped San Gabriel Mountains and Century City in the backdrop.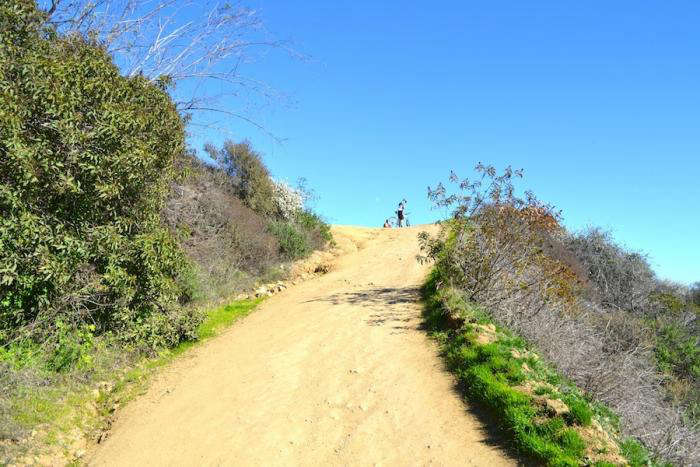 Above: The trails are also open to mountain bikers (on the fire roads) and to equestrians.
Above: A view from the top. Is that Catalina Island I see?
Above: A moment for pretend house hunting.
Above: Another moment to vow that I will never again think anyone's grass is greener.
Above: A slow descent behind fellow hikers.
Above: A reluctant finish. The detail I love most about Southern California hikes is the fresh air redolent of eucalyptus.
Above: Me and my trusty Newtons. Photo by George Roatis.
For another Southern California hike, see Hike of the Week: Bob Hope's House in Palm Springs. LA readers: What is your favorite hike to escape the city?
Explore more hikes.
(Visited 11 times, 3 visits today)