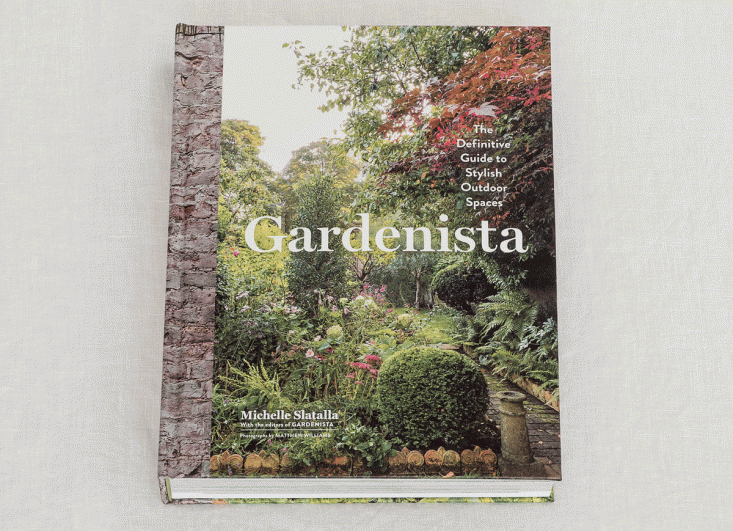 We're thrilled to announce our new book, Gardenista: The Definitive Guide to Outdoor Spaces, a companion volume to Remodelista: A Manual for the Considered Home. For the past two years, we've been working behind the scenes, gathering all of Gardenista's best design ideas—and visiting dozens of our friends' gardens from London to LA with our talented photographer, Brooklyn-based Matthew Williams, who captured every image in the book.
Here's what Rita Konig, the UK designer and contributing editor to the New York Time's T Magazine, says about the book (and we hope you'll like it as much): "It's a book of all the people whose taste I most covet and their gardens rather than a volume of gardens designed by garden designers. It makes me feel, at least, that I too can achieve some of this loveliness in my own backyard. The thing that I love about it is that I feel it is speaking directly to me rather than a gardeners' language—already I want to rush home and start digging."
Here's a first look (and N.B.: You can order a signed copy from Terrain if you act now):
Above: Gardenista: The Definitive Guide to Stylish Outdoor Spaces will be published next month by Artisan Books and is available for pre-order now (ordering information below).
Above: In "13 Gardens We Love," we visit an array of verdant spaces, from a secret seaside retreat on Cape Cod to an antiquarian's cottage garden in London (complete with church spire).
Above: We've rounded up seven classic case studies in our "Color Stories" chapter, from a simple white garden, to drought-tolerant greens and grays, to a backyard kaleidoscope of color (with tips on how to recreate the looks).
Above: You'll find eight case stories of hardworking gardens with ingenious outbuildings and enclosures, in our "Annexing the Outdoors" chapter.
Above: Create the "Ultimate DIY Workspace" with our ten easy projects that add up to one stylish work station in our "Design Ideas" chapter.
Above: Drainage is just one of those hardscaping issues everyone has to deal with but few talk about. We elevate drains—and other hardscape elements such as paths, fences, and gates—from boring to brilliant in our "Hardscaping 101" chapter.
Above: In "The Gardenista 100," we've rounded up our 100 all-time favorite everyday objects, from digging tools to outdoor dining tables (with tips on where to buy these classic essentials).
Ordering Information
Gardenista: The Definitive Guide to Stylish Outdoor Spaces is available in bookstores in the United States, Canada, the UK, Australia, and New Zealand. (If you live in Europe or Asia, you can order the book from your local Amazon site or Book Depository.)
US: Order a signed copy from Terrain. Other retailers include Amazon, Barnes & Noble, Books-A-Million, Powell's Books, and specialty stores. To find your closest independent bookstore, visit IndieBound.
Canada: Retailers include Amazon Canada, Indigo (Canada), McNally Robinson, independent bookstores, and specialty stores.
UK: Retailers include Amazon UK, Waterstones, and Book Depository.
Australia:  Retailers include Booktopia, Book Depository, independent bookstores, and specialty stores.
New Zealand: Retailers include Fishpond and to find a stockist near you, visit BookReps New Zealand.
(Visited 205 times, 1 visits today)