You can't put a price tag on luxury. It's like porn; you know it when you see it.
Is there someone on your holiday shopping list who deserves something very, very special?
Above: Photograph by John Merkl.
If the brown sofa in the photo looks familiar, that's because it's mine. And so is this fringed mohair throw, so incredibly soft that people in my family fight over whose turn it is to sit under it to watch Homeland. Luckily, it's generously sized, as well. As for the color? You want to drown in it.
Buy this for someone you love a lot. Woven by hand at a family-run mill in Spain, the Magenta Mohair Throw measures 51 by 75 inches and is $250 from Serena and Lily.
Above: Photograph by John Merkl.
What is the ultimate luxury in the garden? A helper. Perhaps it is stretching the definition of the word to say that tiny dogs prone to furious digging qualify for the position. But Papillons are the sort of companions who will sit patiently by your side while you weed (no matter how long it takes), and they will alert you immediately if their enemy the squirrel tries to come onto the property. This is a breed of dog you should give only to people who like to have silky little creatures sitting on their laps and staring up at them adoringly all day long. For more information and to find a breeder, see Papillon Club of America.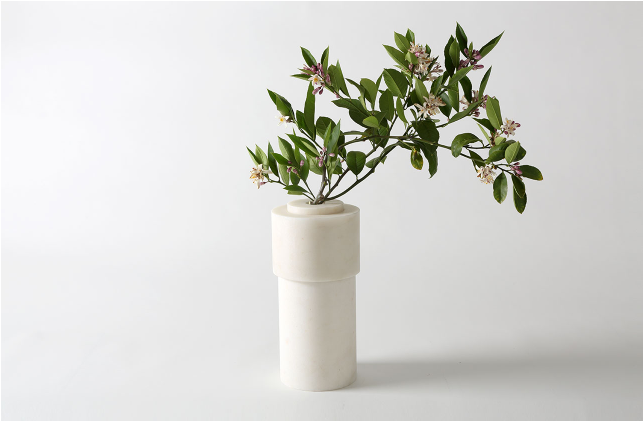 Above: I saw this three-piece vase the other day, sitting on a side table at March in San Francisco. The photo doesn't do it justice. It is of a height and diameter that bespeak importance. The creamy white marble chosen by Belgian-based housewares designer Michael Verheyden begs to be stroked. (Verheyden also works with such tactile materials as bronze, soapstone, and leather.) Disassembled into its three parts, the Michael Verheyden Potte Vase can hold a single stem, a small bouquet, and a larger arrangement–all at once. It is $1,550.
Above: I have been coveting this canvas and leather tote bag for a long time. If I owned it, I would keep my most special tools in it and never leave it outside to get ruined in the rain. That's how unforgettably great this bag is. The side patch pockets (waxed leather!) are just the right size to hold pruners or a folding saw. The Union Tote Bag by S. Stein is $325 from Heath Ceramics. It's also available in three other color combinations (including navy-and-black) from S. Stein Design.
Are you in the throes of holiday shopping? See the rest of our Gift Guides, with suggestions for the Flower Lover, the Fledgling Gardener, and the Urban Gardener.
(Visited 19 times, 1 visits today)