The perfect holiday gift for a gardener? A packet of special seeds. Or several packets. We've rounded up some of our favorite seed collections—from unusual sunflower varieties to hard-to-find French lettuces: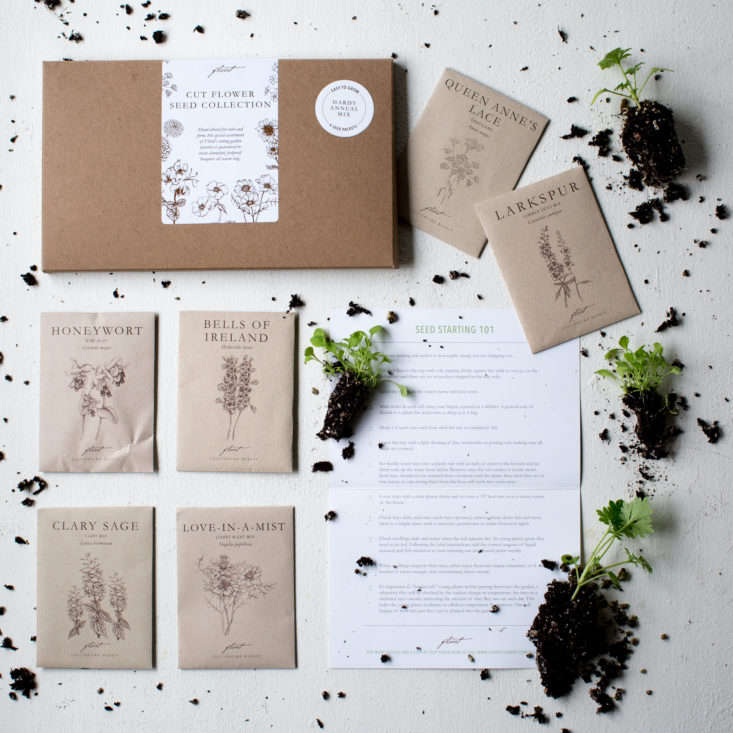 Above: From Floret Flowers in Washington state, six packets of flower farmer Erin Benzakein's favorite "easiest to grow, cool summer annuals is perfect for the beginning gardener." A Seed Collection Hardy Annual Mix includes Bells-of-Ireland, clary sage, honeywort, larkspur, Love-in-a-Mist, and Queen Anne's Lace 'Graceland' for a "cool-toned palette of blue, green, white, and lavender." The seed collection is $25.
Above: From Shed in Healdsburg, a Culinary Herb Seed Collection has seven types of open-polinated herbs including Genovese basil, cilantro, thyme, chives, and parsley. The collection is $24.
Above: Think of it as an edible garden in a (muslin) bag. Inside are seed packets of 13 edibles, including 'Merveille de Quatre Saison' lettuce, Longe de Violette eggplant, Marmande tomato, Fine Maraichere frisée, and nasturtium. A set of 12 aluminum planter markers is included in the Year-round Potager Garden Seed Set; $36 from Food52.
Above: A collection of eight varieties of flowers that attract butterflies—including borage, cosmos, and black-eyed Susan—comes packed in a recycled steel tin and includes eight wooden garden stakes and a pencil.  A Butterfly Garden Seed Kit form Terrain is $35.
Above: An edible Heirloom Seed Kit has four kinds of seeds—basil, lemon mint, arugula, and thyme—and also comes with four corked storage vials, paper pots, and starter soil. Packaged in a wooden crate, the kit is $44.95 from Williams-Sonoma.
Above: Photograph by Erin Boyle.
From John Scheepers Kitchen Garden Seeds, a Money-in-the-Bank-Perennial Garden collection includes seven packets of seeds of flowers that will return year after year including flax, columbine, heuchera, coreopsis, and a daisies; $19.95.
Above: Photograph by Janet Hall.
"Started in a San Jose, California warehouse in 1917, Kitazawa Seed specializes in offering seeds of 250 traditional heirloom vegetables of Japan," writes Janet. In addition, "Kitazawa sells curated chef specialty garden seed collections, such as the Kitazawa Asian Herb Garden Seed Collection and the Kitazawa Thai Garden Seed Collection, that offer selected combinations of the most popular Asian vegetables and herbs," says Janet. Each collection includes seven different seed packets and is $23.
Above: With six varieties of sunflower seeds to "represent the varied petal and center face colors and petal shapes in Vincent Van Gogh's famous series of sunflower paintings," a Sunflower Seed Collection from Le Vie Rustic is $15.
For more of our favorite seed collections, see Seed Source: Kitazawa's Asian Vegetables. And to organize a collection, see Storage Solution: The Mighty Seed Box by Franklyn & Vincent.
Working the way down your holiday shopping list? For more ideas, see Gift Guide 2016: Best Books on Gardens and the Outdoor Life.
(Visited 59 times, 1 visits today)