Viola, Violaceae: "More Than Meets the Eye"
Like Viola in Twelfth Night, who dresses up as a boy only to accidentally fall in love with the Duke Orsino, the viola flower is quirky to behold, but also a secret romantic. The (mostly) five-petaled charmers often bloom in delicate shades of purple, pink, and white shot through with black whiskers, so that violas look like they are in costume, with pasted-on false mustaches and spectacles.
Of the more than 500 varieties of viola, which include the seemingly omnipresent pansy, some are flecked with tiny black stripes toward the center that resemble mini whiskers. Another characteristic that makes the Viola genus hard to typecast is the fact that among its many species are annuals, perennials, biennials, and even shrubs.
Above: Photograph by Benjamin Balázs via Flickr.
Pansies, however, are not the funny little men they might seem to be. Their juice has been thought to produce a love potion, and violets, which can easily be dried and preserved, are exchanged as a token of love and memory.
Above: Photograph by Erin Boyle. For more, see DIY: Pressed Flower Bookmarks.
Violas of all varieties lend themselves to arts and crafts projects as well as culinary undertakings. They can serve as a garnish, covered in sugar and used to top cakes and pies, as a delightful to behold ingredient in spring and summer salads, or for the more daring chef, a light flavoring for infusions and soufflés.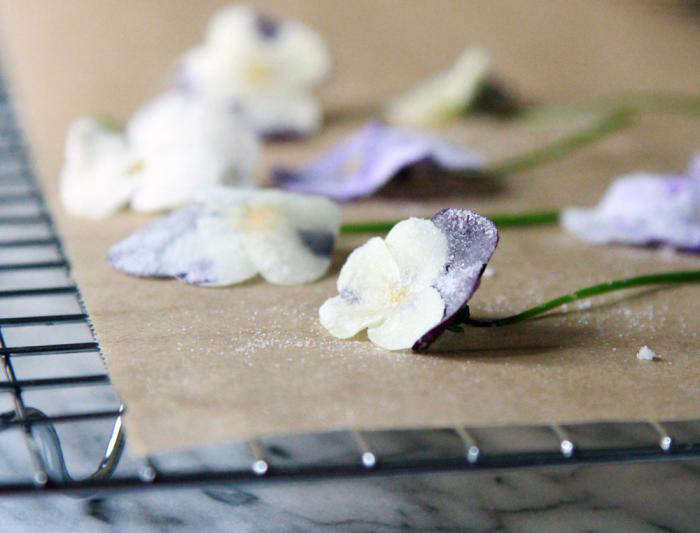 Above: As you prepare recipes with violas, don't forget to trim away the stems, the only part that is not edible. Photograph by Erin Boyle.
Cheat Sheet
Certain types of violas, like pansies, make a wonderful border for the garden, highlighting a variety of other plants. Low to the ground, they will not compete too much for sunlight.
Easy to grow; self-seeding, i.e. can produce hybrids that look nothing like what you originally planted.
No matter the color palette in your garden, you can find a viola to match. Flower hues include purple, blue, white, red, pink, orange, and yellow.
Keep It Alive
Violas prefer full sun and to be watered thoroughly and often.
Sow seeds outdoors (or violas can be transplanted easily from indoors); give each plant from 7 to 12 inches of space.
Plant violas in late winter or summer; you can find a variety of viola that will bloom in the season of your choice.

Above: Violas self sow themselves freely (even in gravel). Photograph by Marie Viljoen. For more, see 10 Secrets for Growing an Urban Balcony Garden.
Plant violas either in late winter or summer, depending on when you want them to flower. Violas do not mind colder temperatures and are happy to bloom in winter. They can be clustered tightly together into a patch, and patches of violas (especially pansies) are perfect for decorative borders around other garden plants.
Above: Photograph by K Yamada via Flickr.
Make sure to give your violas enough water—their quirky little crew likes to stay hydrated—and you will be surrounded by dozens of funny-faced flowers next season.
(Visited 142 times, 1 visits today)