Sweet Pea, Lathyrus odoratus: "Darling of Cut Flowers"
Sweet pea enthusiasts know that when they go on vacation it's a good idea to get someone in, not only to feed the cat but to cut their sweet peas, otherwise flower production will come to a premature end. For fastidious growers, the end of summer is the crucial moment between months of harvesting and imminent seed sowing. Plants look old and tired but they need to be quietly ignored so that they can get on with ripening their seeds.
Homegrown sweet peas are worth the effort in terms of scent, color, and shape; the spindly offerings at garden centers in spring are wide of the mark. Whether petals are frilly, flaked or bi-colored, thick stalks and straight stems are desirable. Sweet peas are the most popular cut flower, arguably.
Photography by Britt Willoughby Dyer, for Gardenista.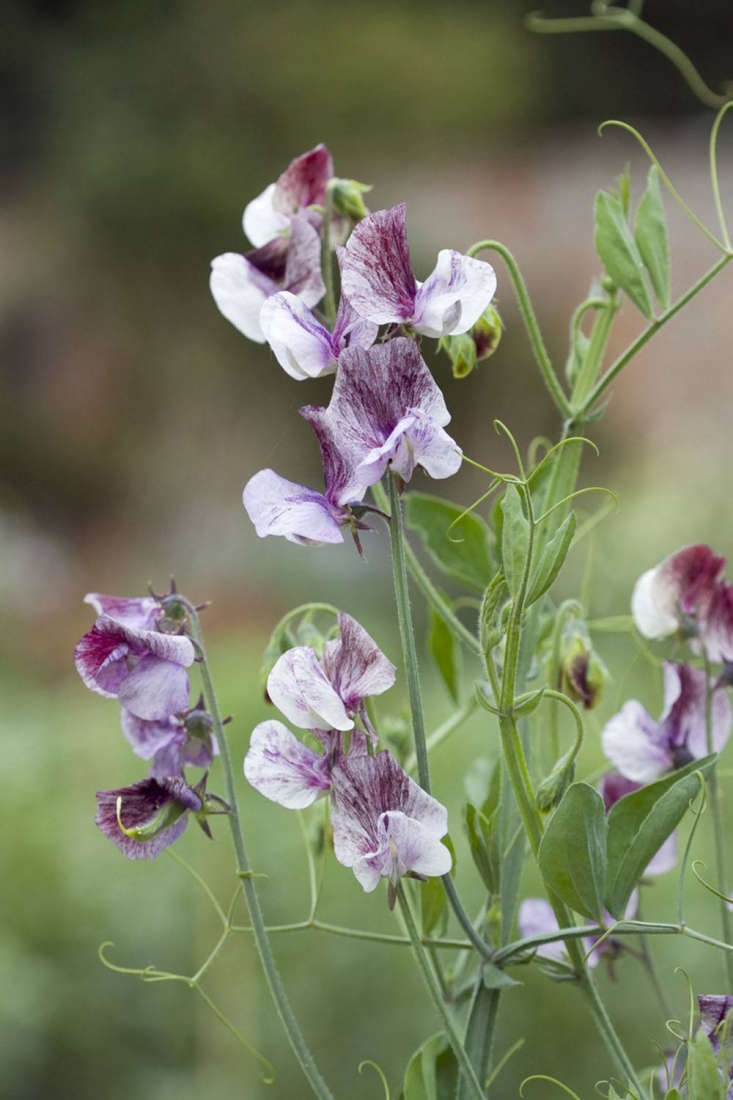 The many different types of sweet peas can be bewildering. They are most easily remembered if you bear in mind that "old-fashioned" sweet peas descend from the first simple but highly scented wild sweet pea. Then they became bigger and more showy, with Grandifloras in the 19th century, followed by Spencers from 1900; increasingly frilly and Edwardian-looking. Scent is generally less good in the Spencers and a popular choice, without being a compromise, is Modern Grandiflora (see above).
Sweet peas are most at home in a cutting or kitchen garden, since they have a specific use: for bringing indoors. They are not appealing to pollinators and although they look decorative scrambling up a teepee, it needs to be at least 8 feet tall. Any straight-ish branches or poles will do for a wigwam as long as young plants can aim their tendrils at twine tied around the structure near the base (and continued up) or pea sticks pushed into the ground. The most effective way of growing sweet peas that I have seen, though possibly the least romantic, is at Easton Walled Gardens in Lincolnshire. Squared netting is stretched between poles, with plants covering them vertically at regular intervals: nice and straight, easy to access.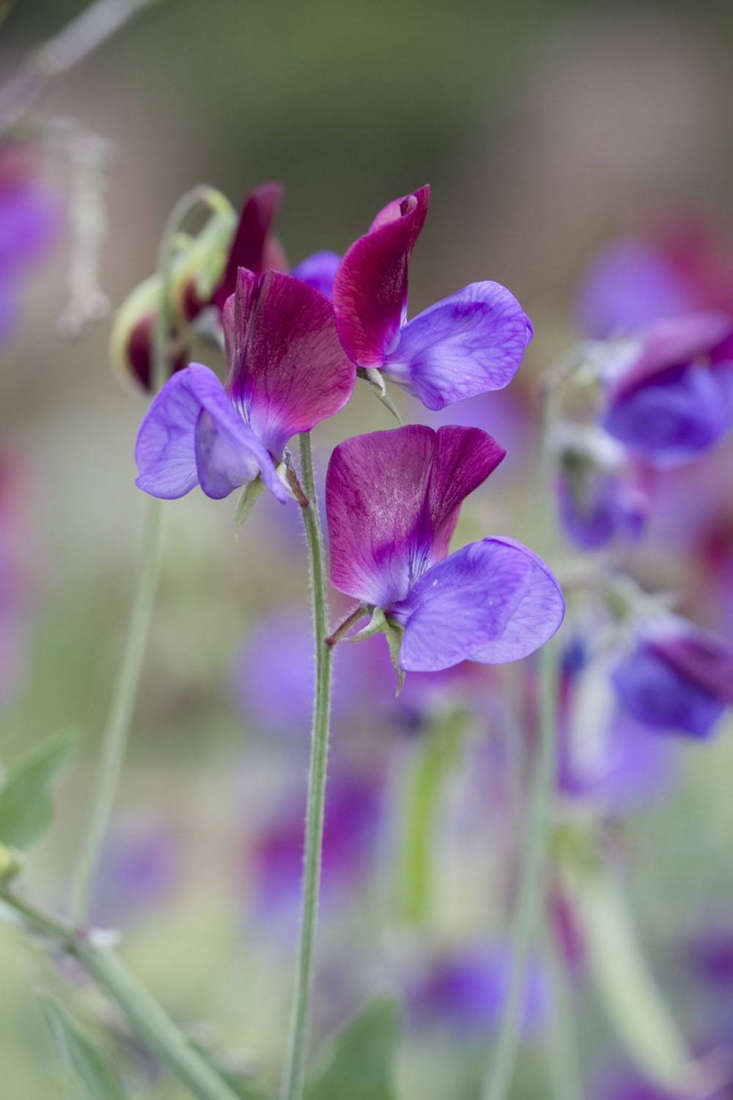 Cheat Sheet
• Sweet peas are hardy annuals which can flower from early summer until autumn with some attention.
• One way of navigating the huge variety on offer is to choose between frilly and scented. For a bit of both, try the Modern Grandiflora varieties.
• Sweet peas are a gift for anyone who likes to bring flowers indoors; they demand to be cut otherwise they will go to seed.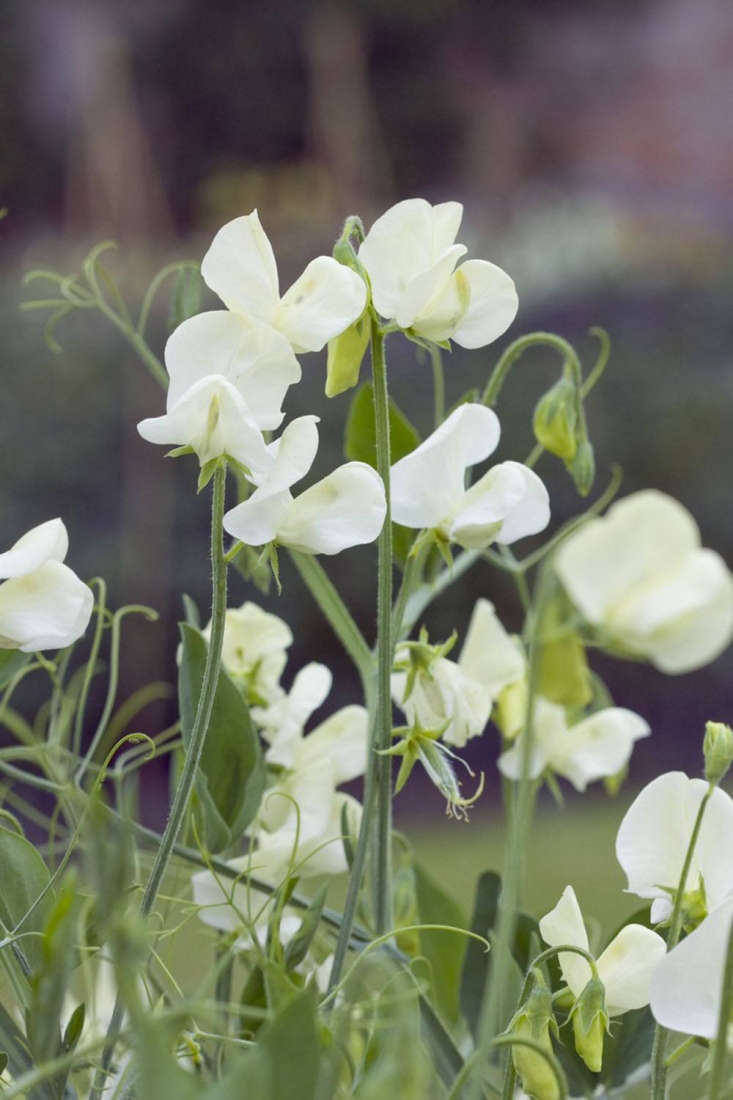 Keep It Alive
• Sweet peas need hummus-rich soil with well-rotted manure or compost added before planting time and extra feeding if soil is naturally poor.
• They should be grown in a practical way for maximum flower production, on very tall teepees or against netting.
• Sow them in autumn for stronger, earlier flowers. It is vital to pinch out the growing tips once three or four leaves have developed and to keep tying them in once planted, to conserve energy and keep them straight.
Roger Parsons holds the National Collection of Sweet Peas in the UK, stocking every type of Lathyrus in cultivation. This ranges from small meadow vetches to perennial Lathyrus latifolius, a scentless deep magenta, which can also be found in white. Known as the everlasting pea, it shows a determination to last forever: at the end of summer loud cracking noises indicate that the everlasting pea is in the process of catapulting its seeds in every direction.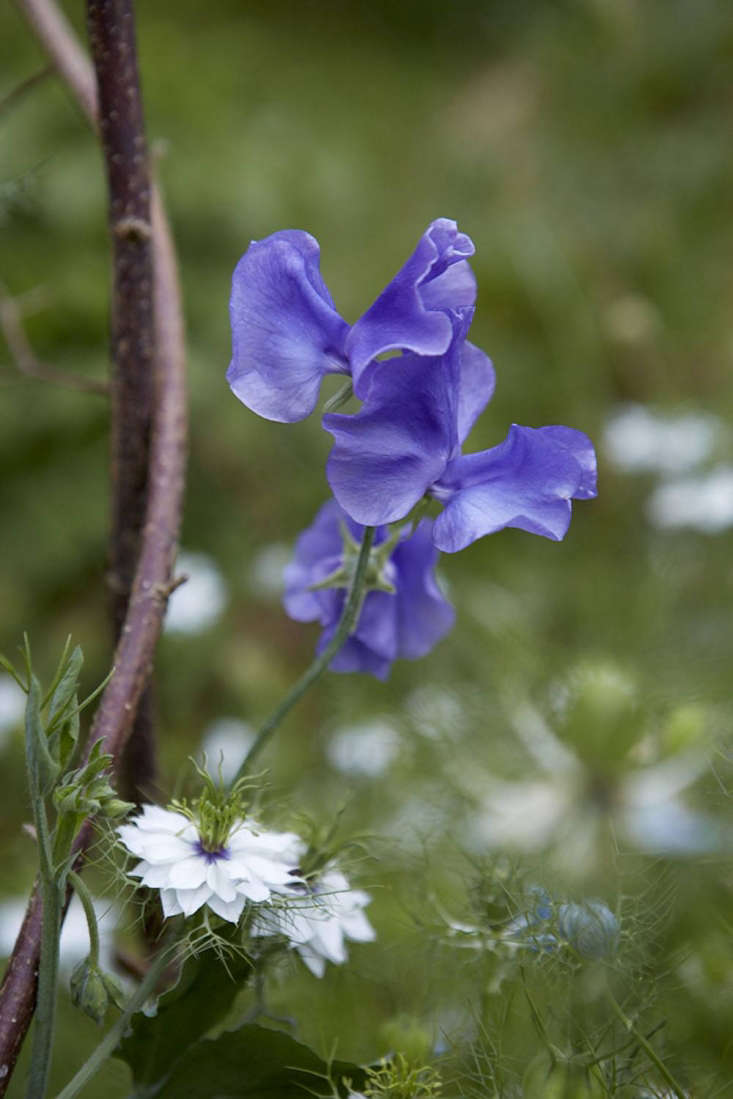 N.B.: This post is an update; it was first published September 2017.
Longing to get going with sweet peas? Find further inspiration:
• Ask the Expert: 7 Tips to Grow Cut Flowers in a Tiny Garden, From Floret Farm
• Ask the Expert: The Best Sweet Peas to Sow for Spring
• DIY: Endless Cutting Garden.

You need to login or register to view and manage your bookmarks.