Skimmia, Skimmia: "Jeeves of Plants"
It's a steadfast evergreen shrub, undemanding and dependable. Often brought out in winter for seasonal displays, skimmia is then wheeled away again. This is a pity because this ultra-discreet plant is only then preparing for its best moment—spring.
When the winter-long flower buds finally open, you might not notice at first. It's the scent that is always astonishing, despite its annual regularity. Quietly shimmering by the door, skimmia can be relied on for flashes of brilliance, a bit like Jeeves.
Photography by Britt Willoughby Dyer, for Gardenista.
A north-facing doorway is the perfect spot for a skimmia, so that it can provide year-round structure (in the ground or in a pot). Slow-growing, dome-shaped, it is adorned through winter with tightly closed flower buds. A combination of male and female plants will increase the possibility of brilliant scarlet berries. However, you need to have the right male and the right female for berries or, much easier, plant a new self-fertile hermaphrodite variety (not very Jeeves), such as S. japonica 'Obsession', 'Temptation', or S. japonica subsp. reevesiana.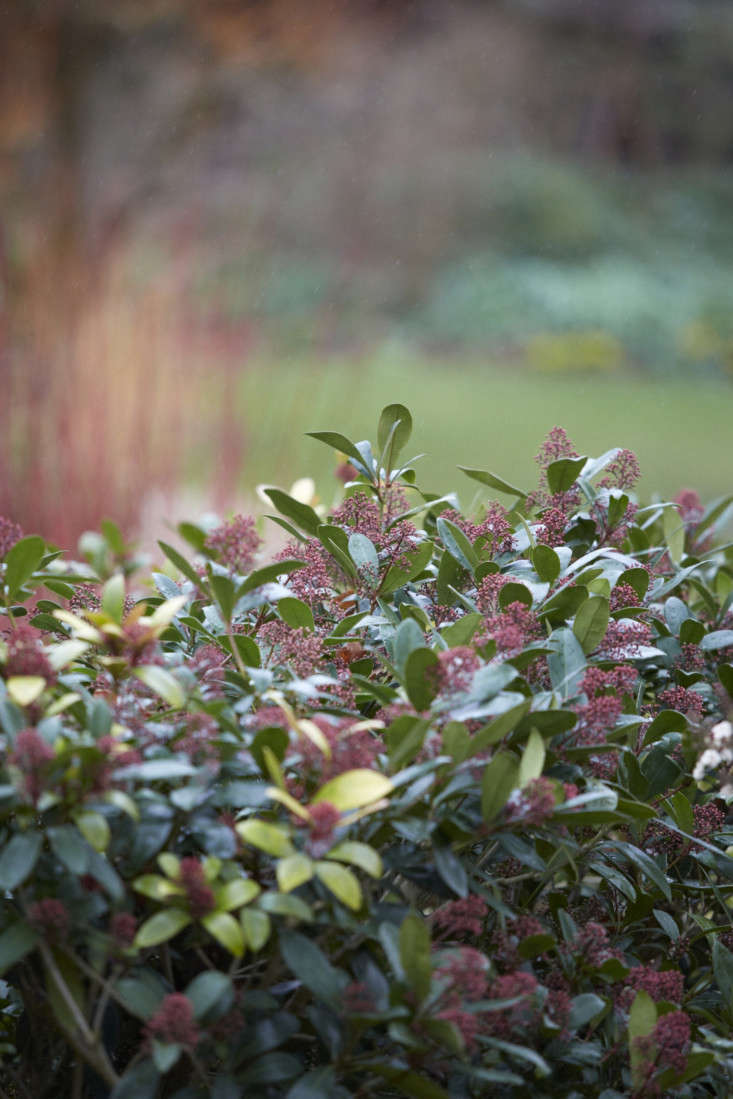 Berries are borne by the female, benefiting from a male close by. Since the gender of a skimmia is defined by its variety, following is a handy list of some of the best:
Female berrying skimmias: S. japonica 'Nymans' (Award of Garden Merit), S. japonica 'Veitchi', S. japonica 'Tansley Gem'.
Male pollinating skimmias (all RHS Award of Garden Merit holders): S. x confusa 'Kew Green', S. japonica 'Fragrans', S. japonica 'Rubella'.
A zestier variety—and designer favorite—is Skimmia x confusa 'Kew Green'. Because of its citrus-and-green coloring, it is less associated with holiday arrangements and makes a good impact growing alone or with other evergreens. Being male, 'Kew Green' is also useful in pollinating female skimmias, for berries.
The white open flowers of Skimmia x confusa 'Kew Green' are similar to those of the regular varieties, except that the background of each flower is green instead of red. Both are magnets for bees, sending out one of the best scents of spring.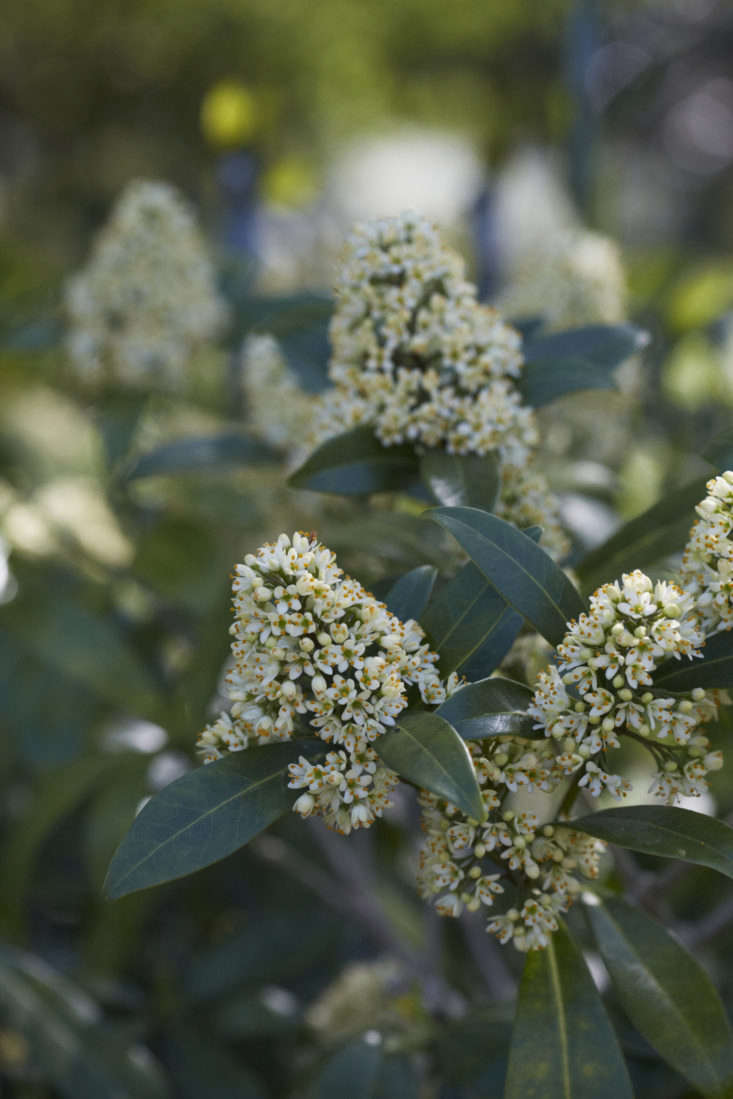 Cheat Sheet
Excellent structural plants in a small urban courtyard or in front of a house; skimmias are happy in dry shade.
Skimmia berries are bigger and brighter than those of holly and it's worth growing a male among females, or a self-fertile variety.
Skimmias grow naturally into a loose dome and do not require pruning, except perhaps for minor adjustments.
Keep It Alive
Skimmias are fairly indestructable, tolerating drought.
They are not fussy about soil but are happy in acid conditions, making them good companions for azaleas, rhododendrons, and camellias.
Skimmias tolerate life in a pot, although yellowing leaves are a sign of iron deficiency (in which case add sequestered iron).
Get ideas on how to plant, grow, and care for more of our favorite shrubs and hedges with our Shrubs: A Field Guide. To see how mature shrubs will look in your garden, read:
(Visited 364 times, 1 visits today)