Russian Sage, Perovskia atriplicifolia
Neither truly Russian nor a sage, Perovskia atriplicifolia holds its own when it comes to being a trustworthy, drought-tolerant shrub useful in a variety of sun-filled landscape designs. In 1995, Russian sage received the Perennial Plant of the Year award, and rightly so. If you have ever grown this plant, you will agree that it posses numerous lovable merits.  And if you are new to the scene, please let me introduce you two.
Keep reading to learn more about this well-deserving shrub:
Native to Central Asian countries, and named in honor of the Russian General V.A. Pokorski, Russian sage is a member of the illustrious mint family, and like other mint family members, the woody stems and leaves are very aromatic. Russian sage, as the second half of the name hints, smells similar to crushed sage—though is not recommended for cooking. But back to the mint family. Mints like to spread, and Russian sage can attempt world domination if given the right opportunity, so take this as a polite warning.
Russian sage exudes elegant wispy wands of lavender blue flowers from finely-textured silvery green leaves. This hardy and airy beauty blooms from summer to fall, and does an excellent job filling in the empty spaces or acting as that sometimes much needed vertical element. Tip: plant in clusters (en masse) for intensification of its presence and to provide much-needed neighbor support to avoid the possible and inevitable floppiness. Russian sage, due to its fragrant nature, is predictably resilient to deer, rabbits, and other smaller creatures. The one possible downside is that Russian sage is deciduous, but you two will be happily reunited in the spring.
Cheat Sheet
Russian sage attracts butterflies and bees and is  dramatic as an unsung cut flower.
Combines perfectly with other low water plants like lavender, sedum, and ornamental grasses, even pairs nicely with bold leafed succulents like large agaves and aloes.
At home in deer-visited, Mediterranean themed gardens, Russian sage also fits in with xeriscapes, hillsides, and rock landscapes.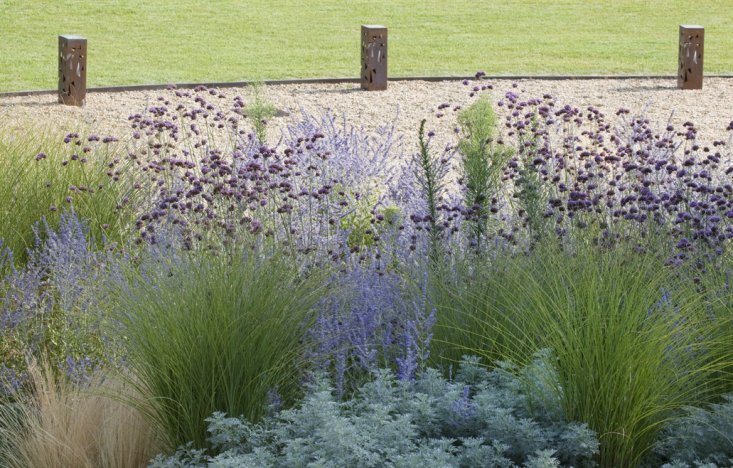 Keep It Alive
Site Russian sage in a sunny spot with well-draining soil. Dislikes soggy sites. Water weekly to encourage deep roots. Successfully grown in USDA zones 5 to 9.
Vigorous growth from 3 to 4 feet tall and wide.
Low maintenance and zero fertilizer needed. Prune low (several inches above ground level) in the very early spring to promote dense growth and prolific bloom. Also, after waiting a few months you will be rewarded with silvery interest during the stark winter scene.
See more growing tips in Russian Sage: A Field Guide to Planting, Care & Design. Read more in our curated Garden Design 101 guides:
(Visited 4,018 times, 1 visits today)